Stone Cross to Lug SOLO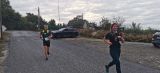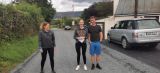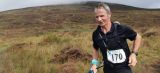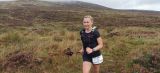 Authors
Best race in the calendar
13 September, 2021 - Andy Keeling
We gather at Seahan forest gates on this misty morning. We nervously chitchat about lines on and off mountains? Whether the mist will burn off? What side of Kippure mast is the trig point? Does Lough Firrib really exist??? We get equipped with trackers which makes it seem like this is some sort of military excercise. A short briefing from Jarlath and then all of a sudden we are off. Now it all seems real. Up until now it was "That big race I have coming up". Now we're here in a bunch heading up and into Seahan forest. Fire road turns to rocky climb turns to branch snapping forest march as we go up and up. The group splits up a bit to climb under and over various fallen trees and we're out. Out onto the open mountain and will be for the duration.
Up onto Seahan and there's some confusion about which direction Corrig is from the leader. He is sportingly corrected by a fellow runner and called back on course. We're up in it now. The visibility has closed in. We pass Corrig onto Seafingan the pack is breaking up a bit. Left at Seafingan and down into the hags. I see shadows of runners far off to the left. The brothers Bell, I think. Am I way too far to the right? Are they way too far off to the left? Who knows. I look at the compass trying to run. Trying to keep the needle steady. In the general direction it's telling me to go the ground is sloping up. I decide to follow the ground up. I reason that the top of this piece of upward ground could be no other mountain than Kippure. As I ascend through the hags the ghostly form of the wire stays of Kippure mast reveal from the fog. Left to the trig and then plunge off the other side into the heather. My ankles snap side to side and slip off the sides of the mini heathery hillocks. There's no way to know what way the feet are going to land. Just try to stay flexible. "Get used to this ankles". It's the order of the day. Over a fence, another fence, a river, another river and through some more heather. I pray for a car to whiz past as I have no idea how far the road could be from me. I keep moving towards it (hopefully). A car whizzes by and I realize I'm closer to the road than I thought. John Bell whizzes past as me and Brian Furey emerge to the tarmac. On to Sally gap for a quick bottle top up and back into the heather again.
Now for the long ridge of peaks that is leg 2. The frockens look delicious as I go along but there's just no time for a forage today. One peak, two peak, three??? I've lost count. Shouldn't have allowed the berries to distract me. "Is this Duff hill?" I ask Gordon as we reach the top together. It is and we head off and try to find Mullacleavaun east top. Again confusion over whether too left or right but going. The trusty direction of up gets us to the top. Over to Mullacleavaun big top and down towards the ridge. The weather starts to clear as we take the left side of the ridge. I see the cliffs below which I've never seen before. It's always been misty on my recces. It looks beautiful. I find a tenner and a bank card labelled John Bell in in the bog. I pass them to his brother Peter who has now joined me and Gordon. We joke about how the pints will be on John's card when we get to Fenton's. I manage to stay low in the haggy maze and find nice ways through to the track to stoney top. On across the ridge and I meet Thomas Roche on the way up to Tonlagee.
Right turn at the top and I stash away my sticks in the pack so I can wave my arms around like an orangutan and enjoy the descent to the Wicklow gap. I seem to arrive at the road at rush hour and am pinned down as two streams of cars impede my crossing. At the gap Jarlath tells me I'm in third place. I can't believe it. Me? In a podium position! No way! I quickly fill bottles and get going
Delighted now to be just behind the two leaders but it's not over yet. I take some sub optimal lines trying to shortcut the road up to turlough hill. Eventually emerging onto the top bend in the road. Passing the hut and I'm on my own now and have been for a while. Only myself and the paranoia of runners coming from behind to overtake. I catch glimpses of John Bell as we both traverse the horrible ground to Convalla. This is not easy ground to keep moving on. I feel my whole race start to slow down. Trudging through, up and down and in and out of knee deep mossy pools I get through and ascend to Convalla. Tip the cairn with my stick and as I start to run off to the next peak I see another cairn. Which one is THE cairn? I visit that one too to be safe then make a beeline to the forest edge on the far side of table track. I manage a kind of crutchy hop with my poles down through the heather then over the river and onto the table track. Some nice runnable ground after long last. I run up to table track junction, but not fast. Not even taking bearings anymore now. I can see. The fog has lifted. Mistake. I take the wrong track at the junction and end up heading along a ridge instead of down into the dip leading to lug. A lucky (and very fun) trail appears to my right just as I realize and whizzes me back on course.
It's all up now. The biggest and final up of the day. Could it be, is that Liam up ahead in second place. He looks tired but then, he's much higher than me. I'll probably be just as tired when I get to where he is. But I manage to catch him just before Lug. He tells me he's blown a gasket. He's hiking. As I pass him and try to stay running for as long as I can but soon I'm hiking too. I don't look back for fear that he'll find a spare gasket. Approaching Lug I see the silhouette of John trot along the top to the summit. I traverse a bit too much going up Lug and almost miss the summit until I see it poking out above the ridge. Be a shame to miss the biggest one. Up to the top and tip the cairn.
It's all down hill from here but there's a lot of it. I stash the sticks one final time and try to enjoy the descent. I try to keep the pace up with the occasional look over my shoulder. Its not over yet and I'm convinced that Liam will wind up his descending legs and whiz past. I've counted my chickens in races before only to lose out on the descent to the finish. The grass leads me down to the final stretch which now seems to definitely be longer than it was three weeks ago at the Lug race and it also seems to have had a couple of right angle turns added. One final look behind and I realize that I've made it. Past the barrier and around the corner to Fenton's. Bleeding done it! Second place! If only John had gone back to look for his card.
One by one other runners come in. We eat and drink pints and recount our different race moments and experiences. It's been a great day. It always is.
There's such a sense of a journey about races like this. A sense of adventure. We are all here because we love being up there. All the recces, all the getting lost, all the bad lines, all the good lines build up and give you a special sense of connection with the mountains. The more you do it the more you are at home up there. It's a special thing. Big thank you to Jarlath who keeps the blood of this race pumping. Thanks to all the helpers who help fill bottles and keep spirits up. See you all next year.
Jarlath Hynes
12 September, 2021
Provisional results
1
John Bell
6.53.19
2
Andy Keeling
7.05.56
3
Liam Vines
7.11.44
4
John Murray
7.15.14
5
Brian Furey
7.16.48
6
Gordon Place
7.18.15
7
Thomas Roche
7.38.23
8
Peter Bell
7.42.00
9
Graham Bushe
8.23.04
10
Ivana Kolaric
8.30.08
11
Brian Hutchinson
8.43.39
12
Barry O'Neill
8.59.34
13
Maeve O'Grady
9.06.23
14
Gerry McGuinness
9.53.29