Glengarra Woods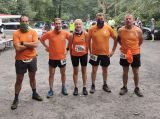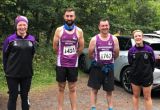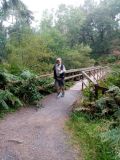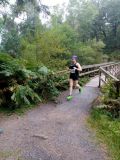 Authors
Fortune Favours The Bweeng Bold
07 September, 2021 - Martin Cooney
My 1st Race Report- Hope It Is Not Too Long-Winded.
I was all on for Glengarra Woods race, as I had a free Sunday to get in a race. I arrived early & signed in. I chatted with Kevin Broughton who was volunteering & congrats on his 50km run. I was trying to remember the route so chatted to Rob Cunningham (RD) & he confirmed that I wasn't too far off the mark with my memory of it. Went for a jog to loosen out the legs. Back to the car & the crowd was gathering. We waited for the kiddies & junior races to finish before we lined up at the start- it is great to see the next generation starting their trail running experiences.
"Go" said Robert; no 3, 2, 1, Go or other nonsense like that… just go!
We took off & I found myself around the top 10 positions as we headed along the fire-road. "What the hell is going on here?" I thought as one of the runners took off as if he'd stolen someone's wallet. He was raising stones out of the ground he was going so fast. "He does know this is over 7km not 700m". I would have neither the legs nor the "liathroidi" to make a burst like that at the start of a race. In my head, there was no way he could keep that up.
I went along at a good pace for me & was in 7th place. David Yelverton was just ahead as was the first lady (Grainne O'Sullivan). After 1km, we crossed over the wooden bridge & into the woods. Undulating ground for about 500m, then sharp left & steady up along another fire-road. This would take us on up to the highest point of the race. I am not particularly good going uphill but I was hanging onto David. He had a good pace going & I was able to keep with him. Next thing I heard some footsteps coming up behind me… that must be Aidan Hogan! I called out his name & got his response. Aidan is such a steady runner & before I knew it, he was skipping past David & myself. I said to myself that for once, I would try to keep with Aidan on the uphill, as it was only about 1km until we started to descend. I was now in 5th place. I could see 2nd, 3rd & 4th (Aidan) positions in front of me but no sign of the "wallet snatcher" in 1st place (he hardly got lost). It started to flatten & I could see the river, which was about 4km into the route.
"Don't go & blow up now" I told myself as I gasped for air. I skipped through the river & could see Aidan was making a move on the runners ahead as we turned & started descending the fire road… I am one of those runners who in his head should be another 500m down the road but it seems to be my legs that are holding me back! I must check Donedeal for a new pair soon.
"Move legs"- I opened up my stride & gave a good push but for the first 200m didn't seem to be making any in-roads on the two runners now between myself & Aidan who had leap-frogged into 2nd position. Eventually I started gaining ground on the two lads & slowly crept past them & was catching Aidan. He was moving very well & I was trying to remember how far before we went back into a single track in the woods. It seemed like an eternity going along this fire road but I was managing to hang onto Aidan, I was practically dangling off his t-shirt. Finally, I spotted Tricia Ryan (marshal) which meant that there was a turn coming & an uphill into the single track. We were over 5km along the route. We kept going & had pulled away from the two lads in 4th & 5th. Through the wooden gate & steady going until we popped over the stile.
Finally, it opened out & flattened a bit & I got up beside Aidan. The track had some roots, stones & divets on it so the kind of territory I like. I just got ahead of Aidan before it narrowed again & into a slight downhill. "Just go for it" I told myself & if he catches you then he deserves it. I lengthened my stride & felt that I was creating a gap. Spotted a wall I had recognized so I knew I was within 1km of the finish. An arcing left turn & I could see the barrier in front of me while I also glanced back to my left. I had about 30m gained on Aidan. I ran as fast as my "best before Sept. 2021" legs would let me & down past the barrier. 2nd place I thought & then "you've got to be kidding me… my lace has come undone". I kept pushing as hard as I could & if the shoe came off, I was going to do a Henry Browne on it (Henry finished the Carrauntoohil race one year with no soles left on his shoes) & finish it without the shoe if need be. Thankfully, I got to the finish & held onto 2nd place & my shoe- thrilled with myself. The "wallet snatcher" that wasn't came in a minute & a half ahead of me. Big congrats to Donal Collins from Bweeng Trail Blazers on his win- well deserved considering that he had to pace it with no one around him.
Please Note: no wallets were snatched in the running of this race; I just have an over-active mind!
Massive thanks to all the volunteers who gave up their time for the rest of us to race- much appreciated!