Slí Mhúscraí Half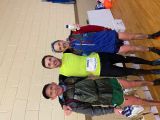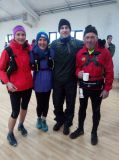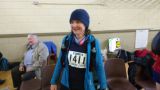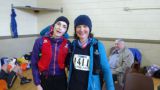 Authors
Sli Mhuscrai meets Storm Dennis
18 February, 2020 - Mick Hanney
This was an experience and a half or in my case a half and a half (but more of that later). A call was made 2 days beforehand that Storm Dennis wasn't going to halt proceedings, so with extra mandatory kit in hand we descended on Millstreet and were coached through the very rainy windswept roads to Ballyvourney. On the journey we could clearly see the amount of water than was lying on the land so the day's event was going to be interesting!
In the GAA hall in Ballyvourney, we waited for the off. Truthfully, we were happy to get inside, dry, protected from the storm outside! Robbie gave us a brief overview of the route and he was a master of understatement. He mentioned a diversion for downed trees which was an extra 2k. This 'munster' 2k was actually 6k, as the majority of people would run a 27k distance, except me, but more of that later. He mentioned different degrees of muckiness on stretches of the route. In truth, nothing could have prepared us for how wet, boggy and mucky it actually was. Although, given the photos and descriptions of the ultra route it appears that we were lucky compared with what they got. Kudos to each and everyone of those runners in the ultra event.
Approaching 12 noon we slowly shuffled outside the GAA hall into the wind and rain. Without further ado we were off. A starting sprint to the first stile as we were told it would be single file there and for stretches after. My race recall probably isn't the best, so this is approximate. The first 6k were around stretches of fields and tracks, with plenty of stiles. Most of the 'trail' was under running water. The run-off from the hills sitting nicely on the Sli Mhuscrai route, making shoe choice on the day an important decision. Grippy inov8s were great on the day.
I was aware that the first 6k or so were mainly uphill so I was happy to tip along without pushing the pace too hard. Given the weather and underfoot conditions any overtaking was decidedly difficult. The next few k we were onto a backroad and actual running was more possible here through the puddles and streaming water. Made a couple of places here and was feeling good.
A couple of k uphill, wind-affected followed, before another few fast downhill fire-road bits, this time mainly wind-aided, towards the wind turbines, gaining a couple more places into the bargain.
At this point, c14k in, my race went pear shaped. I was ahead of other runners but I was gapped from the leaders. Approaching a V junction I saw a runner head left and I didn't see anyone else nor any marker, so I followed. I ran steady and stupidly after for what seemed like an age. The lack of markers didn't deter me. It should have. Ran out a 2.5k and back, which had me falling backwards in the race, which was a pity as I was running reasonably well at the time. I'll learn from my 'Maulin' moment :-) The lesson for anyone reading this is, if you lose sight of other runners and having seen a marker in a while, turn back. Also, at a major junction don't proceed through without seeing a marked direction. A moments pause can make all the difference!
One good thing which came of this was I had plenty of runners ahead of me to chase. There seemed to be always runners ahead to aim for so that gave me plenty of motivation to keep tipping away. The underfoot terrain was very challenging. Mud, rock and bog being the principle elements. In fact, I cannot remember a race where there was more water and mud.
We ran along a very bouncy boardwalk. Needs a bit of strengthening in places for sure! Through and along forest paths that were for the most part inundated and muddy. Very difficult to run in places. Easy to lose a shoe in places too.
Approaching Claragh mountain it was a blur of muddy single tracks, stiles (lots of stiles) and slippy mud on a camber. How I managed to not fall I don't know. At this stage Millstreet was tantalisingly close, we could see the lights, but we were then turned up in the forest for a couple of more wet muddy ks through the forest before a short road section to the GAA hall and finish.
Back in the hall it was good craic catching up with fellow runners with some nice grub and race stories. Huge thanks and congratulations to the organisers and volunteers who laid this on and gave a long long day so we could run. It was a memorable experience. My wet and mucky gear were a state, but I finished mostly dry, which is a vote of confidence in the mandatory kit calls. A total distance for me of 32k. 27 official plus a silly bonus 5k.