Wicklow Way Relay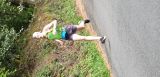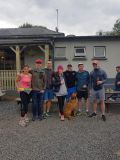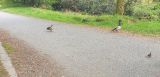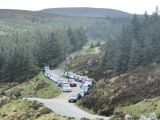 Authors
Team 11 Kilcoole AC
30 May, 2019 - Andrew Hanney
Kilcoole AC – Wicklow Way Relay Adventure 2019.
Kilcoole athletes had participated in the last couple of Wicklow Way Relays, mostly for fun, but there was a more concerted effort last year when some of the top runners gave it a go. A few things went against them that day and it didn't work out. I had sussed out that there was a will to go back and do it again, and I might have done my fair a small bit of persuading. I would captain the team, deal with the teething problems of last year, organise all of the detail, and let my eight-team mates run the hell out of 102km of the beautiful Wicklow Way.
The Wicklow Way Relay is such a fantastic day that it is a pity that it comes around just once a year. A race like no other, not just a race but I would rate it as the best team event I've ever taken part in. It's basically a 102km long party with close friends and friendly rivals, so many familiar faces. The plan for this year's Kilcoole AC team took shape soon after last year, when things didn't go our way. I knew that with the right plan and the right people that our small Wicklow club could make a challenge for a podium place.
It's not straightforward to just ask the top runners in the club to give up their time from their busy road running schedules and races so I put some time into analysis of the results from the last five years of the relay, I added my expectations of the runners I had for the team, and everything pointed to a close run thing to be 3rd or thereabouts.
This year the relay had a new element, a tracker. Each member must wear the tracker and pass it on, that's the relay baton sorted. A few messages between the group had turned up an armband that would be perfect for the job (thanks Claire Lauder). The night before the race, I'd shared the tracker details with the club, and that would take on a life of its own during the race.
Fast forward to the 18th May. I'm driving up a road at 5:45am in Kilcoole, everyone is asleep except for our first runner Damien Byrne. Damien, a totally unassuming chap didn't want to put me out, but I insisted. As captain I wanted to be there from start to finish. Damien is my leg 1 man, a total workhorse. If you base your relay team on solid foundations like this guy, you'll go a long way. Before leaving for Kilmashogue, I pick up Mark Byrne, our leg 5 runner. Both of these guys are no stranger to getting up at dawn for runs, actually they would probably be done by now, and we are on our way.
We arrive about 6:20 to Kilmashogue, just the right time to get a spot beside the man with the trackers. We sign in and Damien is off to warm up. A few hikers arrive and wonder what the hell is going on with so many runners flying around so early. Graham Bushe is busy trying to jam as many cars safely into the car park. We spot our club mate Donal Morrissey who is taking on the Relay with his team the Tri-Hards. Soon it gets down to the go time. Jason Kehoe, RD, is giving some last minute instructions and then they are off. We decide not to hang around and drive over to Curtlestown for the next handover.
On arrival at the Leg 2 start, people are already buzzing about the tracker, and discussing the leaders, teams 1 and 2 are out on their own and there is a group of five runners after them, including Damien. That's grand; it is happening as planned. Leg 1 is stacked with good runners and that includes Damien, who arrives in 6th place, two minutes faster than last year, and looks like he has just warmed up. He gets a hug, what a start. He has to be in Slane for a communion by 11am, he's free to go.
Our leg 2 man is Brian Gurrin, if you want somebody to do something hard and do it well, its Brian Gurrin, and leg 2 is hard. But over the last three years doing the relay, Brian has been killing it. He runs up Djouce like it wasn't there. I remember the first time he was on our relay team, he joked if the elevation map was upside down. Brian won a national silver medal at last year's Dublin marathon for his age group and Connemarathon the past two years, he eats hills. I can count on him. As Mark and I turn to leave, Mark says it straight out, "Brian will catch those 3".
By the time we arrive at the car park above lough Tay (somehow Mark has dropped Damien to Enniskerry and beaten me to Lough Tay in Brian's car, I was thinking everything about Brian Gurrin is damn fast). Brian is indeed reminding us again of this legendary status as he has gained places, picking off runners one by one. By the time he's passing the bridge over the Dargle he is indeed moving Kilcoole AC into 3rd place. In the end, he would take two minutes of last years' time and set the third fastest time for the leg, first M50. Our first two runners have posted times ahead of schedule (and I thought my estimations were tough!). I relay this to team members in later legs, to revise their times to be in position. Excitement is building and there's a new club WhatsApp message every other minute. Sandra Pegman has joined us for a few legs to support the team and we all stand watching the ridge where Brian should soon appear. We see Brian up on the ridge, running down towards the JB Malone stone, and we notice we can see nobody on his heels, this is good. He tears down to the finish the handover is made.
For leg 3 we have Linda O'Connor, no stranger to IMRA races and she has been moving up the ranks this year and going really well. Linda, just in the club the last few years didn't hesitate when I mentioned the Relay, she'd already ran the whole thing in 2015 and was first female. The handover is quickly done, and Linda is tearing up the hill out of sight, putting on the arm band as she goes. A quick message reveals that the leg 4 runner is in place and starting to warm up.
At all of the handovers, the buzz is growing, what news from the trackers, somebody off course, somebody hasn't turned up, all of the things that can happen are happening.
Myself, Mark and Brian drive down to Oldbridge…. We know that team 1 and 2 are about to arrive as we passed them on the road.
Leg 4 runner Darragh Flynn, is buzzing all over the place warming up as we arrive, he only recce'd the course 3 days before, so it should be still fresh in his mind (I am telling myself). Linda is on the way in, ahead of schedule, I've given her 38 minutes to do it and she knocked two minutes off that. The arm band is handed over and Darragh Flynn tears up the road like he's starting a 5k road run. We are holding on to third, Linda has extended the gap, excellent.
This is getting seriously good, time to put on the summer hat and look like I know what I am doing.
Myself, Mark and Brian head for leg 5 to get Mark in position, we know Darragh won't hang around and we want to be there in good time for a short warm up. As we arrive at Glendalough, it's quiet enough, only a few teams are there for the handover, UCD, IMRA, TT racers, and Rathfarnham. It's the first time I'm feeling we're getting noticed, doing something unexpected, people are surprised we are here, in a good way. It's all positive vibes; Peter Bell tells me he hopes we come get that 3rd spot, very sporting, very cool. We know at this stage the Hurt Squad, who'd been 4th the past few years were going to be challenging for 3rd spot. But we had built up a gap of a few minutes and were in a healthy position and really anything that happened from now on, it was still a good day.
Mark Byrne is ready to go on leg 5, Darragh Flynn, runs up the green road, like he's finishing a 5k road race, flat out. I'd predicted 47 minutes for his leg, he had taken 4 minutes off that and he ran the third fastest time of the day on that leg. Amazing. Changing the armband to Mark seemed to take about two hours, Darragh was kind enough to put it on Marks arm as I was shouting at him to get going. Mark is a best mate of mine, but after that arm band fiasco we'll have to have words. For the past few years Mark has wanted to do leg 5 of the WWR, so he got his wish this year, and I knew he would do well. Leg 5 is basically a climb from 2k to 8k and then a fast descent. It's pretty unforgiving, but offers great views as you suffer. I had done leg 5 for the last few years, I'm happy to leave it to Mark this year, and of course he'll do it twice as quick as I ever could. As I'm driving over towards Glenmalure, I stop on the top to take advantage of something precious down in the area, a phone signal. I'm calling leg 6 runner Colm Murphy to make sure he's ready, and texting leg 7 runner Luke Lennon to arrive even earlier than forecasted. Luke replies, full of beans and raring to go.
We arrive at Glenmalure, our volunteer car park marshal, Claire's husband Alan Lauder is here and gives us priority parking in the big field. Fair play to Alan for coming along as it meant that I could get on with the task of managing the team.
Leg 6 runner is Colm Murphy, again a very strong runner, guaranteed to work hard for the team; setting new PBs every time he hears the gun. He had recce'd the course the week before and things were shaping up well. Mark Byrne is running down that lovely road descent into Glenmalure, at least it is a lovely finish to the leg, because your legs are gone so gravity steps in to help. I'd given Mark an hour and five minutes to run that leg, he was nearly two minutes under. The arm band goes to Colm and he's away. The Hurt squad runner arrives about 4 minutes later… so that is the gap, fine margins. We head for IronBridge, to brief leg 7 runner Luke Lennon and the brother Mick, who is the timekeeper. Mick got me interested in IMRA a few years back, I haven't thanked him enough, I've done 70 odd IMRA races since. As I'm mulling around, Barry O'Neill, a buddy of mine from Glendalough AC mentions team 11 is off course. Ah no I say, don't be telling me that Barry I say. He feels bad for telling me, I know, unfortunately there is zero chance of getting a signal to check the tracker position. As time wore on we were stuck gazing up at the hill to see the evidence for our own eyes. A runner comes into view, its Hurt Squad, so it's true. All sorts of things are going through my head. Hopefully Colm is back on course and we keep the gap small. Colm comes into view, flying down the hill, "sorry" he calls out as he runs past. He didn't need to say anything, I knew by looking at him, totally downcast, I was ok with it. We're not perfect, none of us, but trying is the hardest thing. In a chat afterwards, I tell Colm that without the 12 minutes off the course, he would've run leg 6 in 56 minutes, an absolutely phenomenal time. I need to see that glint in his eye that he will come back next year and smash that leg, I see it.
Leg 7 runner Luke is raring to go, keen to try and get back time on a tough leg, if anyone can, he can. We're just over 4 minutes behind when Luke starts. Luke is a 1:16 half marathoner, did this leg last year too and has a lot of experience in the hills. You don't assign any leg of the relay easily, you need to think who can handle it best and that is Luke Lennon all over. This year he runs it in 1:26 the third fastest time of the day, bringing the gap to 3 minutes.
Leg 8 runner Claire Lauder was waiting for Luke to bound up the new steps at the end of Leg 7; the hurt squad runner has been and gone a few minutes. It looks like it will be 4th place unless something happens. Claire again is a big part of Kilcoole AC, devotes countless hours to training the juveniles and helping the club out over the years and is somebody who can count on. As we waited at the finish line in Shillelagh, we switched our focus to getting in under the blue ribbon time of 8hrs. Mark goes up the road to urge Claire on and she comes to give a total time of 7:58:31 and 4th place. Wow! I'll keep my summer hat on; this is a great achievement for our little club.
In summary, it was a proud day for Kilcoole AC. To compete with the best and only be beaten by fine margins by a team of such quality as the experienced Hurt Squad captained by Kilcoole ACs Robert Costello and congratulations to them. I looked down at my phone, nearly a hundred WhatsApp messages from the club since leg 3 when I last had time to check. Deadly. We sit at the finish point basking in the notion that we had done something special and came really close to the podium.
Congratulations to winners TT Racers and to Rathfarnham for making TT racers work hard for that win. Well done to all of the other teams, specially our friends at Glendalough AC, the IMRA team with Niamh O'Gorman and the Tri Hards with Donal and Eilish Morrissey.
I always knew that fine margins will make the difference but being seeded eleventh and finishing fourth tells its own story. We look to next year, will make a new plan, there will be no problem with the team, they're all ready to go again. They might have competition from the club after all of the hype.
Thanks also to Kilcoole AC athletes Andrew Lawless, Colin Morrissey and Brendan Donohue who were ready to help our team if needed and another special mention to Alan Lauder and Sandra Pegman for supporting us.
Thanks to race directors Jason Keogh and Bill Halliden and Rene Borg for organising another great edition of the Wicklow Way Relay and all of the other volunteers who helped make it happen. We will see you at WWR 2020.
Go Kilcoole AC.
Capt. Andy Hanney.
Rathfarnham 2nd place
20 May, 2019 - David Power
Race Report: 2nd place, Rathfarnham AC in 7h14m
This really this race really is the Grand National of Irish Hill running. A big field. A long attritional course. The potential for disaster. The form guides. The chopping and changing of runners and riders. The going of the ground. The risk of falling at the first (not arriving on time). The risk of falling at the last fence (the last runner has to wait 6 long hours for the cavalry to arrive).
I love this race for so many reasons. The camaraderie amongst my club mates. The friendly rivalry with other teams. The months of prep - it's not just a race you decide to enter last minute. The musical chairs on who's in and out of the team. The twists and turns over the day: you're ahead one minute, but by the next hill your runner is behind. Plus the chance to run through some of Wicklow's finest countryside: from deep valleys to high trails to rolling farmland and the most beautiful native oak woodland (Manchan's Wood).
So how did it go? Rathfarnham had a strong team to try conquer that 3 time winner's TT racers. We pulled in 2 strong runners up front: Mark and Seán. Mark set off at 7:00am and smashed the course record (52 minutes). Seán took off on leg two from Curtlestown and pulled out the lead to 4 minutes by Lough Tay. For a man more used to smooth tarmac we think he's found a grá for the trails.
Beth was a up against a fast Sonya, so the lead changed hands by Oldbridge. Paul headed off in chase of Niall. They had a good battle as we followed via our phone app on the live GPS trackers, which were a great addition to the drama this year. Paul came into Glendalough 1 minute down. Ciarán had Ian to chase and did a good job to keep the gap to 1min 40 sec.
At Glenmalure, Colm was up against Brendan, who was able to pull the gap out to 3 minutes by Ironbridge. Still very tight after 5 hours of racing and over 70km. Now it was my turn to chase Des. My recce the week prior had gone well and I felt good on the climbs. It can be hard running on your own - only the sheep to keep you company. The new 100 step climb at the end of 20 kilometers was a cruel finish. I arrived 7 minutes down but still happy with my effort of 1hr 24 min. Clare had Linda to chase over 10km to Shillelagh. Terry thought of sub 7hr glory - the record of 7h02m by Rathfarnham from 2011 up for grabs.
Overall it was a great event. The extra car park marshals helped in several locations. The GPS trackers are sure to stay - offering great entertainment to all those back home, following dots on the screen. Jason, Bill, Rene and team did a great job planning. It was great to see new teams rise like Kilcoole AC in 4th and UCD Orienteering by far the youngest team out there (compared to Racing795 who had 8 men over 40!).
The battle between Rathfarnham and TT Racers continues. We're both trying to raise the bar. The elusive 7-hour barrier is getting very close for TT. We have some fast 39 year old's who will make M40 next year. The buzz was great. If you could just package it up and sell it on. The lovely Wicklow granite plaques are just a fab memento. Roll on 2020.