Glenbarrow - River to Ridge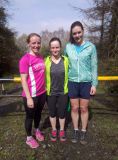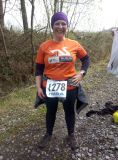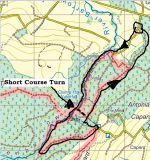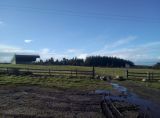 Authors
Peter O'Farrell
07 April, 2019
We ran this race back in 2012 as an addition to the festival of the mountain on the last weekend in June and this running of the race on the first weekend in April took a few strong runners away to the Laois road runners champs.
A trinity of strong juniors stepped up to the plate and as all three are prepping for the upcoming trail race they went at it hard. Philip King got the better of Oisin Jago on this occasion after a good battle and Dearbhail Cuddy ran really well.
Stephanie Bergin and Owen Connolly took full advantage of their Laois origins and are the 2019 Laois hillrunning champions. Chapeau and well done to both runners and I hope they take great pleasure in their specially commissioned plates supplied by Crannmor Pottery.
Owen also took home the prize for 2nd overall with Aidan Coffey going well in 3rd. The overall winner, Barry Minnock, went on out to demark the course straight afterwards and missed both prize giving and the plentiful refreshments. He remarked afterwards he was happy to see the juniors taking the short course turn as they were putting him under pressure.
In the ladies race Sarah Whelan, Marie Piggot and Elaine Walley took the win, and the vouchers. We had an international flavour to the race with Cheri and Cy Waldron from Utah. The one and only Vivian O'Gorman, weekend race director extraordinare, came down to check and see had I taken anything away from the recent RD training - apart from the dinner provided..
Everyone else got the refreshments as we didn't bother with spot prizes.
I will be indulgent now and thank the McEvoy family, who supplied 4 (or 5) helpers;
Deputy Race Director
Junior Turn Marshall
Road Junction Marshall
First Aid Officer
Mover of large boulders (if required)
The helpers were all brilliant. Runners Barry Minnock, Matthew Sammon and Gaelan Elliffe were at the field before us ready for action looking after registration and the non running Ronan Costelloe (a McEvoy cousin), Niamh Herlihy and Gael Hernandez looked after the finish line very well.
The South East League's Niamh and Paul Kelly arrived with immaculately organised RD kit, helped at registration and then ran, Paul taking a video too.
The festival field parking is on commonage owned by several farmers and one of them kindly moved the boulder from the entrance, saving McEvoy number 5 the job.
Back at headquarters Lillian Deegan and Cormac McDonnell put in plenty of help and advice and Conor O'Farrell has spent time this evening putting the results into order and uploading to the website as we didn't have a laptop.