Galty Crossing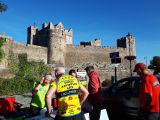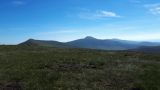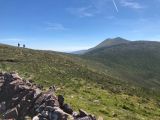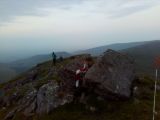 Authors
ONE OF THE BEST
25 June, 2018 - Alan Ayling
The bus brought us out to Anglesborough from Cahir. The length of time it takes should have been a hint as to how long we'd be getting back. The bus has a nice road to use, and barely any climb. We have the mountains and a ton of climb. 32 km they say, and 1500 m. Tom Blackburn stood up on a pillar, as if in practice for a podium presentation. He addressed the group, gave a fine route description to whet the appetite even further, if that was possible. A few minutes later race director Tricia Ryan sent the 65 of us on our way.
A few hundred metres of handy road then a sharp right onto a grassy climb that becomes steeper and steeper as you go up, negotiating a number of stiles along the way. Strictly speaking the first summit of the day is Paradise Hill – little more than a flat bit on a fire break in the trees. A welcome rest for the legs follows with a quick little downhill section before we emerge from the trees. Temple Hill looms menacingly above. The name may sound holy, but looking up at it and knowing you have to drag yourself up there, you could well believe the Divil himself put it there. The climb is relentless, it puts manners on the best. How Tom was able to run so much of it I don't know.
Upon eventually attaining the summit I had dragged myself into 4th place. Pretty sure it wouldn't last but felt nice while it did. A fast descent and a plethora of line choice leads to another fierce climb to Lyracappul. The actual summit isn't mandatory and is best skirted to the south, leading us to the wall that dominates the route most of the way to Galtymore. This section is delightful. The hardship of the early climbs is rewarded with incredible views in all directions, most of all down into the rock-strewn corries to the left, with their lakes looking tiny from above. Good running, a couple of little climbs, then a steep kicker up the west flank of Galtymore. A runner in a green top passes me, going like he's fresh out of the traps. At the foot of the climb up Galtymore Greg Byrne catches up and offers sweets – most welcome. We walk up the steep bit, chatting about how each of us spent most of yesterday on a mountain bike and it wasn't exactly ideal preparation for the Galty Crossing but was totally worth it. Then top out and hit the flatter ground, "C'mon" says Greg and we tip over to the summit cross at a decent pace. At 919 m, Galtymore is the highest point in Ireland outside Kerry and Wicklow, one of only a dozen or so tops over 900 m on the island. The views, on a day like this, are simply stunning. But sadly there's work to be done and little time to admire the scenery. A group of blokes near the summit are giving what we think might be encouragement, but it's unintelligible. A potent herbal smell permeates the air. Long way to go to smoke a bit of wackybacky, but sure they seemed to be enjoying themselves and weren't doing any harm.
Greg's road runners don't cope with the steep descent as well as my Inov8s and I get ahead again, for now. There are stories of Bernard Fortune, in the Galtymore race some years ago, in much slippier conditions, ditching the shoes altogether for this section and running in socks, shoes in hand. Thankfully quite dry today it was fast and great fun. A short but steep climb leads to Galtybeg and photographer Donal, patiently waiting to immortalise our suffering. Galtybeg for me feels like a milestone, the last of the steep tops. It's several km to the next named summit – Greenane, which at just over 800 m is higher than Galtybeg, but it's not as dramatic. There are a couple of additional unnamed tops along the way, initially tedious, but gradually morphing into some really pleasant running. O'Louglin's Castle provides a point of interest along the way. A rock formation looking uncannily like a castle from a distance, it's actually quite small when you get up close.
From Greenane, the route swings left out towards Farbreaga. A delightful bit of running in today's dry conditions. Greg had caught and passed me around O'Loughlin's but I got ahead again on the way to Farbreaga, a better line choice maybe. Farbreaga more or less marks the end of an obvious route. The next couple of km there is is only a vague path/ditch type thing, thankfully pretty dry today. Henry Browne and another runner – Mark Horvath I think – cruised past along here, looking fresh. Most of the way up to the next little summit, veer left a bit and the route choice begins in earnest. Having done the race twice before I have a good idea where I want to be, but it's hard to describe. In mist it must be desperately tricky.
On the last hill before Slievanard, Greg catches me again, we run together for a bit, Mark (??) joins from the right, we've gained a bit but not quite overtaken him. Also gained on the chap in the green shirt that looked so strong earlier. No sign of Henry. But the next descent is pathless and difficult going; the legs are getting very tired. Back onto good path, right down a rocky shortcut and start the haul up to Slievanard. In normal circumstances a handy runnable climb, but the tired legs now insist on some walking. The 3 lads in front open a bit of a lead. Finally, the unremarkable summit is attained and the control punched. (By the way, any chance we can have longer strings on the punches next year?!).
A short descent followed by a more or less flat run for a km or so in the direction of Bane, the last hill of the day. Beyond lies the last mandatory control at the Hammerhead – a block of forestry named for its shape on the map. The boys are all making their way up and over Bane. I opt to contour around the right. Probably not much in it, but I can't face the thought of another climb. My route brings me spot on to the the tip of the forestry, leaving a straightforward run to the control. No sign of the lads, they're all gone, well ahead. Whether it's their route being better or my legs being super tired I don't know. A stop for a pee and a gel on the way improves morale a bit. Also means basically using up the last of the water. 2 x 500 mL bottles was never going to be enough in that heat but I hate carrying any more.
Just past the Hammerhead control is a helper/marshal offering water and Pringles. Welcome is an understatement. Most of the hard work is done but it's a cruel drag back to Cahir Castle and some unexpected water is an unbelievable bonus. The news that I'm in 9th place seems about right. A bit of a deviation from the usual fire road route back leaves me with no idea whether I've gained or lost places, but simultaneous cramps in both thighs is not exactly a help. Not much you can do but flop on the ground and try and get control back. Thankfully once running again the episode didn't recur. Eventually out of the forest and onto the tarmac road; crossing the motorway I can see a runner maybe 200 m ahead. Seems it was Gordon Place, but my befuddled brain didn't think so. No way I'm going to catch him, the body has feck all left, but at least keep him in sight heading into town. All going grand until just where we start to hit the edge of town, maybe 500 or 600 m from the finish I catch a toe and go down like a sack of spuds. All that technical running for 4 hours, up and down peat hags, over rocks, steep descents, fast bits, awkward bits... pretty much flawless and then I can't manage a bloody road.... (we decided in the pub afterwards that maybe these tarmac road finishes are "getting overly technical" ;-)).
A cut knee but no other damage, sitting in a heap feeling a bit sorry for myself and glance back up the road – horror of horrors, a runner is closing in on me! Back up on the feet and run like a mad yoke for the last few hundred meters, to finish in 8th. The runner behind was Greg, who'd had an indecisive moment at a fire road junction on the way back in. On such things are positions decided – he could well have been ahead of me.
There is something truly special about the Galty Crossing. It's tough – no doubt. Worlds apart from the regular Wednesday league races in Leinster or Munster. A cut above most Championship races even. Long enough to be a real day of adventure in the hills, but short enough to allow real racing, not merely trying to complete it. The views are incredible. So much of the route is fabulously runnable. Steep climbs and descents, gentler runnable climbs, fast gentle gradient descents, dry bits, wet bits, a 900 m summit... this race really has it all. From deciding to give a crack 2 years ago, it's become one of my favourite events on the calendar (I was 22 min quicker that day!). An absolutely whopper day in the hills!
A massive thanks to Tricia Ryan and her team of volunteers – legends one and all. The marshal with the water at Hammerhead may well be in line for sainthood...
Galtee Crossing
25 June, 2018 - Mark Horvath
Finnaly made the Galtee Crossing
Over the years this was one of the race that I always wanted to do, because it looks class and I am usually good on the steep hills over longer periods, but unfortunately there was always some family events that I couldn't move. So, when this year I have found out my friend wants to have a Bachlor party on the day I told him he has to move the date (however IMRA moved the date from July to Jun, so it wasn't clashing anymore, but it was 2 weeks after Wicklow Way Ultra, so wasn't ideal for me :). I told to my couch Sarah McCormack that I want to do Mangerton a week after WW and then Galtee crossing a week after that, I thought she will say I am crazy, but she actually said it can be a good training for UTMB and she made a miracle to get me into shape for both. It is fantastic what she can do.
I was at the start line and I knew I am in the good shape, but I didn't know what to expect. I had a great recovery from Mangerton and very strong training, maybe even too strong, but my knee pain is disappeared what made me run slow on the Mangerton downhill and lost time and position.
There was a lot of thought in my head, should I go out strong or just sit behind and wait to see what happen...
I decided to sit behind and wait. Started very easy and I just recognized I have made a mistake because after 800m we have to climb through the fence and there will be ques. so we got there everyone stopped, I was a bit nasty and I went through the gate and got behind Tom and Alan and they were going easy. I just followed them and left a small gap so I don't have to stop when they going through the steps. When we got to the top of the first short climb I just kept running and recognized that my pace is better than Tom's, so I went passed him I felt good no huge effort, and even if I told to myself I will not going into the lead until Galtymore here I was. I knew it won't last long, because Tom and Alan are very strong on the smaller hills and flat sections, but I thought I might can build couple of min lead and use that later in the race. My heart rate was ok it was 155-158 on the way up to Temple hill.
Well I went down from Temple Hill, but I was going too far to the left and I had to go back up and Tom and Alan passed me. But going up to the next climb I caught up with them again. Until we got to the "flat" section between Lyracappul and Galtymore.
I was closing the gap again on the steep uphill and the downhill and caught up with them after Galtybeg and I decided to follow Tom as they were taking different routes, but I was betting wrong Alan has explored the area very well and he took a better line between the mud "humps", but it wasn't significant, I dropped back a little to use the bathroom and I got a min or two behind so I was looking them from distance how they kept each other company. Somewhere after Greenane I had got stuck into a swamp and I just couldn't get out, but luckily David Barry was behind me not too far and he pulled me out (he might have regretted it on the end as I finished only 1 min ahead of him. Sorry David). I never thought it is possible in Ireland, as I have tried to come out I was sinking in deeper and deeper.
Anyway thanks to David, I could carry on. He got a little bit ahead of me, but I was thinking if there is anyone who I wouldn't mind to take the 3rd place instead of me that is David, so we carried on following Tom and Alan in the distance, but now they have built probably 3-4 min lead, so we couldn't see them all the time.
I had to rely on my memory and the technology and after Laghtshanaquilla (I hope I spelled it right from the top of my head), despite my instincts were telling me to keep to the left, I followed my watch and lost a good 7-8 min and put in a lot of efforts going through high bushes and hidden rocks. David was following me and we hit the Mast Point check point which is actually only for walkers : ), but I think Tom went the same way as us and he still won the race so I shouldn't complain. As we were getting through that section my knees started to get tired and my body reminded me that I was doing a 130k run just 2 weeks ago.
I have got few runners behind me when I went back the way that other people did I think it was Alan Ayling (so I think he was talking about me in his report ) and Gordon Place or maybe Greg Byrne. I was very disappointed and I tried to push a little harder to secure back my position and I just hoped no one passed me. I thought I see Tom ahead of me, so I was thinking I am still good after all. I got to Slieveneanard fence checkpoint, and my shoe's insole bothered me as it moved forward, so I had to fix it and David passed me again, but I cruised pass him later. I kind of knew what way to go, but I didn't know that I shouldn't go up to Slieveanard NE Top, or actually I heard Tom saying that there is a path around, but I didn't recognize the path and I didn't want to risk going the wrong way, so I followed the map and the memory of my last run here with Alan. I also just have seen a man who I thought was Tom (turned out to be Eddy or Henry) went up the hill not much ahead of me. So I went to the top as well and I have seen a man standing there, I thought it must be Tom, but I couldn't understand why would he be standing there, but as I got closer I had to recognize he was Henry Browne and he said he was following someone but he disappeared, so I showed him the way and I thought he will overtake me when we get to the forest as he is a very fast runner and he finished 2nd on Mangerton race last weekend, so I thought best is 4th place for me at this stage.
We got to the last checkpoint and I have spotted Rob McEvoy there who was kind enough to take water to the people up there, carrying like 2-2.5 km from his car up to the fence. What a man! Big thanks to him.
I actually thought Henry might overtake me, so I wasn't going to stop and give it a try to finish ahead of him, I had 1l water in my water bladder in the beginning of the race and a 0.5l soft flask and I still had 0.3l left, so I just carried on. Henry never caught up, but I have seen David again. I was able to manage the distance till the end on the "downhills" which seemed to me very often as an uphill : )
So I got into the finish line and I have seen the first 3 guys hugging for the picture and that was the time I have recognized that Eddy Casey passed me and not just passed me but finished 9 min ahead of me, so I am not sure if I could have kept up with him even if I took the best routes, so fair play and congratulations to him.
Congratulations to Tom, to have another great win and to Alan to come second. Congratulations to everyone who finished as it was a hot day out there.
Thanks for Tricia and Rob to organize the event and thanks to all the helpers who made it possible and special thanks to the person who decided to have and cooling bag with Ice cold beer and coke, that was the best.
Great race and beautifully organized.