Carrauntoohil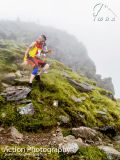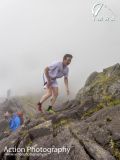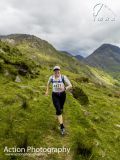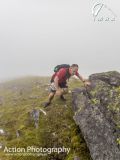 Authors
Carrauntoohil – the race of two halves
04 June, 2018 - John Bell
I made the trip down to Glencar from Wicklow on Friday evening to stay in the Climbers Inn. The long trip down in Bank holiday traffic was worth it for the easy morning before the race. Before heading down to registration in Brida Valley I was relaxing and chatting to a few people passing through on their way to the race. Barry Murray picked me up on his way past. In the farmers yard there appeared to be a good turnout with lots of familiar faces including plenty of speedsters. Vivian and Nora had the easiest going registration you'll see. The sun was shining but the tops of Caher and Carrauntoohil were in cloud. The chats were about what the heat will be like and will the cloud burn off. Just before gearing up Barry made us a nice strong coffee – sharing some of his caffeine race fuel with a competitor. Then it was off for a warm up along the road, but with not much effort I was feeling the heat already, where there wasn't even a slight breeze in the Valley.
Up at the race start Vivian gave his usual informed race briefing 'you go up, turn around, you go down. You should know the route. 3, 2, 1 go'.
We set off up the zig-zags. I set off on a controlled pace not wanting to overheat too much too soon. Once up to the style we turned sharp right off the Kerry Way to follow the fence leading up Curraghmore. This section involves hurdling the bog pits trying to find the least deep sections and a run-walk-run with more walking than running on the steeper sections. I had John from Newcastlewest for company with Bernard a bit ahead and Paul Mahon just behind. The flattish section on Curraghmore past the cairns was a small relief from the relentless up-up-up. At this stage visibility had reduced with the low cloud and there was even a nice breeze, which was relief from the heat for the first half of the ascent. The slow pace going up meant navigation is straightforward – just aim for the steepest ground following the faint paths. Next up was the leg burner of a climb up Caher. Paul went in front of our small group and I got a small tow off him to keep the pace up despite gravity trying to pull me back. At the top Paul gave me a swig of juice and this along with the decent along the Caher ridge I got the legs going again before reaching the final ascent up to the cross. I caught up with Pat Foley here and we pushed on up as the leaders started to fly by. There wasn't much of a gap between the first 4 or 5, so it looked like it would be an interesting race down to the finish. At the top our summit marshal Rachel greeted us with some encouragement. At the turn I had Pat for company and shortly behind was a group including Barry Murray – regretting he gave me that coffee ;-) Initially I struggled to get the legs going. They only wanted to down short steps not long strides. Along the ridge and back up Caher I got going again and managed to pull away from Pat. From here for this second half of the race I was on my own. Descending off Caher a bit of doubt crept in if I was going the correct way so I eased off a bit. It's easy to drift left or right off the ridge in limited visibility. When I was sure I was on track I pushed on in expectation that some of the group behind would catch up. Continuing down to the wall / fence which you handrail back to the Kerry way I finally got sight of someone in front so I set off in chase, however, there are a few sections where the best line is slightly right away from the fence and I think I gained a place here. Just before the style on the Kerry Way it was hop skip and jump over the bog pits. One pit did catch my leg and caused a bit of cramping. It takes a bit of effort here to keep motoring but the home straight is in sight. After jumping over the style I cruised down the zig-zags but with no one ahead or behind I was only racing the clock. At the finish and back in the sunshine there was a some good chats of the fun, spills, trills and wrong routes but no major mishaps.
After a quick cool off in the river beside the farmers yard it was over to the Stepping Stone café for a well earned ice-cream and coffee. Then back to the Climbers Inn for prize giving, which was wedged as lots of people went back to congratulate the winners and in hope of a spot prize.
Thanks again to Vivian and Nora for putting on yet another great Carrauntoohil race.
I got 99 problems but a...
04 June, 2018 - Barry Murray
With almost 100 finishers , this was the biggest field ever for Carrauntoohil since its beginning on the IMRA calendar. What an event it is and great to see so many come from all over the country for this iconic race.
With the big numbers and tight parking, RD Vivian was looking a bit disheveled at first. But I think he is one of these guys that might appear flustered yet with everything under control given his years of experience. A quick look around at the faces registering and you could see that this was going to be a pretty "stacked" field. With 4 previous winners, Tom Blackburn, Bernard Fortune, Diarmuid Collins and Brian Furey..... then a a fairly big contingent of "northy" boys...... that meant the race to the top was going to be fairly competitive.
I was arriving with a bit more "specificity" compared to my first Carrauntoohil race 2yrs ago. I picked up John Bell at the Climbers Inn and he couldn't even pronounce the word ;-) But basically, I had run up and down Mt Brandon a few times over recent months, and at least knew what to expect at Carrountoohil, so I was a lot more "specified" than I was previously for my first ever Carrauntoohil.
The conditions were warm and muggy. Plenty of midgies in the carpark to keep you company. Myself and John arrived early so we had plenty of time for a fresh coffee brew at the back of the car before we got the kit on. Knowing that the Carrauntoohill start is basically heart rate max from the get go, I was eager to get a decent warm up in. Reckon this is key for anyone who generally needs time to build into a race. There is no "building in" time in this race as like I said, you are basically panting after the first 50 meters. Anyway, managed to get a 15-20min jog in before. Then off up the the Kerry Way trail and the start on the side of the climb. A classic Irish Championships race start it is... in a big valley, on the side of a hill, narrow rocky trail... with the Carraountoohill peak not even visible.. somewhere up there in the sky.
With the big numbers , the start was a tight squeeze. I normally go off at the front, or at least try to, but not for this one. Apart from having about 10 race winners... I wanted to remember how I need to learn from my mistakes... my mistake being last time that I went off too fast and was hurting far too early. So Vivian set us off and I was about 3-4 rows back... we all had to shuffle at the beginning. The first zig zags up to the fence are steep and if you run hard, it's easy to blow a fuse early. I saw maybe Brian and Diarmuid going off fast with some Newcastle vests also and from the video clip, a young lad (who is a fast guy) went off course on one of the bends. I was happy to shuffle up the first few zig zags with John Bell and Bernard Fortune not far ahead of me.
Up over the first fence and I was a lot happier than before. No fuses blown and a much steadier start. Now I knew we had to trudge hard up to Caher. Here the field quickly lined out.... I could see a few of the MMRA vests ahead of me.. Tom, Ed Casey and Paul Deane.... then I was in a pack with 3-4 others... masters vet Gerard Maloney and Dingle Adventure Race organizer Noel O Leary. This is a steep hike and marshy underfoot. You just try to get into a rhythm... not much running to be done. As we climbed, the mist got closer and by the time we were approaching the ridge... the visibility was poor. My own pacing was working as I was starting to feel stronger as we went on and was starting to pick off a few. I caught Ed Casey and Paul Deane, guys I've been finishing just behind in the MMRA races as we approached the ridge. I had Tom Blackburn just ahead of me and could see my old adversary John Bell not too far ahead either. I also had to check twice and blink as I saw Paul Mahon just ahead of Tom ;-) He was having a stormer of a race well ahead of guys he is normally behind. I could only imagine how even faster he could have went topless but thankfully for all concerned on Carrauntohill on this day he remained fully clothed ;-)
Crossing the ridge was tricky with the poor visibility as its very technical, very easy to go over on an ankle or two. I remember my advice from Jason Kehoe, which was to stay high here. I sort of did but ended up just following Tom who I thought would now know the best route.
As you come off the ridge you face the last big climb up to the peak. Its a rocky steep climb and the top looks miles away even though its actually quite short in distance. It's here , depending on what part of the field you are in, where I started seeing where I'm placed and how far the next guys are ahead of me. 2Yrs ago I was further back with leaders passing me while I was still coming off the ridge I think. Then guys like Alan Ayling where flying by me just as I began the climb up. It's what makes this sort of race so interesting. The terrain, the climbing, the navigation, the technical descents.... all can suit some guys very well. They might be guys that don't do as good on a flatter more trail type course. Alan is one of these and I do like seeing guys beat me in these sorts of races that they are very specifically suited to . I didn't see Alan this time as he was further behind and having on "off" day. He probably had 3 races already done that week before and a few big mountain bike rides, late nights and partying too hard (which on speaking to him afterwards, wasn't too far off)
So first off the top I saw was Seamus Lynch with Brian Furey going well not far behind and another Newcastle man in chase. Then it was a few of the heads I know... Diarmuid, Brian Mullins , then Bernard and Henry Browne who I knew would be going well on this course after his ½ marathon win at Ballyhoura. John Bell and Pat Foley (another race winner of many league races) came towards me as I got closer to the top. So as I hit the cross, I turned and started the descent to see if I could catch up with a few. The top was misty and foggy.... with big groups of hikers around staring at us. The descent is rocky and steep and you start off just trying to stay upright. I could hear plenty of shouts of encouragement from others but I couldn't look up to acknowledge them !
Down onto the technical ridge and I was following Tom Blackburn with Paul Mahon just ahead of us. There was another newcastle man with us and MMRA man JP O Connell too. We seemed to be all moving at more or less the same pace. The climb back up Caher is a heart breaker but again this time I was feeling much better. We stayed high up on the narrow single track where you feel like to are running on a tight rope. With the mist you couldn't see the drop off which was probably a blessing. So there was a pack of 5 of us...and I knew we had to hit the flattish section down Curraghmore. With adventure racer nagivation expert Paul Mahon and former race winner Tom Blackburn... I was happy to just follow them. It seemed like we were drifting too far left but I was none the wiser. After a few minutes of gradual descending I could see Paul in the corner of my eye veering back off right. Tom soon did the same. We met Pat Foley who just had a fall , I asked him if he was okay and he seemed fine. He joined us soon after too. The pack of us then all traversed back over to find the route. We must have been running for at least 5mins. As we eventually met the route again, Ed Casey went flying down past us so we knew we had gone off course by a bit.
I wasn't too annoyed as it is the sort of thing to expect on a race like this. The rest of the descent was more boggy and involved picking a low or a high line. Tom, JP and Newcastle man moved away from me and I was just ahead of Paul. Pat Foley had another fall which allowed me to just stay ahead of him too ! I myself had about 3 near misses... where I was practically horizontal but managed to stay upright. Again, thinking back about how my quads felt 2yrs ago, like someone had hammered them with a sledge hammer, I was just delighted with how I wasn't going through that same experience again. Long hard descending is a tricky business and you need to sort of switch on to it and go hell for leather if you really want to gain time. I was more letting gravity do the trick and race mode was sort of switched off. I guess it was a case of finishing 15th or 19th …. which conciously I wasn't too fussed about.
As I finally approached the last fence, back onto the Kerry Way, I had a race to keep ahead of Paul and Pat down the zig zags. A spritely fella, who I didn't know, but was with me on the climb, pipped past me and I didn't end up making it a sprint finish.
Happy to finish in one piece this time and actually felt like I didn't empty the tank . A quick check with Nora who was diligently recording the results old school with her watch, saw I finished in 1.41. Almost 10mins quicker than my previous time. With our diversion, we must have lost a few more minutes so it could have been a time in the 1.30's . But on this occasion, times or placing didn't matter too much. IMRA has lots of different types of races which test various skills and technique. Carrauntoohill is a pure mountain race, a race that deserves respect and it is one those races that just finishing it is reward enough. Competing at the pointy end and racing for position definitely places a lot more demand. So fair play to winner Seamus Lynch and Brian in 2nd and Colm Murtagh in 3rd. Actually hats off to all the Newcastle lads as its a long haul for them plus I doubt they get to become that familiar with the course.
Recovery involved washing down in the river with more midgies, then brown bread liquer ice cream in the local inn ! A great crowd gathered back in the Climbers Inn for the prize giving and raffle draw. A quick pint and a chat, then this time a 1hr drive back to the new home on the Dingle Peninsula. Another thing that was a lot easier than the previous time. I'm looking forward already to Carrauntoohill next year !
NO BLOOD JUST SWEAT AND TEARS
03 June, 2018 - Mícheál O'Mullain
The time of year for the trip to the Brida Valley rolled around again this weekend. The moaning about the drive from Cork is put in perspective when I arrive when you see the large contingent of Newcastle AC vests milling around.
I had gone up to Donard so based on my time there was hoping to break the two hour mark....of that more anon.
On arrival I saw my brother Brian had parked up and he informed me that our father had strolled on ahead and would probably on the Caher ridge by the time we reached it.
The talk was:
"It might clear" (It didn't).
"There will be no sunburn today" (There was)
"I have enough water" (I hadn't).
The start as always was up the natural meadow at the start of the Lack Road. Looking around it seemed like there was a good contingent down from the North and I saw Conor Murphy had decided to risk the recovery from the hamstring injury by togging out.
The factory whistle was blown by Vivian at 1 and we were off up the zig zag. After the first half mile of spluttering the usual "why do I do this?" thoughts enter the head and are banished and one finds a rhythm of sorts. The humidity was terrible and I was a bog of sweat by the time we reached the ridge to be greeted by the snaking line of those ahead making their way towards Curraghmore.
The ridge to Curraghmore is mixed going being the full combination of rock, bog, heather and very difficult to find a pace on (that''s my excuse anyway). Met my father coming down from his walk aand he muttered some words of encouragement but his look told me I did not look comfortable!
By the time the top of Curraghmore was reached we were in mist and I had been going more slowly than I expected so decidec to put in a bit of a spurt....which soon evaporated when faced with the summit slope of Caher.
The top reached and off we go across the ridge to Corráin......I love that ridge it is nice and technical in places and on days when you have visibilty surely one of the great outings on the Irish hills. Just coming off Caher the leader in a Newcastle AC vest comes out of the mist soon to be followed by the other front runners....the younger lemon passed me by in about 8th but he ended up 4th so must have descended well. I also saw Eddie and Conor moving well in the middle of the ridge.
The last kick of course is the summit ridge to Corráin on which I saw Mark Hovarth taking a few photos of us pities crawling up to the cross. The obligatory jog to touch the cross amidst the mobs of hikers and then off back across the ridge. I had a good battle with a couple from Watergrasshill on the ridge and only managed to push ahead when coming off Caher.
It is easy to go wrong off Caher as the temptation is to veer right too early. I managed to avoid that but a quick look at the watch as I charged across the top of Curraghmore towards the wall made it clear that my time ambitions were a beaten docket for the day. The legs were tired now and the aim was to get down without conceding and more places and without injury. I managed both and even picked up 3 spots before se hit the welcome sight of the zig zag and the final hurtle to the finish to cross the line in a disappointing 2.06 but an enjoyable outing all the same.
Once again massive thanks to all the organisers and of course the farmer for the parking!