WMRA World Masters - Slovakia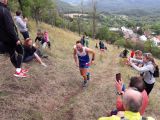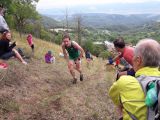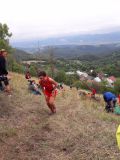 Authors
Gold for Kennedy, Patterson, and M35 team in World Masters
02 September, 2017 - Gerry Brady
http://www.hrdosport.sk/Online?CompetitionId=192&DisciplineListId=5870&DisciplineCode=6&Code=RES
The 2017 World Masters was held in Pruske in Slovakia on a 9,600 metres course with 600m climb. A typical course has around 10% climb so 6% was going to mean a fast course and this reflected in winning times of under 40 minutes.
In 2015 the men's M55 team became the first Irish team to win a World Masters title. In 2016 Ian Conroy (M35) and the men's M35 team won double gold. In 2017 a very strong M35 team travelled looking for more history by repeating their victory. The depth in the team meant no one could be certain of winning one of the three medals on offer and this pressure can improve the performances of those who can respond positively to it. Unbelievably Ireland had ten of the top 20 finishers and it was the experienced trio of Ian Conroy (3rd), Eoin Flynn on his master's debut (4th), and Brian Furey (6th) who gave Ireland a repeat victory. Michael McCarthy in 7th will no doubt be back next year.
It is very hard to win any race even a Leinster league event. It is harder again when the opposition is not known and when a World Masters title is on offer. Des Kennedy kept his focus and his belief to take the M45 individual title. His first appearance at these championships and hopefully more to come in future years. Jim Patterson running for Great Britain in the M70 race took individual gold back to Northern Ireland. Jim was running senior World championship races in the 1980s and it is not easy to stay competitive over a 30 years span.
Gillian Wasson made her first appearance in this competition a successful one when she took the bronze medal in the W40 race. She was joined by Hazel McLoughlin for a bronze medal team performance.
Martin McDonald added to his impressive medal haul from these championships with an individual silver at M60 level.
Men 35-39 Individual (36 finishers, 9.6 km)
1. Zachary Freudenberg (NED) 38:42
2. Emanuele Manzi (ITA) 38:58
3. Ian Conroy (IRL) 39:33
4. Eoin Flynn (IRL) 40:10
6. Brian Furey (IRL) 41:19
7. Michael McCarthy (IRL) 41:56
11. Paul Deane (IRL) 44:27
12. Sean Quirke (IRL) 44:32
14. John Kinsella (IRL) 45:06
16. Jason Kehoe (IRL) 45:30
17. Brian O'Murchu (IRL) 45:33
20. Brian Flannelly (IRL) 46:35
Men 35-39 Team
1. Ireland (3,4,6) 13
2. Slovakia (10,13,21) 44
3. Great Britain (5,19,29) 53
Women 35-39 Individual (14 finishers, 9.6 km)
1. Silvia Schwaiger (SVK) 44:10
2. Jill Stephen (GBR) 47:19
3. Lenka Duskova (CZE) 49:20
Women 35-39 Team
1. Slovakia (1,5) 6
2. Czech Republic (3,4) 7
3. Poland (8,14) 22
Men 40-44 Individual (31 finishers, 9.6 km)
1. Sullivan Smith (GBR) 39:36
2. Marcel Matanin (SVK) 40:24
3. Chris Grauch (USA) 40:28
Men 40-44 Team
1. Great Britain (1,7,9) 17
2. Slovakia (2,5,13) 20
3. Czech Republic (4,6,12) 22
Women 40-44 Individual (20 finishers, 9.6 km)
1. Katarina Paulinyova (SVK) 48:23
2. Kirsty Hall (GBR) 50:42
3. Gillian Wasson (IRL) 51:08
12. Hazel McLoughlin (IRL) 59:57
Women 40-44 Team
1. Slovakia (1,4) 5
2. Czech Republic (7,8) 15
3. Ireland (3,12) 15
Men 45-49 Individual (50 finishers, 9.6 km)
1. Des Kennedy (IRL) 40:30
2. Danilo Bosio (ITA) 40:51
3. Jozsef Sagi (HUN) 41:00
18. Bernard Fortune (IRL) 46:24
32. Brian McGuckin (IRL) 50:57
Men 45-49 Team
1. Italy (2,4,5) 11
2. Germany (6,7,11) 24
3. Slovakia (9,17,19) 45
4. Ireland (1,18,32) 51
Women 45-49 Individual (17 finishers, 9.6 km)
1. Sara Wagner (USA) 49:38
2. Iveta Hulvatova (SVK) 50:05
3. Marta Santamaria (ITA) 50:35
7. Shileen O'Kane (IRL) 52:32
11. Zoe Melling (IRL) 01:01:33
Women 45-49 Team
1. Italy (3,4) 7
2. Slovakia (2,8) 10
3. Czech Republic (5,9) 14
4. Ireland (7,11) 18
Men 50-54 Individual (54 finishers, 9.6 km)
1. Simon Strnad (SLO) 43:03
2. Alec Woods (GBR) 43:08
3. Bonek Jancik (CZE) 44:04
12. Keith Ryan (IRL) 47:00
16. Tom Blackburn (IRL) 48:18
Men 50-54 Team
1. Czech Republic (3,7,14) 24
2. Great Britain (2,13,18) 33
3. Slovakia (4,11,19) 34
Women 50-54 Individual (23 finishers, 9.6 km)
1. Nives Carobbio (ITA) 47:47
2. Rita Lilia Quadri (ITA) 49:44
3. Elke Keller (GER) 51:13
13. Anne Sandford (GBR) 01:04:47
23. Patricia Blackburn (IRL) 01:15:37
Women 50-54 Team
1. Italy (1,2) 3
2. Czech Republic (4,9) 13
3. Germany (3,14) 17
Men 55-59 Individual (68 finishers, 9.6 km)
1. Marek Dziegielewski (POL) 43:08
2. Franco Torresani (ITA) 43:36
3. Steart Whitlie (GBR) 44:10
8. Gerard Maloney (IRL) 45:59
18. William O'Donoghue (IRL) 50:10
49. Syl Ivers (IRL) 00:01:12
Men 55-59 Team
1. Italy (2,5) 7
2. Great Britain (3,10) 13
3. Slovakia (4,11) 15
7. Ireland (8,18) 26
Women 55-59 Individual (20 finishers, 9.6 km)
1. Marie-Luise Heilig-Duventaster ((GER) 53:30
2. Elisa Pellicioli (ITA) 54:37
3. Ali Keates (GBR) 54:50
Women 55-59 Team
1. Germany (1,6) 7
2. Czech Republic (5,10) 15
3. Slovakia (8,11) 19
Men 60-64 Individual (56 finishers, 9.6 km)
1. Milos Smrcka (CZE) 44:26
2. Martin McDonald (IRL) 45:40
3. Franz Prager (GER) 45:42
46. Peter Bell (IRL) 00:05:03
Men 60-64 Team
1. Austria (4,5) 9
2. Czech Republic (1,11) 12
3. Slovakia (6,9) 15
7. Ireland (2,46) 48
Women 60-64 Individual (20 finishers, 9.6 km)
1. Paula Knoll-Rumpl (AUT) 52:04
2. Blanka Paulu (CZE) 53:03
3. Silvia Bolgnesi (ITA) 54:02
Women 60-64 Team
1. Germany (5,7) 12
2. Czech Republic (2,11) 13
3. Ukraine (6,8) 14
Men 65-69 Individual 40 finishers, 9.6 km)
1. Adolfo Accalai (ITA) 48:34
2. Guerino Ronchi (ITA) 51:13
3. Oldnch Smida (CZE) 51:53
32. Willie John Brown (IRL) 00:10:04
Men 65-69 Team
1. Italy (1,2) 3
2. Poland (5,7) 12
3. Czech Republic (3,12) 15
Women 65-69 Individual (13 finishers, 9.6 km)
1. Annamaria Galbani (ITA) 01:00:16
2. Gabriella Martini (ITA) 01:01:19
3. Emi Vaquero Sanchez (ESP) 01:05:07
Women 65-69 Team
1. Italy (1,2) 3
2. Slovakia (5,9) 14
3. Czech Republic (6,11) 17
Men 70-74 Individual (27 finishers, 9.6 km)
1. Jim Pattersen (GBR) 55:03
2. Wolfgang Huber (GER) 55:22
3. Omer Van Noten (BEL) 57:19
Men 70-74 Team
1. Great Britain (1,4) 5
2. Italy (5,7) 12
3. Norway (10,12) 22
Women 70-74 Individual (7 finishers, 9.6 km)
1. Barbara Prymakowska (POL) 01:12:13
2. Miloslava Rocnakova (CZE) 01:18:52
3. Eugenia Delbarba (ITA) 01:21:01
Women 70-74 Team
1. Czech Republic (2,4) 6
Men 75-79 Individual (19 finishers, 9.6 km)
1. Michele Iori (ITA) 55:32
2. Viliam Novak (SVK) 01:00:49
3. Georg Gross (GER) 01:02:20
Men 75-79 Team
1. Germany (3,5) 8
2. Slovakia (2,6) 8
3. Ukraine (4,8) 12
Women 75-79 Individual (3 finishers, 9.6 km)
1. Haldis Nagell-Dahl (NOR) 01:17:28
2. Eva Carlsen (NOR) 01:22:22
3. Gaby Pohlmann (GER) 01:25:41
Women 75-79 Team
1. Norway (1,2) 3