Ballyhoura Trail Ultra Marathon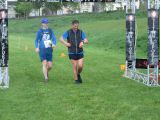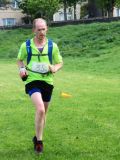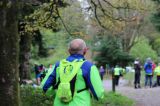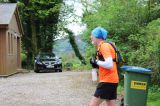 Authors
Ballyhoura Trail Marathon.
03 May, 2017 - Robert Cunningham
Pick up keys for forest barriers.
Meet in Kilfinane.
Collect red arrows.
Mark last of course on Sliabhriadh.
Chip race numbers.
With these last few jobs done there's just 7 and a half hours to the ultra race start.
My alarm goes off it's 4:15am no snooze needed I'm up. With all I need for the day packed and ready for me the night before by my lovely wife, I'm out the door for the short drive to Kilfinnane stopping on the way to open the two forest barriers at Sliabhriadh.
I arrive at Scoil Pol (RaceHQ)just after 5am, the place is a buzz of activity with all volunteers having been designated there own jobs after meticulous planning by Tricha Blackburn RD.
With everything set up and ready the first of the ultra runners started arriving,Sign in,bag drops,kit check,smooth as you like.(for most people). With race start approaching I headed up the town to direct the ultras out to their left towards Sliabhriadh.
With the ultras gone it was back to HQ.for a quick cup of tea and a scone before the marathon runners arrive.
With the marathon runners going trough sign it was fast approaching 7:45 time for me to head out to guide the ultras back into Kilfinane after their loop of Sliabhriadh. It wasn't long before Barry Hartnett passed by, I pointed him in the right direction and made a phone call to HQ. To alert them of his arrival. Quickly Barry was followed by more runners as a shower of rain eased off. With most of the unltras gone through I was relived of my duties by the two Johnnys as they took up their first position of the day in my place. Back at HQ I arrived just as the marathon runners were leaving.
Now it was time for the largest group of runners doing the half to get signed in,
And for me to get ready to sweep the course and collect the markings.
So at 9:25 with all but 1 of the ultra runners making the first cut off time of 9:15,I was off running the Ballyhoura Trail Marathon course like I had it all to myself. Out the road from Kilfinane to the right turn onto the trail was the first 2 arrows after some pulling of the arrows I finally freed them and thought to myself why did I hammer those nails all the way in.
On I went past the mast and over Magners hill and there was that fantastic view across Ballyhoura country to Seefin. With lovely running to Seefin I felt that the half marathon runners were missing out on this part of the course.
Soon enough I was at the turn up to Seefin for the first real uphill of the day,here I emptied my backpack of arrows and tape and headed up to the first marathon aid station where Ger and Keith were happy I'm sure to see me coming as I was definitely the last person on the course. After a chat and a few chocolate bars On I went up to the top of Seefin and to my favourite part the DOWNHILL. Steep, technical and fast not much tape to slow down for I enjoyed it all the way down to the main road. A short distance later and I reached the half marathon start point in Ballyorgan where I met Jane and Marie.
They told me I wasn't far behind the last of the ultra runners.
So after filling my bottle and eating more nutty chocolate bars on I ran collecting arrows and tape as I went, along the river Dara and up to the Dara hills, where there was another unmanned aid station. Here I over indulged on nuts and jellies only a collie dog watching me. Quick phone call to HQ to advise that this aid station be collected before the dog has a good feed of chocolate and jellies. Off I went on the climb up the steep trail trough the woods out onto a flat trail briefly and then steep climb up again. At the top I could see a runner down the trail. He wasn't expecting anybody and I gave him a good fright when I asked if he was ok, walking and holding his left buttock he told me he had sciatica.I told him that I could have a car pick him up at the next road, it was at this point I think I became more of a pain in the hole for him than his sciatica. Having done 30 miles of the ultra with only about 7 left He wasn't going to give up,and with that he picked up the pace and started running,I think just to get away from me.
Soon enough we were off the Darra hills after a lovely run down some fantastic trails, back onto the Road to the next aid station where Linda,Willie and Jo had put in a long shift.
After a good chat and leaving them with a pile of tape and arrows I left them to head into Glenroe, and what I think is the toughest part of the whole course.
At Glenroe GAA grounds I stashed what arrows I had before the tough climb ahead. Eventually the top was insight and it was easy going with very few arrows or tape to slow me, even with this I was near the road back into Kilfinan before I caught sight of JP no longer holding his butttock.I arrived back at the finish with over 9 hours on the ultra clock just as it started to rain.
Help take down gazebo.
Bring in tables.
Congratulate JP and apologise.
Get some food.
Volunteering role finished.
Huge congratulations to everyone who took part in all races on the day,And
To all volunteers, without whom The Ballyhoura Trail Marathon would not be possible.