Slí Gaeltacht Mhúscraí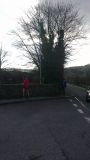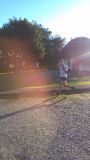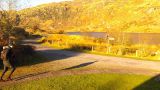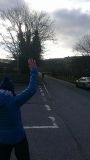 Authors
First Ultra
16 February, 2017 - Joan Ryan
I was thinking about attempting an ultra marathon since last year so when I saw Sli Gaeltacht Muscrai appear on the events list I figured it would be a nice one to do. Firstly we were very lucky with a dry day - the forecast all week had predicted a dry, cold day. There was a cold head wind alright from the NE but this was only prevalent at a few stages along the route.
It was an early start to get to Millstreet for 6am. With the bag check complete in the darkness we were whisked off to Kealkill by bus. It was a nice opportunity to chat about gear and trade stories with Tina and Michelle. When we arrived at Kealkill a very kind local man escorted some of the ladies to his house nearby to avail of his toilet. This was very much appreciated as there were no alternatives there.
Rob gave the pre-race briefing and at 8:15 we all set off on our way with accordion music fading into the background. There was a bit of leap frogging going on over the first stage and climbing up the last hill before Gougane I got to chat with John and Caroline. The ground was still pretty frozen at it was still quite early so we were lucky to be able to cross most of the boggy area without sinking too far. I had done this section on a recce a few weeks previously and it was really tough going due to slipping in the snow and sinking into ever present bog. Frosty mornings have their advantages. The views from here are absolutely a must-see. There are breathtaking views over Gougane lake and down SW towards Bantry bay. There was a steep downhill from here that had lots of rocks and frost to command respect and ensure speed was restrained. I felt great arriving at the Gougane checkpoint greeted by Aileen and Matthew. I was on my way within a couple of minutes after topping up my food and water. The next section to Ballingeary was mainly road so it was just a matter of tipping away and keeping food intake at regular intervals. There was more leap frogging with Barry and Michael, having the chats. I got a nasty, but fortunately fleeting, cramp in my calf jumping onto a style. I told the lads to jog on as I stretched it out and I wasn't to know then that I would be running the rest of the day by myself. Another quick stop for refilling water and food at Ballingeary and I set off again, still feeling good. Jogging along a lane through some farmland a farmer passing in a jeep stopped to talk. He had obviously been talking to others as he said "Are you going to Millstreet?" I replied "I am" and thought to myself "I hope!" and he looked at me and kind of puffed, as if he didn't think I was going to get very far.
The next section was so hard I didn't think I'd make it. The energy gels were not going down well so they were put away to be deposited at the next check point. There was no-one to see anywhere - not to the front or the rear. When I eventually got through the fields (I think everyone remembers the fields) onto the Mweelin road I had to force myself to jog down the road to CP3, the first unmanned water stop. I wasn't in a good place but reckoned I'd still make it to Ballyvourney. The rest of the way to Ballyvourney was forestry road and small country roads and my legs did get moving a bit better. About 500meters from the check point in Ballyvourney I unexpectedly met Lisa from my local running club with a box of jellies. Hugs all round, even two men I'd never seen before were shaking my hand and hugging me. I swear the energy from them transferred to me, giving me hope. Around the corner was Aileen at the check point and a line of chairs - a welcome sight. Aileen supplied me with a bacon sandwich, pringles and pasta bake. I stayed for about 15 minutes. I put on dry socks and changed my runners. That felt so good as my feet had been wet constantly since the start of the race. More runners came in, Michelle mentioned those dreaded fields so that validated to me how hard it had felt. I set off again, declining the offer from Michelle to wait for her group, as I needed to get moving again. I had gotten cold as I didn't put on any extra later as I sat there - rookie mistake.
I picked my way though the next set of fields intent on keeping my feet dry - I know it sounds mad, but my toes had been so sore from being wet that I had to try to keep my feet dry as long as possibly. I managed about 3 miles with dry feet (which I am still very impressed with considering the wet fields soon after Ballyvourney), with biting cold wind funnelled between the hills, before I sank to my ankles in icy cold water. Eventually I came up onto a forestry road and saw my first sight of the southern side of Claragh mountain. I know that place well so I cheered. It was still maybe 8 miles away but I knew I was going to make it. My suunto watch gave up at mile 39. I was already 12 miles farther than I had ever done before.
Now it was time for the head torch as I was slipping and sliding all the way around Claragh, through gorse, flocks of startled sheep and seriously dark forestry. The light from the torch lit up the reflective strips on the way markers on the path ahead. I was greeted on my approach to the finish by Aileen (unrecognisable with the hat, scarf and balaclava!) and my fellow club member Meg. It was a fantastic feeling to have completed it. My first ultra done. More hugs.
I was glad I had receed most of the route over the last few months as it gave me a good sense of confidence that I wouldn't take any wrong turns. I can't imagine heading off on this route never having seen any of it before - serious respect due to all those runners who were there for the first time.
Thanks a million to Rob, Robbie, Matthew, Aileen and all of the volunteers. Michael McSweeny was liable to pop up anywhere - I think I met him about 10 times along the route! He was always smiling, helpful and making sure everything was okay. All the volunteers were fantastic. They had a long, cold day to be standing around at check points. Thanks so much to you all. It was a fantastic route, well marked and I am so glad that I did it. I'd highly recommend it.
Nice SLí does it
16 February, 2017 - Barry Hartnett
"Best of luck now, hope it goes well" the aul fella on the ditch chirped as we left the castle for the start line. Well says I "LUCK doth butter no parsnips aul stock but thanks", he of course looked at me like my arse was where my head should be and probably just assumed that this is how these strange looking creatures gathered around at 8am on a bone cold Saturday morning in various states of undress spoke.
What I meant of course was that I needed today to go well, my last race had been and absolute disaster a 12hr slog with a 6hr death march to finish that had kinda broken me, following that a laundry list of injuries over the winter had not instilled a huge amount of confidence in my ability to complete any race let alone an ultra going into 2017.
The race description had declared that this was to be a tough course and only the hardiest of ultra runners need apply. Well in short that's exactly what it was and that's exactly who showed up. Looking around the start line was simply a class collection of "that hardy sort" O Conner, Hovarth, Lonergan, Reed, King, Hennessy, Forbes, Mullins, Walsh to name a few..... Wicklow, Kerry and Mourne vets all sides. Folk that don't wilt too handy. Fine company indeed.
Ive been to a fair few races in my day, most started by gun or klaxon one was even started by a canon but started via Squeeze Box was a first. It was brilliant, what a send off! So with Foster and Allens 1974 White album behemoth "the old button box" being pucked out by big Richard O Sullivan we trotted of towards the Shehy mountains. It's funny the little things that can relax you and dispel nerves..... I must add Foster and Allen to my Spotify playlist.
I fell in with Dave McCarthy who I hadn't met in an age and we caught up with our own comings and goings. I wanted to go easy for a bit a see how the legs responded and after a few k they felt ok, not hoping off the sod good but less achey than usual so I left Dave and cracked on to see where everybody else had got to.
Eventually I caught up with Brian Mullins up at the front and we rowed in together for the next few hours, the chat was easy and the scenery amazing so it made the time whizz by. Whether or not it was the distraction of the company I don't know but my legs began to feel better and I think around the 40k mark I pulled away from Brian, he was climbing very well though so I knew we'd meet again at some point on the course. In retrospect it was a huge mistake because on the downhill road section coming into Ballyvourney my legs began to hurt pretty badly all of a sudden and knowing Brian and his ferocious beard were running me down like Dr Richard Kimble the race anxiety shot through the roof.
Ballyvourney to the wind farm was very tough and it felt as if I was going backwards in places, I had resounded myself to being caught and even rehearsed what I'd say when it happened. But as it turned out it never did. Over the hill of the wind farm I took what drink I have left in my bottle swamped the lot and let fly on the downhill. The trail around Claragh was sticky and I was genuinely over joyed when Millstreet came into view, I pegged it up the road into the town and gave the Beara sign and good slap. "Thank God that's over"....... said the atheist.
Huge kudos to all the Robs and their crews. It was a bitterly cold day to be standing around at aid stations and it's appreciated. The high level of organisation and care for the athletes was remarkably evident from start to finish in this race.
Thanks again folks.
Bar
Niall Corrigan
16 February, 2017
Seventy kilometres through West Cork in February? Ah, sure why not! The Slí Gaeltacht Mhúscraí Ultra was a very well organised, no fuss event that I would recommend giving a go.
We registered at the finish line early in the morning and were bussed to the start for 8am. A slight delay to the off caused by the hospitality of the caretaker of Carriganass Castle as everyone dived on the offered hot tea or coffee. We were piped off at 8:15, a small field of 36.
As usual I started at the back as I gently warmed up in the icy wind. It was a cold morning with clear skies and the wind was going to be in our teeth all day. The field quickly spread out and I found myself on my own very quickly.
Stage one of the route is a 16+ kilometre trip from Kealkill to Gougane Barra. It climbed gently on country roads before kicking up on to open ground. We got our first sign of the frozen underfoot conditions up here as well as stunning views out over Bantry bay as the trail headed briefly west before plunging downwards along a wet fire break. We had been warned in pre-race communications that this descent off Knockbreteen was very slippery and might require mountain running shoes rather than trail shoes. I had considered starting the race in Mudclaws and changing at CP1 but in the end I decided to avoid the faff and just go with the Terraclaw 220's, they did the job for the whole route.
The following 5k was mostly on fire road and farm track with a short, wet, trip through some woods. The farm track kicked up steeply, leading to open moorland and a long traverse towards an obvious ridgeline. Passing twin loughs and climbing a stile we got out first view down into the beautiful pocket that is Gougane Barra. The descent to the lake and oratory was entertaining to say the least. Low sun and a head wind made it difficult to see out of streaming eyes and the ground was a mix of bog, crusty with frost, and bare rock, covered in water ice. I made it to the bottom unscathed and I jogged into the first checkpoint at the hotel.
There were three manned checkpoints on the route, at Gougane Barra (16k), Ballingeary (29k) and Ballyvourney (49K) as well as two, unmanned, water drops. Drop bags and support crews were permitted at the manned points. Most runners were just using bags, I didn't notice many support crews out there.
I had no drop bag at CP1 so I breezed through, stopping only to top up my water and grab a handful of rashers. Some kind soul had gone to the bother of making up a huge batch of rasher baps. I didn't need the bap so I just grabbed the meat and marched out munching away.
Stage 2 is the shortest on the route at just 12+k and follows quite country roads for the most part with only a short section through woods along the Lee valley. On the climb up out of Gougane Barra I was joined by Brian Grogan and we would remain together for the rest of the day. The trip into Ballingeary was uneventful. The second CP was manned by RD Rob McEvoy and Pat Rodgers, looking well after his Spine Race adventure. I decided to change socks here as the Sealskinz I had worn from the start were now completely inundated with mud and were starting to slip and ruck it was time for fresh socks and fresh Vaseline.
The sit down to change socks did me no favours as I felt very stiff on the gentle climb up out of Ballingeary but I eventually loosened out. The pattern for the rest of the day now established itself. As a converted hill walker I can power hike up most hills and, on these, I would drag Brian. On the flats or runnable hills Brian, as a regular marathon runner would drag me, forcing me to run bits I might otherwise have walked. Behind us came John Barry and Caroline McLoughlin and they were the only others we saw for most of the day.
This third stage was a long one at 19K. About 8k in was the first water drop point and here, at pretty much the half way point I had a little moment of doubt. I wasn't feeling great and the little DNF demon was whispering in my ear, but it soon passed. I was actually enjoying the day out in unfamiliar surroundings.
A long road section leads down into Ballyvourney and CP3. Here I had my only drop bag. Also here we were offered coffee and we greedily accepted. The rasher baps made a reappearance here too, this time with the addition of brown sauce. We were being very well looked after by the small band of dedicated volunteers. We spent 10 minutes here. John and Caroline leapfrogged us on the stop and as we had arrived in, Linda O'Connor and Kastytis Bereznocenko pulled out, so they had a ten minute lead, maybe we could close that a bit?
From Ballyvourney to Millstreet is 24k. A day out in itself. The character of the route changed here too. Less roads, more farmland, more muck. Some forestry, an enormous wind farm, wet open mountain, a surfeit of signage, and what there was causing confusion. The organisers had done their best to mitigate the signage issues by marking the course themselves in places and this helped.
We plugged away, making reasonable progress. We had passed John and Caroline but we hadn't left them. At one point after the windfarm we missed a turn and Caroline kindly called us back. Tiredness was creeping in and mistakes were being made, that wouldn't be the last one.
After the navigational snafu there was a lovely long gentle descent on fire road down to the road below Claragh mountain. I was glad we were going around her rather than over, the traverse was tricky enough and the uneven ground after the long running section on tired legs was causing cramping in my right leg. Climbing was now painful but I eventually convinced the cramp it didn't exist and marched on. Daylight was fading as the town on Millstreet came into view below us, it looked like we would finish without having to dig out the headtorches. I made a joke about carrying them so far for nothing. They'd have the last laugh.
We ran downhill towards the slowly lighting up town and here we messed up. A sign to the right said "Duhallow Way". The hastily read and half remembered route description said that such a sign should be ignored so we did and continued down into a dead end. Here a mixture of tiredness and pig headed obstinacy took over and I compounded the error by persisting. Where we were kinda matched the description so I was making it fit. Eventually a call from the RD forced us to retrace our steps back to the sign and back on route. A lot of people had nav errors on the day but I think we win the award for the most frustrating.
This last loop was like the retreat from Moscow, mucky as hell. Eventually the muck ended, we got to the road, passed the sign we weren't supposed to take and headed to the finish, a little bit dejected. Or at least I was, it didn't seem to faze Brian at all. More sanguine by far.
We were welcomed into the finish by Rob and his team, got our very nice t-shirts, and surrendered our trackers. The hospitality wasn't finished yet though. The hotel in the town had a couple of rooms set aside for showers and there was free bar food available too. Just what was needed.
A big thank you to Rob and his team for an excellent day out in a beautiful part of the country. An ultra I would highly recommend.
Another Munster Adventure
14 February, 2017 - John J Barry
Stats:
Distance: 72,73 km
Avg Pace: 8:24 min/km
Time: 10:11:27
Elev Gain: 2,271m
Caroline McLoughlin and I completed MMRA's latest addition to the Irish ULTRA family "Slí Gaeltacht Mhúscraí Ultra" race together. We finished joint 13th where Caroline was second female and has a shiny new North Face Rucksack for her efforts.
I finished second M50 which is by far my best ever position in a race. The RD told me my prize is in the post. Think I'll be waiting a while :-(.
Oddly enough race percentage at 148% is modest. But that's down to Barry's exceptional time. Sub seven is really impressive.
That part of Cork I'm not familiar with and we had a great day out in somewhere new even with a very cold head wind (especially at higher altitudes). Some of the scenery was stunning. Caroline and I said numerous times it's great not knowing what's coming up next!!!!
Leg one had the toughest conditions where we climbed to ~600m to be greeted with rocks covered in ice. Very dangerous. That and semi frozen muck we sunk into on numerous occasions. Tough on the feet ;-) . Real winter ultra running there. Good call on the recommended mudclaws by MMRA.
Last leg been the last and also the longest (most climb??) also proved to be a real challenge. Claragh Mountain which we could see from across the valley looked "very big" and "very far away" and knowing we had to reach it and do virtually a lap of it was also mentally challenging.
But back to earlier in the day where Caroline and I took it safely first on leg one and we got to checkpoint one in the bottom one third of all athletics. We then proceeded to have three great legs where we overtook a good few athletes. No rocket science used. Caroline and I ran all the flat sections and downhills. Caroline was faster going down so I had to push a little harder to keep up. But then the walking sections I was a little faster so Caroline pushed to keep up. It worked a treat this teamwork!. At times I wished for a climb to have a break because we refused to walk on the flat. Around midpoint we had a good 5km of continuous running and we hit the marathon distance in around 5'18". We used these little milestones all day, Half Marathon, 30km, Full Marathon, 50km etc. To great effect.
Last 25km 2 3/4 hours was tough where I suffered a near melt down when I got very dizzy due to a lack of sugars. A mini Mars bar from Caroline, an unmanned checkpoint where some more sweets were available kicked in and the moral support of Caroline got me through the dizzy patch., For the future I need to carry some glucose tablets... Valuable lesson learned there :-( .
All our good efforts in the previous legs nearly came a chopper in the final couple of miles where we were caught by two other athletics and I also heard a couple more coming behind them.
This had the potential of losing up to four places with just a couple miles to go. The two lads that just passed me stopped to get out their lights since it was very dark at this stage. I saw an opportunity and with a "second wind" kicking in I took off to catch up with Caroline just ahead - said to her what happened. So off we tore in the dark trying to create a gap!!!
Funny! Dangerous!! Mad!!!. Could not see a thing under the trees!!! At one stage I came around wide on a turn and ran straight into a tree lying on the ground. Untangled myself and continued the mad pursuit of Caroline. We were racing what light we had in the hope of hitting the road for the last mile. So after 70km done we did the last two Km in an impressive 13 minutes where we eventually made it to the end in just over 10 hours and the next two pairs of athletics were only One minute and Two minutes behind us respectively.
Great day out and congratulations to MMRA - Munster Mountain Running Association to coming up with another cracking good event to their already existing Ballyhoura and Glen of Atherlow ultra events.
Note: Before Christmas I did the 60km 2100m Tour De Helvellyn in the Lake District. Okay bigger numbers but quality wise, this event is every bit as good, if not better.