Gleanageenty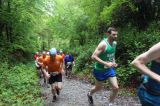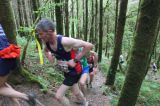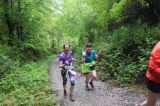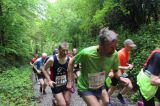 Authors
Gleanageenty
16 May, 2017 - Paul Deane
You should always be worried if John Lenihan tells you at the start of a race that there are a few 'ups and downs'.
It is great to see Gleanageenty on the Munster Championship fixtures list. It is a very popular course that stands out from the other Championship races. To look at it on paper you might think it more suitable as a League course, but after running it you're left in no doubts that it is just as hard as the big championship climbs.
The race started with a short quick climb which spread the runners out before we reached a narrow forest section. It was Darren B who took the front from the get-go. I settled into the back of a chasing pack and waited for the fast pace to settle a little…it didn't.
The course is demanding and doesn't allow you to settle in to a rhythm. A few steep climbs on the first half of the course tested all runners but it wasn't until Cardiac Hill at about half way that the chasing bunch opened up. Martin and Sean took off like lightening after Darren in what looked to be a real battle royale
I tried to hang on to John K as we approached the final climb. At this stage my legs were shot and I was saying my third decade of the rosery (is there a painful mysteries???), praying for John to stop and admire the beautiful Kerry views or the divine to intervene and give me news legs. Alas, neither god nor John were listening and he put on the boosters and left me for dead.
Gleanageenty is real test of fitness and stamina and fair play to everyone who ran this beautiful course. A huge 'thank you' to the good people of Ballymac for all the stewards, volunteers, Pat and team at the halfway for food and liquids and of course thanks to John Lenihan for setting out an excellent course with a few 'ups and downs'.