Snowdon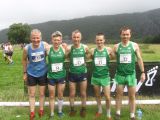 Authors
Peter O'Farrell
17 July, 2017
James Kevan, Brian Furey, Greg Byrne and Pat Foley gave their all up and then down Snowdon in the Irish singlet.
Cormac O'Ceallaigh, Gordon Place and local celebrity Tommy Galvin provided able support to the official team.
The Northern Irish team also had a good day on the hills.
The baby faced Italian was a clear winner with England packing well for the team prize. James and Brian went out hard, clearly impressed by the slogan on the race T-shirt "Go hard or go home" with Greg and Pat both running at a more measured pace.
Everyone learned something from the experience and hopefully will be back for more.