Glen of Aherlow Trail Ultra-Marathon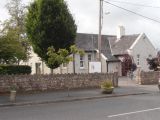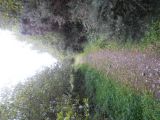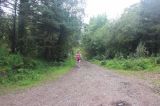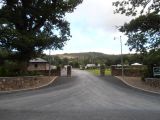 Authors
It's A Long Way To Tipperary
18 September, 2016 - Thomas Bubendorfer
When the coach put a 40 mile training run onto my schedule, I had nightmare visions of stumbling around the local countryside on my own for hours and hours. Thankfully, I spotted the Glen of Aherlow Ultra race on some calendar, by some miracle on the same weekend that my coach had targeted. Even the coach agreed this was perfect. The race was 39.3 miles over 3 loops, though half and full marathon races were on as well, with a later start.
However, the timing around real-life issues was less than perfect. I'm in the middle of a training course at work that I found much more mentally demanding than expected and I was drained of energy every evening, The exam is on Monday - crikey! Add to that a bout of teenage drama at home and my mind wasn't exactly in the base place.
Getting up at 4am had Niamh worried but for once I decided to follow my own ideas. The drive to Tipperary was fairly uneventful, apart from finding out that the road between Mallow and Mitchelstown was closed and required a detour but thankfully I had a few minutes spare and still arrived on time.
Apart from the long miles ahead of me, I was pretty much out of my comfort zone because this was a trail race and I am very much a road runner! However, the IMRA have a reputation for being open and friendly, though they could do with making information a bit easier to come by. I found it very hard to get any info about that race.
Never mind, I was there. I had less time than anticipated and jogged half of the mile from the race HQ to the actual start so as not to be late, which was the first time ever I did a warm-up before an ultra.
I was under strict instructions to take it easy, REALLY easy, on the first loop. The race starts straight away with 3 miles of steep climbing. The fast guys took 5 minutes to disappear out of view, after which my competitive instincts realised they were unwelcome today and disappeared entirely (not that I would have had a hope to compete at the front anyway). A couple of looks at the HRM told me unfailingly that I was working much harder than it felt, even when I was genuinely trying to run as slowly as I could, and eventually I joined into everyone else's spirit and walked the steeper parts, though that still had the HR at a higher level than I would have preferred,
On top of the ridge I was in a group of 4. The footing was very tricky for well over 2 miles, which is the part that bad been described as "the awkward section", and yes, it really was awkward. I was glad I was in my trail runners, I don't know if I would have made it through in slippery road runners. After a long while, when we were already wondering why we had not seen any markers for quite some time, we came out to the first aid station at the road crossing and the second part of the loop was much more runnable. I (inadvertently) dropped my companions over the next few rolling miles, passing another aid station and then dropping for a few miles over various different surfaces back towards the finish area. I ran together with Gabhain and Stephen, though the latter pulled away before we go back to the start area.
We all picked a different strategy for the big climb of the second loop and straight away walked most of it, though my HR was still way over 150! The sun came out and it got actually rather hot, so I was glad I now carried a bottle with me, in contrast to the first loop. I also took on a few extra calories and after a while they must have kicked in because running eventually became much easier and I definitely started to enjoy it a lot more. There was a turn-off towards the right about 4 miles in which I did not remember from the first loop, but wavered between spotting places that looked familiar and thinking that I had not been along this route before. I was pretty sure that things were different this time round when I got to a jeep road that was very runnable, because in the first loop the miles towards the first aid station had been a horrible scramble through muck. This was confirmed when I reached the aid station from the jeep road; I could see the trail where I had emerged from the first time round. I talked to the guys manning the aid station who thought that I must have take the long way round in the first loop but looking at my GPS I didn't think so. Anyway, they told me to go on and not to worry about it.
The next few miles seemed strangely unfamiliar again, except that this time I was pretty sure I must have run along here before as the markers were so obvious. The legs felt surprisingly good but I still took it very easy, there was no point killing myself in a training run and messing up the training for the Euros. However, I was cruising along at a decent enough pace, even if the HR was still much higher than I would have thought. I eventually caught up with Stephen, a lot later than I would have expected. I told him the same story about that missed turn in the first loop, though dismissed his suggestion that keeping quiet was an option. So when we got to the start area once more, I talked to the officials there. I estimated I had cut off about half a mile, maybe a tad more, though with the awful footing on that section the time difference was probably not that great. I did offer to run an extra out-and-back bit but they eventually told me to just carry on on my third loop and not do anything about it for now, so go onto the third loop I did.
This kept playing on my mind, though I tried to put it away and just get on with the race and actually enjoy it. I'm used to pushing as hard as I can on races, even very scenic ones, which leaves very little scope to actually look around and take in the views, so this made a nice difference (however, the views were not as good as in Kerry - sorry!). The sun was still shining, which would have been an issue had I been racing as it would have provided much scope for suffering, but at my much lower effort today this was much more manageable. It also provided the benefits of somewhat drying out the mucky trail and footing actually became slightly better. The legs did feel the effort of over 30 miles on unaccustomed territory but overall I was feeling better than expected, really. I started passing a lot of runners, though I think they were all marathon runners on their second loop. At the aid station the marshall asked if I was an ultra runner (they kept notes to make sure nobody was missing), while calling the other runner "ordinary", which was a bit harsh - he was still doing a rather tough trail marathon!
I was a bit worried about my shoes - I wasn't 100% sure if they'd fall apart before the finish.
Catching up with and passing about a dozen runners made for a fun game for the last few miles which passed the time. I was still feeling good, though I started to stumble over rocks with increased frequency, every time just about managing to avoid a fall, close as it was a few times. When that happened after about 35 miles a spasm shot through my calves - I was heading towards cramping territory again, though I only had a few miles left, most of them downhill, so I never had to deal with actual cramps. In fact, when we left the trail for about half a mile on the road I could feel the muscles relax and managed to do some actual running at a decent clip - smelling the barn undoubtedly helped. Then I got to the end, reminded them once more about my missed turn on loop 1 but they told me to just finish and leave it at that.
I just managed to sneak under 7 hours - my slowest 39 mile race by over an hour, though with all the others having been road races that doesn't mean much. The winner, Barry Hartnett, had only taken just over 5 hours - that is just mind boggling, an absolutely outstanding performance!
Actually, partially to make up for the lost distance, and partially because the coach had originally written down 40 miles, I jogged the extra mile back from the race finish to the village, which means I got a cool down as well, a first for an ultra. I got a much harsher second cool down as well because the showers only had freezing cold water! They more than made up for that with the delicious post-race beef casserole (I had a second helping) followed by some cheesecake. It's a shame I had to decline the free beer as I was driving straight back home.
Obviously I would have preferred not to have taken a shortcut, accidentally as it was. I find it amazing that all 4 of us in that group missed the markers - of course it meant the first runner missed it and everyone else just followed blindly. The organiser were a lot more relaxed about it than me - I guess because I was not in the running for any prizes it did not matter all that much and I think the IMRA are a more relaxed organisation anyway. Anyway, if you fancy a few hours on lovely trails and excellent organisation, and don't mind getting dirty, this race is well worth checking out.