Snowdon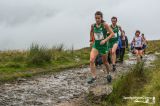 Authors
Victory for Mulligan
16 July, 2016 - Gerry Brady
Irish women kept their grip on the women's title on Snowdon when Sarah Mulligan repeated her 2013 win. In the intervening years, Sarah McCormack won in 2014 and 2015 but cried off late with a chest cough for this year. Mulligan's win can be measured by the silver medallist Heidi Dent (ENG) who finished seventh in the recent European championships. Dent gained ground on the descent.
James Kevan led the Irish men home in 8th in a time of 69:22. Seamus Lynch ran strongly in 17th followed by Andrew Annett in 24th and Brian Furey in 35th.
Brian MacMahon was second finisher in the uphill only Super Cup.
Super Cup (uphill)
1. Maximilian Nicholls 42:40
2. Brian MacMahon 43:01
3. Dave Archer 44:53
MEN (summit time in parentheses)
1. Chris Smith (ENG) 01:05:48 (00:41:28)
2. Chris Farrell (ENG) 01:07:14 (00:43:04)
3. Luca Cagnati (ITA) 01:07:17 (00:43:59)
8. James Kevan (IRL) 01:09:22 (00:44:49)
14. Zac Hannah (N/Ireland) 01:11:00 (00:44:32)
17. Seamus Lynch (IRL) 01:12:01 (00:46:20)
19. William McKee (N/Ireland) 01:12:55 (00:46:23)
24. Andrew Annett (IRL) 01:14:57 (00:47:53)
30. Shane Donnelly (N/Ireland) 01:16:54 (00:50:09)
35. Brian Furey (IRL) 01:18:42 (00:49:15)
36. David Hicks (N/Ireland) 01:19:24 (00:51:15)
277. Cormac O'Ceallaigh (IMRA) 01:45:12
285. Thomas Galvin (IMRA) 01:45:57
MEN TEAM
1. England (1,2,6) 9
2. Italy (3,4,19) 26
3. Scotland (11,12,14) 37
4. Ireland (8,16,21) 45
5. Wales (9,18,20) 47
6. Northern Ireland (13,17,22) 52
WOMEN
1. Sarah Mulligan (IRL) 01:20:52 (00:50:39)
2. Heidi Dent (ENG) 01:21:11 (00:52:16)
3. Sophie Provan (SCO) 01:23:54 (00:53:38)
12. Diane Wilson (N/Ireland) 01:29:40 (59:20)
16. Shileen O'Kane (N/Ireland) 01:32:40 (01:00:39)
18. Bethany Murray (IRL) 01:34:17 (00:58:07)
35. Hazel McLaughlin (N/Ireland) 01:45:34 (01:09:52)
36. Paulette Thompson (N/Ireland) 01:45:58 (01:11:06)
WOMEN TEAM
1. England (2,4,7) 13
2. Northern Ireland (9,10,13) 32