Wicklow Round Challenge - Mark & Kevin Shannon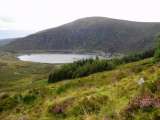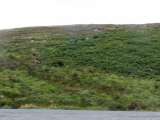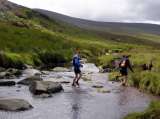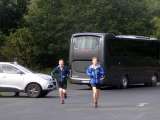 Authors
Kevin & Mark Shannon
22 March, 2016 - Kevin Shannon
The Wicklow Round*
The two of us were born and brought up a short drive from the foothills of the Wicklow Mountains – the largest continuous upland area in Ireland and an area designated as a Special Area of Conservation. It was once home to the Irish elk, the largest deer that ever lived, and wolves roamed these mountains 200 years after they became extinct in England. Its wilderness means it is still home to deer, feral goats, badgers, stoats, hares and other mammals who can generally move without much fear of human interference. Sadly, before we discovered the joys of trail running, both of us moved to London for work and so never fully appreciated what we had on our doorstep. Spring 2015 we planned to rectify that by taking on the Wicklow Round.
Most trail runners have heard of the Bob Graham Round in the English Lake District and the Welsh Paddy Buckley Round and Scottish Ramsey Round are well-known too, but very few know much about the Irish equivalent – the Wicklow Round. Even less have completed it. While the number of completed Bob Grahams is roughly 2000, at the start of 2015 the Wicklow Round had seen only 7 successful attempts (with a combined total of 13 finishers). We hoped to add to that list.
THE CHALLENGE
The challenge sounds impressive enough – 26 mountains, 74 miles, enough climbing (21,000 ft.) to take you three-quarters of the way up Everest (29,000 ft.) and only 24 hours to do it all. However, the Wicklow Round's difficulty doesn't lie with any of these. Its real challenge, and where it arguably sets itself above the Bob Graham and other great rounds, is in three other factors: weather, navigation, and terrain.
Weather: Irish weather is terrible. Cold, wet, windy and, as we discovered, incapable of being predicted by the weather forecasters.
Navigation: Unlike the well-established British rounds there is no standard route to take on the Wicklow Round. This is partly because of the lack of successful attempts but also because for the majority of it there are no paths. None. No little trails, no sheep paths, nothing – you just run from one summit to the next whatever way you can.
Terrain: Bog, bog, bog and more bog! Despite having run many ultras in the UK neither of us had experienced terrain quite like this. Yes, the Round has gorse, heather, ferns, stream crossings, and very rough ground all of which present their own difficulties but the real challenge is the bog. You do not fall into a bog. You voluntarily get in the bog and then run through it for hours, each step sinking into the bog and then having to be dragged out sapping your energy (and ensuring that your feet are submersed in cold sludge for most of the run). The Irish bogs also present a challenge not found in other bogs – bog stacks. Over the last few hundred years a combination of wind erosion and haphazard turf cutting by locals has created countless bog stacks across the Wicklow bogs. The result is like running in a maze for much of the run with pillars of uncut bog stacks above you as you run at the bottom of the cuttings. The bog stacks cut off your view and present obstacles which can sometimes be run around but more often have to be climbed, run along for 30 seconds, and then climbed down when you can run for another 30 seconds before meeting the next bog stack.
PREPARATION
Collective wisdom from the Irish Mountain Running Association (IMRA) is that the best time for doing the Round is late May or early June. By this time there is a good amount of daylight in the evening, the weather has improved and the vegetation has not begun to grow. Ferns, gorse and heather all take a remarkable growth surge in summer meaning ankle vegetation runnable earlier in the year can be knee, waist or even shoulder high by late summer. Small sheep and deer trails that existed in May disappear and certain downhills become a draining comedy of falls as you constantly trip in the heather and ferns.
Unfortunately, a combination of injuries, holidays and work commitments meant the earliest we were going to be able to attempt the Round was the week of 3rd August, a month later than any successful attempt.
We anxiously watched the weather forecast in the days leading up to attempt week, consulting three or four different forecasts for the Wicklow Mountains. While they were all slightly different the universal forecast was for a cloudy start to Tuesday 4th with the occasional patchy light rain shower with the weather getting worse on Wednesday and Thursday. For Ireland, patchy light rain was about as good as it would get so on Monday afternoon we gave the compulsory notification to IMRA, filled up our parent's car boot with supplies (they'd be acting as our elite support crew) and packed up our race bags.
By the time night came we were itching to go. We had chosen 1 am as our start time partly to ensure we would not be running near any cliffs in the dark but also in order to run the difficult night hours while we were fresh. We were both slightly concerned about starting a race having not slept for a good 15 hours and knowing we would not be putting our heads down again for another 24 hours but it still seemed like the best starting time.
As our parents were meeting us at dawn they had headed to bed and we called on a friend to drop us to the starting point – a deserted junction on a rather desolate road far from the lights of Dublin. No road markings or street lights. Just two guys in running gear getting ready to go for a little jog across some mountains. As we stood there counting down to 1 am we were nervous but excited. The wind was blowing a bit harder than we would like and on the way up a splatter of raindrops had briefly crossed the windscreen but all in all everything seemed good.
THE NIGHT
It was a bit surreal running away from the car lights into the darkness of the mountains. The first 10 minutes was along a flat rocky trail and we were in great form. We laughed and joked and tried not to think too much of the task ahead. From our experience so much of ultra running is a mental battle and if you think too much about the enormity of what lies ahead it can sometimes be overwhelming.
After 10 minutes the track ended and we were onto heather and bog. The first wetness seeped into our socks as we tried to find a sheep path that would lead us to the top of Kippure, the first mountain. As we hit the bog we also began to climb upwards and could feel our legs beginning to work. Then a couple of minutes in it started to spit rain. Nothing too bad at first but we zipped up our jackets anyway. Patchy, light rain…just as forecast.
But as we climbed higher the rain did not die. It got harder and more intense. Soon it was pounding down on us. The wind was also picking up. We had been partly sheltered from the wind at the bottom but now it was showing its strength, blowing the rain straight into our faces and pelting our hoods with raindrops. It became impossible to look up as the drops stung our eyes and it became a real struggle to maintain forward momentum.
As we got closer to the top we encountered another problem: fog. This was not forecast and was unexpected, especially in such high winds. Naively we did not think it was possible to have high winds and fog. We thought the wind would blow the fog away but this was clearly was not happening. By the time we reached the top visibility was down to about 7 feet and we did not see the summit until we were on top of it. The route down from the summit was a wide tarmac track but with visibility at 7 ft. we could not see it.
Kevin: 'I had my Suunto watch which was pointing me left off the summit but and Mark was heading off about 45 degrees to the track. "THIS WAY!!! MARK!!! THIS WAY!!! MAARRKK!!!" I was screaming at the top of my voice but he could not hear me. The wind was howling too much and the noise of the rain pelting against our hoods meant we could not hear anything. He may have been shouting back but I could not hear him. I was worried that to keep together I was going to have to follow him even though it was the wrong way. I flashed my head torch at him repeatedly and waved my hands frantically again and again until he eventually changed direction and we found our way to the track. It was a worrying start.'
As we ran down the track we were briefly sheltered somewhat from the wind and able to hear each other. We had a brief chat about how the forecast had not suggested either fog or heavy showers. It had been a nasty shock to the system but we were okay and assured each other that must have been the worst of it done.
Mark: 'Though the weather had eased slightly, in my head the mind games had already started. I knew we had a nice flat section until Carrigavore, the next mountain, but after that we would stay high in the mountains for about four hours moving from peak to peak without any real descent. This meant being fully exposed to the elements with little or no respite if the winds and the rain continued. Already I was worried'
Kevin: 'Despite the positive chat, as we ran along the hard track a couple of worries crept in. I often suffered from cold hands and my gloves were already soaked and I could feel myself on the verge of getting cold. I pulled my hood tighter and hoped it would warm me up.'
We left the hard track and headed up into the mountains knowing it would be seven summits and four or five hours before we would briefly drop out of the mountains to cross a road before heading up into the next set of mountains. At the road we would hopefully meet our parents there and have an opportunity to rest and refuel. Until then we were on our own.
At first we were somewhat sheltered. It was cold and raining hard but the mountain sheltered us from the worst of the wind. Unfortunately, as we got higher the wind picked up and our hearts sank. This was not good. Visibility was still next to nothing so we were relying almost entirely on the Suunto watch to lead us to the summit of each of the next seven mountains. Without it there would be no hope of finding the way. We had recced the Round with a map and compass but there was no hope of being able to hold on to a map in this wind.
Kevin: 'The next four hours were hell. We were exposed on a series of mountains in a howling gale and lashing rain, in the dark and with visibility of about 7 ft. I led because I had the watch – the only thing that could point us in the right direction – and for the next four hours my world consisted of nothing but the watch-face and the couple of feet in front of me. Nothing more. I could not see Mark as he was behind and I could not speak to him as the rain and wind was too loud so the next four hours were just me, the watch and the next few steps…all overlaid with the sound of rain pelting my hood.'
Mark: 'All I had in front of me through the darkness was three reflective strips on my brother's backpack, lit up by my head torch. With my hat on, my hood up and the wind howling through we couldn't communicate at all. It was just me, alone with my thoughts in a little wet, dark, cold bubble that extended to about the 4ft around me dimly lit through the fog by my head torch. I was desperately trying to stay as close as possible to my brother knowing that if I fell and twisted an ankle (quite likely running across a bog with no paths in the dark) he could easily run on for several minutes without realizing I wasn't there.'
Not being able to communicate was a huge blow to moral. Normally we get through these things by chatting away which takes you mind off the pain and the task ahead, giving you the upper hand in the constant mental battle. This time here were no distractions. It was just a case of putting one foot in front of the other until it got light, when hopefully everything would improve.
Kevin: 'There is no doubt that, regardless of pride, had I been given a chance to drop during those four hours I would have done so. No question. It was miserable. Nothing but miserable. But we did not have the option of dropping. It was three o'clock in the morning and we were in the middle of a series of mountains miles from any road. There was no place to bail out. Even if we could have found our way back to the start there was nobody there and no shop or house that we could wait in before a lift came. There was also no question of stopping and waiting on the mountain. It was far too cold and wet to do that. I was only barely staying warm enough running and I knew as soon as I stopped my body temperature would drop and I would be shivering in no time. It was then it began to dawn on me that this had crossed the line from ridiculous to dangerous. If either of us fell and broke a leg it would be a long, long cold and wet night before anybody would be able to find us (even if they could in the dense fog) and get us off the mountain.'
Mark: 'I started to question whether or not it was safe to be out here. If either of us suffered an injury, we would be stuck out here waiting for help. My foil blanket tucked away in my bag seemed so wholly inadequate for such a situation. That's even if we could contact anyone, the chance of having any kind of mobile reception out here would be slim. Hypothermia would be bound to kick in within minutes of stopping, yet we were hours from even the smallest of country roads. For all these reasons, dropping out wasn't an option right now. It was head down and grind it out while trying to constantly remind myself that when it got light it was sure to get better.'
It was pretty horrendous. With only our head torches to light the way it was impossible to tell what the surface was like until you were on it with the result that you would be running along and then suddenly you would be knee deep in bog or one leg would unexpectedly sink and you would tumble into a bog. The occasional downhills were just as bad. In the poor light you could not see what you were stepping down onto with the result that our knees and muscles were taking a hammering as they tried to adjust to the rock / bog / grass tuft that might be beneath them.
Added to the physical strain was the mental strain of constantly falling over, getting up and then falling again. It seemed never ending. With visibility of only a few feet there was no way of knowing how far away we were from the next mountain or whether we were getting closer. It was like a nightmare where no matter how hard you run you never get anywhere and we seemed to be constantly running in the same bogs and climbing over the same bog stacks.
At times the darkness was almost unbearable. Where the bog peat was exposed you couldn't tell whether it was just the blackness of a bog or blackness of water you were jumping down into and with little choice it was generally just a case of a leap of faith into the unknown. At one point the two of us were drawn to a sudden halt as a wall of blackness appeared in front of us, so much so that we both reached out to touch it. In fact it turned out to just be a large section of exposed black peat stretching out for about a few hundred yards in front of us, but the blackness of it all and the total lack of depth perception due to the visibility made it appear we were running straight into an abyss.
Gradually and painfully slowly we ticked off the summits and as we approached the final summit before our first aid station we could feel the sun rise. Visibility did not improve but we went from a black 7 feet of vision to a grey 7 feet of vision. Over the top and down towards the road. We tried to pick up the pace a bit but after we had both taken tumbles in the heather and then in some waist high grass we had to slow down. Finally though, and after climbing over a couple of barbed wire fences we reached the road and a bit of respite.
As we ran along the short stretch to our parents our spirits began to lift. We had dropped out of the fog, the night was over and the rain had eased. We were also able to talk to each for the first time in 4 hours and it was a relief to know we had both been suffering as much as each other. We also had a chance to check timings and it was a great boost to know that, despite the conditions, we were only 20 minutes slower than we had been on our recce despite that being done on a bright sunny day.
Kevin: 'Though the spirits had lifted I was worried. My legs felt terrible. 4 ½ hours of fighting in wind and rain through bog and constantly falling over had taken it out of them. They felt shattered. Far worse than they did when we had done the recce and we were not even 5 hours into a 24 hour race. How could they keep going for another 18 hours? I tried to banish the thoughts from my head and tell myself to have faith in my legs but the worry was still there.'
We met our folks at Ballinagee Bridge where they served up hot tea, fresh gloves, a dry top and some much needed words of encouragement before we departed. Worryingly even during the 5 minute stop we had started to shiver a bit and had to make a conscious effort to stop to prevent our mother worrying too much. But the night was over, we could talk and we thought the worst of it was behind us.
THE WORST OF IT
We were heading off into the second desolate section and it would be another 4-5 hours before we would reach another road where our parents could meet us. Shortly after leaving the car we were back on trail-less terrain climbing up through long heather and boggy ground to Oakwood, the next peak of the day.
As we climbed we grew closer to the fog until eventually we were again subsumed in it and visibility again down to about 7 feet. At the same time the rain started again and the wind, which had never died down, pelted us with the raindrops and we were soon back to where we were before. Hoods up, heads down. Unable to talk and unable to see more than a few feet ahead.
From the top of Oakwood we had a long run across to the next peak. Thanks to the recce we knew this section involved a lot of open ground with a stunning surrounding vista of long grass and bog cotton. Unfortunately, today this just meant that we had no shelter from the wind and the rain pelting us in the face and no markers to indicate how far we had come.
Kevin: 'The lack of visibility was mentally and physically draining. It was easy to get disorientated and I was constantly adjusting and re-adjusting our course to try and head in the right direction. Looking back I can see that instead of resembling straight lines, our route between the peaks resembles more of a hyperactive snake wobbling its way to the destination.'
The next four hours were worse than the night section. In the night we had hope that the sun would come up, it would get warmer and the fog would burn off. Now that hope was gone and there did not seem to be any hope of it getting better.
Mark: 'I began to think whether or not I could actually do this. I knew the distance and time weren't an issue, even the terrain I was handling well enough, it was just the weather that was starting to get me down. Everywhere I looked was just more of the same, not even a glimmer of hope anywhere in the sky.'
This section also has Lugnaquilla on it which, at over 3,000 ft., was the highest point on the Round and a mountain which had been cold even during the sunshine of our recce a few weeks before. Today the temperature at the top was likely to be close to freezing even before wind chill was taken into account. The climb up was not fun. The rain and wind got harder as we came out of the lee of the mountain and took its full force. It was cold but all we were thinking was get to the top, then the wind will be behind you and it will all be ok again. From the top it is a brilliantly fast descent all the way from the peak at 3,000 ft. to Drumgoff crossroads at about 400 ft. where we would hopefully find our parents again. On a nice day this is undoubtedly the highlight of the Round and it running it on the recce was probably the most enjoyable part of the recce. Today, however, it was horrible. The way up was terrible but this was undoubtedly worse. We very briefly had the wind and rain at our backs but then made a right turn and headed straight back into it.
Mark: 'After battling to the top and the physical high point of the Round, I hit my emotional low point. The run off Lugnaquilla resulted in the worst torrential rain we had had all day, combined with a wind of gale force proportions right in our face. The one bit I had been looking forward to for the past 3 hours was ruined. I was cold, wet and above all else had a completely irrational anger towards the weather. It all just felt so unjust. After all the training and sacrifices all I wanted was a fair shot at this thing. I didn't want glorious sunshine, I just wanted a small break in the weather – a glimmer of hope, something that would allow me to pick myself up and have a decent go at this Round. I was angry at how wrong the forecast was, I knew the mountains were different but I couldn't understand how none of the forecasts had seen any of this. If we had known it would be like this we would have postponed, but yet here we were. We had blown our chance.'
Though we could not speak to each other we both were thinking that if we just got a bit lower we would drop out of the rain, wind and fog. We were so desperate to get out of these conditions that we flew off the mountain. The grassy slopes were now just pools of water and mud and we could feel ourselves sliding all over the place but we just wanted to get out of this as fast as possible. Depressingly, though we kept dropping the wind kept pelting our faces with rain and we got no respite.
Kevin: 'All the way down I kept thinking how miserable this was. There was no fun in this. I was tired, cold, wet and thoroughly miserable. Thoughts of dropping were lurking in my head. This was nothing but miserable – why was I doing this? I didn't think I could take another 13 hours of this and was thinking that if Mark said he'd had enough I would be happy. The weather simply wasn't playing ball.'
Mark: 'I had never had a DNF before, but on the descent from Lugnaquilla I made my peace with myself that this would be the first one. Tired, batter and bruised legs are par for the course. When it comes to having the energy and mental strength to push forward I know I will always be able to find something somewhere to keep me going. This was a different matter though. I had been battered by wind, rain and poor visibility for 9 hours now. Not being able to hold a conversation was really driving my moral down. I was lonely, miserable and angry on a mountain in the middle of nowhere, and when I asked myself if I had the stomach to do this for another 12-14 hours the answer I kept coming up with was no. Everywhere I looked was just more rain, not even clouds, just bleak walls of rain. Just when I needed some glimmer of hope to say it wasn't going to be like this all day, I could find none.'
Finally we hit a forest track and the trees gave us shelter from the wind, if not the rain. We could converse again. We both agreed that it wasn't safe up there in those conditions, that we couldn't possibly go on like that for another 14 hours, and that sometimes the mountains just won't let you in and you need to stop fighting Mother Nature. Trail running is meant to be enjoyable and fun. We do it of our own free will, sacrificing our own time and money. This was not fun. We had been running for 9 hours and could both safely say we had not enjoyed one bit of it. What was the point? We were both unwilling to be the first to admit defeat but not willing to commit ourselves to any more time in these conditions. We compromised and agreed we would get to our parent's car, get in, get warm, get dry and make a decision then.
The rain did stop just as we reached the carpark where are parents were but this was still a miserable meeting. We were pretty broken and our parents were worried. They had avoided the bad weather through the night but the lashing rain had hit them as they waited here, looking up into the mist on Lugnaquilla knowing their sons were out in it. Three times our father asked "Are you going to continue?" We were. But for how long? We knew the next meeting point was only an hour or two away. We could handle that. After everything we had done so far it was worth one last go. We would try this section and if nothing got better we could drop at the next point.
Mark: 'We left our parents faster than intended. Having wolfed down some hot tea and food to try and give my body some fuel and re-heat myself, my stomach wasn't having it. The last thing I wanted to do was further worry my parents. I needed to get around the corner as quick as I could to throw up. I quickly signaled to my brother (he's seen this before) and disappeared up the road. He rapidly made excuses on behalf of the two of us and we were gone. No sooner was I out of sight than I was doubled over on the side of the road emptying my stomach.'
THE TURNING POINT
Off we went and spirits were low. We were not even half-way. The last 8 ½ hours had been thoroughly miserable. We were tired, wet and cold. It had stopped raining but we were about to head back up into the mountains and were afraid that we were just heading back into the bad weather. It started to rain again. But then, a wonderful thing happened. It stopped. The fog began to disappear. We could see a few hundred yards ahead of us. Then a bit more. We could see nearby mountains now. Then we looked up and there was a patch of blue! Further on another patch appeared. By the time we reached the summit some sun had even begun to shine.
The healing power of the sun and light should never be underestimated. The sun on our skin and our morale soaring, we were rejuvenated. It was amazing. Our spirits soared. The pain in the legs subsided and we were happy again. The wind was, for the first time on the run, both literally and figuratively, at our backs. Gradually the sun and wind dried our gloves and we were even able to take off our hats and run free again. It was bliss.
From that first peak of Mullacor we ran a stunning ridge to the next mountain (Derrybawn). It is one of the most beautiful parts of the whole route. Out to the right we could see the Irish Sea shimmering away while way down below to our left the famous lakes of Glendalough were glittering in the new sunshine. This was the first time we could get our heads up and look around and appreciate the view and the raw beauty of where we were. We ran the ridge like it was the home stretch, flying along on the technical trail, taking photos, laughing, joking and for the first time we started to have fun. This was why we were out here. This was what we love to do – running high in the mountains. Despite having nearly 10 hours of running in the legs they had not felt as good all day. We were through the worst of it. We had taken everything that was thrown at us, we had soaked it up (literally) and come out the other side with smiles on our faces. It finally felt like we were getting a fair shot at this.
The run down to Glendalough was a delightful technical descent on a rocky trail, plummeting all the way down to the lakes where we met our parents again. I don't think they recognized us from the two that had left Drumgoff just two hours earlier. We had smiles on our faces and were full of chat, waxing lyrical about the stunning ridge and looking forward to the next few mountains. We were able to take some time to properly chat and load up supplies without starting to shiver and left our parents full of food and full of hope.
BACK TO BUSINESS
From there on the Round was a different beast. Yes, our legs were shattered, we had 10 -12 hours of running and some of the toughest peaks ahead of us but this was what we knew. This was what we expected and we had prepared for. Glorious sunshine never really broke out. Instead it was generally overcast with some patchy light rain. But that was what we were prepared for and after the first nine hours, this seemed wonderful. We were finally able to talk again which was a huge bonus. Running together and being able to chat to each other and keep each other going through the tough times is invaluable. We have repeatedly finished ahead of much better runners because, though they are stronger physically, they do not have the support and encouragement we have with each other. When times are bad the ability to chat and be able to take your mind off it all makes a huge difference.
The next few hours ticked by. We went up. We went down. We went up. We went down. We fought our way through shoulder high ferns, stumbled through knee high heather, startled plenty of deer and sheep and did our best not to fall into too many bogs. There were some difficult points along the way obviously and we still got blown around the place in the wind on a couple of mountains (including the aptly named Tonelagee which translates as the brilliantly evocative "Arse-to-the-Wind" Mountain) but all in all it was a fun section.
We also managed to terrify our parents when descending off Luggala, a mountain popular with rock climbers who enjoy climbing the granite cliffs which stretch for a few hundred feet on its eastern side. Our route took us down to a narrow path which hugs the cliffs for about a half a mile before we would descend to hop across a river and climb up to a road where we would meet our parents again.
Our parents had arrived early at the road and, unbeknownst to us, were watching with binoculars as we ran down towards the clifftop path. Unfortunately, from their vantage points they could not see the height of the ferns surrounding the path and assumed them to be ankle or knee high whereas in reality by August these were towering above our heads. The result was our parents saw was us running towards the cliffs and then we disappear without a trace. So while we happily trundled through the ferns our parents began to dig out numbers for mountain rescue. It was not until we reappeared on the other side of the river around 45 minutes later that heart rates were reduced back to normal and rescue teams stood down.
HOMEWARD BOUND
Djouce. At 2,300 ft. it is not the highest mountain but of all the 26 mountains we ran during the recces this was the worst. No path. No trail. Just a one long slog tramping through bog, reeds and heather all the way to the top on a slope that got gradually steeper the higher you went. It was one of the places on the Round we had picked before where things could go very wrong and so as we touched the trig point and headed down we were delighted to have it behind us. At the same time though, the 18 hours on our feet were beginning to really catch up with us and we were not in great shape. Unfortunately, the course still had plenty of ups and downs and rough, uneven ground left in it and it was too early to be thinking of the finish.
Mark: 'My right knee had really started to flare up and was giving me a lot of pain. The uphills were ok but the flats and the downhills were very painful.'
Kevin: 'I could see that Mark was in a lot of pain. I knew it was still a long way to go and it was far too early to be thinking of the finish so I just hoped that he would come through the next section of bog and heather ok.'
At this stage times and distances become much longer than they look on maps and it was a fairly painful and mentally depressing next hour or two as we ticked off two more peaks (Warhill and Tonduff North) before we reaching the next quiet road where we met our parents again. We now had a couple of miles on a tarmac road. Usually we dislike any road running on our races but after 19 hours of struggling across bog and stumbling through heather the road was heaven. Our muscles were tight and legs very sore but we got moving in what we call the 'Ultra Shuffle' – our legs not really rising off the surface of the road but just swinging round. It looks terrible but you can actually get a good rhythm going and we fairly motored along the road to the end where we had a final refuelling stop, put on our head-torches again and headed up to visit the last two peaks. Light was disappearing fast and another night was coming.
We had another interesting hurdle in the form of what we knew as 'Gorse Section'. Elsewhere there was gorse but in this section there was shoulder-high gorse completely covering our route. When we had run it on the recce our legs, chest and arms had been flayed. We came prepared this time and had waterproof trousers packed to protect our legs (and jackets for our arms). It was a great idea but after 20+ hours on your feet trying to stand on one leg to put on trousers is comically painful. We did eventually succeed in getting through and headed on up to the top in the fading light.
Mark: 'After the pounding on the road pushing the pace, the stops to refuel and to climb through the gorse seized my knee up completely. It was now no longer functioning as a hinge joint and was giving me a lot of pain. I couldn't seem to focus on anything else no matter how hard I tried, it was becoming all consuming. I was so tired and in pain and I just wanted it to be all over. As I dragged myself along behind my brother I thought about stopping and having a little cry.'
Kevin: 'Mark was in real trouble with his knee and, though he did not say anything, I could see he was in real pain. He had gone largely silent which is always a sign that a person is suffering. I was in better shape so, like Mark does when I am suffering, I did my best to keep the spirits up – "We are homeward bound." "We have time to spare." "We are going to do it." Whether or not it was helping him was difficult to tell but if nothing else concentrating on him and telling myself that I had to be strong helped keep my own pain in check.
We reached the penultimate summit as broken men, unrecognisable from the two who had laughed and joked here on our recce. Only 3 ½ miles from the end but it still seemed a world away. I knew the next few miles were going to be hell, especially for Mark. But step by step we were getting there.'
Mark: 'As we left the penultimate peak I wanted to stop. The pain was taking over. Then the reality of it kicked in, whether I stopped or I went on I still had to get to the same place in order to be able to finally rest. If I hobbled in we would still make it under the 24 hours but if I could somehow run it would all be over quicker.
As we approached the final peak I started shuffling. Slowly but surely the shuffle became a slow run. No matter how much the knee said "no" it was no longer in charge, I was. It didn't matter how sore it was going to be I was determined to get this done as quick as possible. And so we ran. My brother in front, giving me encouragement and guiding me down off the mountain. An absolute tower of strength warning me of any bumps or holes in the sheep track we were running. All I had to do was put one foot in front of the other and he would get me there. We ran, me in silence and him chatting away.'
Kevin: 'So we ran. I knew Mark was tough but this was something else. This was proper grit your teeth and go. Even in the dark I could see how painful each step with the locked knee was and how much it hurt. But we ran on.'
We ran down off the rabbit track we were on. Onto the forest track. Then out onto the desolate road where we had started all those hours before for the final run to the finish. Our parents met us there ran the last 500m with us. Had anybody seen us we would have been quite the sight – 11 pm on a lonely mountain road with no street lights or road markings. A 60 year old couple in ill-fitting fluorescent jackets followed by two filthy guys shuffling along with grimaces on their faces. Then at a non-descript lay-by in the road everybody stopping, cheering and hugging each other.
But we were long past caring. We were finished. We had come through all that horrendousness and we were done. 21 hours 59 minutes and 36 seconds and we were back where we started. This was what long distant trail running was all about and we were going to savor the moment for as long as we could.
Kevin: 'We had wanted an adventure. We had gotten an adventure far greater and far worse than we had expected but we had come through it. The finishing hugs were proper emotional hugs. Our parents had been out there all day supporting us – they were lights at the end of some very dark tunnels and without them we could never have done it. And Mark, my running companion who was the only person who will ever know just how tough that first 8 ½ hours were, how much we suffered and just what it took to get through it.'
Mark: 'I once heard a saying that has always stuck with me "If you want to go fast go alone, if you want to go far go together". It could never have been more apt. Having the company and ability of my brother alongside me on this adventure, along with our parents as support crew, was amazing. Without them I would not be able to now say so proudly that I am one of a small bunch who have taken on the Wicklow Mountains and come out smiling.'
Follow us on twitter: @runsandposes (Mark) and @lostinthegorse (Kevin)
*Report written for Ultra Magazine* https://www.ultraevolution.com/