Three Rock Dash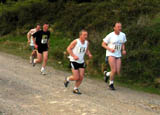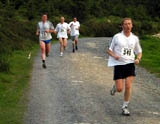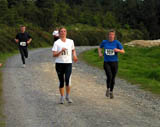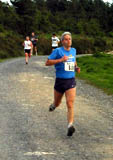 Authors
Unknown
28 November, 2009
Three Rock Dash - Arup League race 3
Report by Mike Long
An amazing 163 people ran the Three Rock Dash from Ticknock on Wed. evening 14/5/03. This is obviously a new record. For those of you who remember the Foot and Mouth crisis of 2001, this was the first forest race allowed after this time and as we were all frothing at the bit to get going again, over 120 people competed that evening. We though that record would not be beaten! That evening was a miserable wet one, in contrast to this year where conditions were perfect.
Eoin Keith, fresh from his victory at Glenmacnass again proved too strong for the rest of the field. However my spies near the front tell me that he finished far from comfortably as an excellent run by Vincent O?Sullivan of UCD put him under plenty of pressure. After a brilliant start, the early leader, Paul Cullen, seemed to fade err.. somewhere around the end of the carpark. Beth Mc Cluskey returned to win the ladies section. The competitive nature of this section, can be seen by the group of people who finished within seconds of one another around 29:40.
Your roving reporter interviewed some of the finishers for their reaction:
"P*s*ed off" was the response of Chairman Vivian. Apparently Viv. ran a "great race" but still managed to finish only 40 something. Viv. is just back from the Munster Champs race at Doon. Apparently down there they are tough. The race included a leap over 2 live electric fences. Viv dislodged the yellow protective plastic bag on the outward leg...and guess what happened on the return leg. He seems OK now though. The tactics down there seem to involve stuffing the visitors with homemade food. "The rhubarb tart was the best" said Viv. And he wonders why he was 40 something?
"Sixty something" said Bruce Shenker..."I should be in the 30?s".
"Its usually me 3rd. and Eva 4th woman or vica versa" said Nina Phillips, "How come tonight we were below 12th.".
"Conned" said Ercus Stewart, referring to his defeat by Graham Porter. On investigating this matter further, I have to say I think Ercus was right. We have to go back one week to the Sugarloaf, where the story starts. Ercus and I were changing in "The Camper". "I?m sick" said Graham, peeling a banana. Apparently he had to have some blood tests the following day and was supposed to be off all food until then. "Err. does a banana count as food Graham". "Jeez I guess you are right" said Graham stuffing the banana down and casting a glance over his shoulder for the returning Jane. "I?ll just have a packet of peanuts down the pub then". This was subsequently banned and if you wondered why Graham was going round stealing the little orange pieces from people?s glasses, now you know. The story has a happy ending and Graham was declared "not sick" and got the all clear and I think Ercus had a point!
Allegedly (I have to choose my words carefully here), Ercus was later heard saying that "anyway Paul Nolan?s new Sugarloaf record is there for the taking".
"Relieved" said Aonghus O?Cleirigh. Aonghus (who incidentally is fresh from his double gold medal performance at the Irish Orienteering Championship) finished 2nd. at Hellfire, then "collapsed" to 7th on Sugarloaf before getting back up to 5th. here. "He is back on the drugs" muttered one of his rivals darkly.
Other excuses heard on the night included:
"Too many road runners"
"Too many women". Yep sorry seems sexism is alive and well.
"When I started everybody just walked up the hill, now we have to run"
"There were so many people I had to work all the way down, I could not relax"
"I was on a course today and they fed us a big lunch (i.e. 7 hours before the race!)
It?s nice to see some new non-Irish people coming out running. Joe Farinella for example declared that he had run in several countries but IMRA "was an unforgettable social experience". For those of you who do not know him, Joe was sporting the www.ryanair.com T-shirt. Maybe they could sort out our transport problems?
We of course welcome visitors. However you need to leave your ego at home as I found out to my cost. Bruce Shenker said to me "Hey Mike you were third vet". Paul Mahon, passing by said "Sure but look at the gap between him and the second".
Finally why did Joe Lalor have a big smile after the race? Next week he and Vivian are both unavailable due to their respective daughter?s graduation. So responsibility for the Corrig race is with the "backroom" staff of the committee. We can cope, can?t we Doug?