The Sugar Bowl - BBQ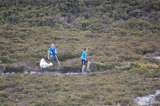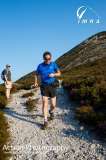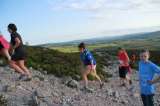 Authors
Peter O'Farrell
17 July, 2015
With no Eoin Keith in residence the real mystery was who would be the first to the food. Thanks to all at Pluck's Pub for a great feed in their revamped outdoor entertainment area. Poor Joe Lalor was struggling to part folk from thier BBQ fivers for the mountain path collection box, maybe bring a spare fiver next week lads.
Martin MacDonald and his stalwarts from Ballyroan Abbeyleix made their welcome yearly pilgrimage over from Laois, Ronan Costello from Kilkenny took a break from astrosoccer and with Bernard Fortune flying the flag for Wexford there was a Leinsterish feeling in the air on the last night of the Dublin/Wicklow Wednesday league. Wicklow's Mick Hanney had marked the course and everyone interested in a high placing knew that a sprint start was vital with 700m of slow singletrack the fate for anyone lacking go from the gun. B in the Bang as Linford Christie might have it.
On the mountain Diarmuid Collins only needed a top six finish to wrap up the Leinster League title. Robbie Bryson's welcome return had Diarmuid under some pressure on the climb but with his destiny firmly in his own hands on the descent it seems the mountain reached out and grabbed him by the ankle. Sport really is cruel sometimes although the results have him in sixth so maybe hobbling down that shute at speed was worth it.. The up and coming orienteering young guns took full advantage of Diarmuid's tumble, although I think the winner is still down as an M40 for some reason.
From my roaming vantage point in the middle of the pack I could see the future is bright, the juniors are great. Young Jack Fairmaner looked quite the part in his Inov8 X-Talons. Rumour on the hill has it that Dad Simon is starting to struggle to keep up with him and Mammy Eva perhaps wisely was a non-running volunteer for the night. The May family were out in force and the battle between the Cian of May and MacDonald was apparently a sight to behold - unfortunately I wasn't fast enough to behold it!
My own thanks to Karen Devenney for her extremely capable driving of the laptop and registration of GOALless Ronan and myself, in the midst of the storm that is last minute registration the team were flying it.
Let's do it...
16 July, 2015 - Mikey Fry
Sugar loaf
Can't believe we're at the last race of the league all ready it just flys in and it was a another super filled up and downs in the Wicklow mountains....arrived up feeling good lots of people floating around the place really good buzz with everyone lots of smiles laughs...a few little chats at reg then myself and Ronan headed off up towards the starting line for a warm up ....we went up the finishing way just to see how the gardening had gone good stuff it was nice and clear thanks again lads:)
A couple of club 1000's from Richard ,course details the usual and we're off up the lovely concrete road (not)which thankfully doesn't last to long at a good pace ...everyone just trying to get into a good position before the track narrows and winds around a couple of juniors heading up the front line with the rest of us....so up through the beautiful trail my favourite only forestry part of the race nice and comfy under foot then past the trail biking part then the real run starts .....straight into the steep uphill and around the front of the loaf this is were the legs start working hard was in the top ten at this stage but started to pick off a few places and lose a few ....pat passed me out and I told myself let him go I'll hopefully get him on the down hill I could feel Bernad presents behind but still no sign yet...eventually we hit the bottom of the loaf where you get a good look at what has to be done ahead so I headed after pat Conor eoin the two Diarmaids/diarmuids etc...pasted Brian O'murchú on the camera same place as last year snapping some super shots a quick grunt to him and on and up to the lose rocks one of my favourite parts of the mountain....I literately go into attack mode all fours hunting my prey in front of me ...Bernard now is right on my tail hitting the top in front I take the right he gets just in front of me going left I passed a good few lads at this stage (you really have to be looking where your putting you feet rather then falling and remembering for you readers who passed who😀 ..... )so I'm right on Bernard's heels again(I'm practically piggy backing him at this stage ) going very hard together He goes left I keep to the right getting in front again really hitting it hard....a few of the guys in front went to the left over a lithe hiIly bit I shouted at Isaac I'm sure it's this way anyway followed silly only having then to head back over to the right track (coarse was very well marked thanks Mick Hanney it's so hard not to follow the guy in front even though I knew 100% which way the route was) so I them passed out robin and Isaac then it was keep up with Bernard till the really steep grassy bit which I fancied where'd I'd get Bernard I took a chance at the top and went for it passing him a speed and then having to keep up that pace a little further on at a tight turn I slipped a little stumbled and the nearly had my BBQ early in the ferns thankfully I held on now I was after Diarmaid who has won nearly all his races and had to come in the top 6th to win the league(I think)....suddenly he took a tumble in front of me I swear I didn't push him he got up I was able to get out just about "r u ok" he put he hand up so all ok(apart from the hole in his knee hope it heals up soon)I over took him I wasn't sure what place I was in but I wasn't thinking about that I could hear mr fortune behind me still so I pushed on the pace was quickening on the lower parts weaving through the fern tunnels then suddenly you hit a quick drop down where off coarse there was some photos Been taken and video (not a place to fall unless you wanted your face all over Facebook which has been very eventful this year for all kinds of fun:)so keeping on my feet taking the right hand turn and then just pushing as hard as I could to the finish line just behind Eoin and Conor taking 3rd phew my feet were on fire and happy to be finished :) a few chats with the lads about the race always fun...then the old tummy starts up the rumbling so let's head down to the BBQ for some well earned grub and warm down... More chats and banter then prize giving and homeward bound ....thinking about next year already:)