Wicklow Way Relay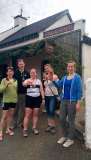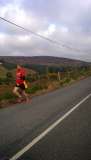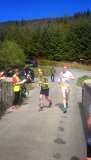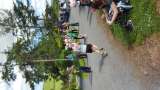 Authors
First timer with Rathfarnham
26 May, 2015 - David Power
Report from my blog: https://dapower.wordpress.com/2015/05/24/wicklow-way-relay-2015-report/
May 24, 2015
Yesterday was a good day – people were in a good mood due to the YES vote in the marriage referendum, the sun was shining, people were outside – it felt like summer is finally here. I had a good day too – the Rathfarnham team won the Wicklow Way Relay and I did my bit on leg 5.
The relay has been going for over 25 years now and involves a team relay running race from Dublin to south Wicklow, following the Wicklow Way marked trail over the Wicklow Mountains. Through valleys, streams, forests, open road, fire road, sleepers over boggy terrain. 127km with over 3,200m of climbing. Teams are made up of club runners, groups of friends, orienteerers, hikers – all sorts. The teams have a mix of 4 men under 40, 2 women and 2 men over 40 – so it's not just 8 spring chickens who can show up and run away with it.
Rathfarnham has a good pedigree in this race over the years, having been in the top 3 for many years, winning last year. I was delighted to be selected by Brian our team captain. I love running in the mountains, and spend many weekend long runs up in the Dublin Mountains. I didn't know the trail further south in Wicklow, so did 2 recce runs on legs 5 and 6 the weeks before. Lucky I did – as I got lost both times and knew that was key…not just being the fastest, but being able to stay on the course. Every year I heard stories of teams getting lost or showing up late.
I was doing leg 5, from Glendalough to Glenmalure with over 500m of climbing on 13.1km. Probably one of the most scenic legs, starting by the round tower in Glendalough, up past the lakes and Poulmacnass Waterfall (those steps are steep), then a long 5-6km steady climb up through the fire roads to the top. Across the railway sleepers on the boggy top, then flying down the far side into Glenmalure Valley.
The beauty of a relay is that it's give and take and hard to know who's ahead. On paper you can have strong runners out early or maybe later on, so depending on the other teams plans you can be ahead but in reality have ground to make up. We started with Barry and Brian and things were tight up to my stage. Donna got a little lost but Johnny pulled back 2 minutes, so when he passed over to me he was only 3 seconds ahead (after 3.5hrs of running!). So I took off with this guy from TT Racers (Andy) breathing down by neck.
Up the steps, he was stuck to me so I was worried. But I knew I was a good climber, so pushed on and gradually pulled away. I was determined not to look back til I got to the top, so assumed he was there and could hear phantom footsteps. The psychology of doing a relay is different – more pressure, as you've 7 pairs of eyes checking phones waiting for updates on your progress. One wrong turn and you could lose that lead. So easy to do. Especially out front, as you've no one to follow, so have to make decisions and trust you've followed the right route.
At the top, I snuck a look back and couldn't see Andy, so figured I had at least 1-2mins of a lead. Good, as I thought he could be a strong descender and catch me. So I pushed on through, successfully navigating the steep wet steps through the forest. Once I was on the fire road, it was a fast descent for 5km down the hill. I kept pushing and got to Glenmalure and handed over to Louis. No sign of Andy after 2 minutes, so I was happy. It was 5 minutes before he appeared. Great. My job was done – weight off my shoulders.
We jumped in the car to get to the next handover point in Ironbridge. That was the fun bit – following the race going up small country roads, always trying to stay ahead of the runners. The final stage was to a pub called the Dying Cow near Tinahely, Co. Wicklow. So quiet and remote – beautiful Irish farmland with rolling hills full of sheep and young lambs. Our last leg was ran by Lorraine, who we knew would need a lead as TT Racers had a fast runner up against her. 8 minutes was our buffer and we waited expectantly for the handover. Brian came in, off Lorraine went. The clock started ticking. We got to 8, then 10 and finally 14 minutes before Ronan took off like a greyhound chasing a hare.
Should be enough of a gap – Lorraine's a good runner. At the end, we saw her fly down the hill to take the win. It was such a nice relaxed atmosphere – no drama or fanfare (nothing like a finish banner or finish line!). Just a man with a clipboard. So now we could relax in the Dying Cow – got a cold drink, cheered on the 25 teams as they came through and shared war stories of how the race developed over the past 7.5 hours back in Dublin.
So a great day out – I really enjoyed it – and was delighted to drink my coffee our of my new WWR mug this morning!
RATHFARNHAM CLAIM 5TH TITLE
25 May, 2015 - Rene Borg
There were plenty of new faces in the side but a familiar name on the singlets as Rathfarnham WSAF stepped up to claim a record 5th Wicklow Way Relay title beating off the challenge of the Trinity Track Racers for the second year running.
The South Dublin outfit has claimed titles in 2011, 2012, 2014 and 2015 whilst also taking silver on four occasions. Only Clonliffe have managed to win the title more than once and they have won it merely two times.
Their record of 7:03:13 was not under threat this year but despite the smallest field of teams (25) since 2002, spectators and teams were treated to a competitive affair.
Barry Minnock set Rathfarnham off to an early lead before late substitute and Brian McMahon, stepping in for Mark Ryan, further consolidated the lead on leg 2. A small navigational error by Donna Mahon brought 2nd placed TT racers within 35 seconds at Oldbridge.
10 minutes further back Emma Donlon powered the Wicklow Warriors into podium positions by setting a new ladies record for the revised leg 3 running 33:13. Alex Hunter set the new men's record of 31:15 running for Dunshaughlin.
By Glendalough Rathfarnham's lead was down to 30 seconds which would not be enough. TT Racers apply the 'hound strategy' meaning placing a very fast male road runner on leg 8 (traditionally a 'ladies' leg'). Rathfarnham team captain Brian Furey reckoned a lead of at least 10 minutes would be needed before the final leg to keep their hands on the gold.
David Power did his part and by Glenmalure Rathfarnham were almost 5 minutes ahead again a lead that grew to 10 and then 14.5 minutes over the coming legs.
Meanwhile, the battle for both podium and top-10 was equally heated with teams constantly switching position and dropping in and out of the promised spots. The young UCD team, led by IMRA stalwart Mike Long, started out in a podium spot, hovered in fourth, dropped to 7th and finally recovered to 6th on a rollercoaster day.
Sportsworld AC proved to have the greatest staying power, first nabbing third at Glenmalure before instantly dropping it again on 7. James Brady and Aoife O'Leary made the Bronze safe, however, with just over 1.5 minutes to the Wicklow Warriors in 4th. Rob Costello's Marathon Misfits crawled upwards all day to secure a late 5th.
As a personal mention, our newly formed club in Glendalough partook in the top-10 battle eventually securing 7th having sat as high as 6th after leg 7. In the end it was incredibly tight with 14 seconds all that stood between Glen AC and Tinahely Tri club who secured their best finish ever in the Relay.
East Cork AC had a nightmare day despite several strong performances including another storming Tim O'Donoghue run on leg 7 (75:55, narrowly outside his own record). Their leg 1 runner had arrived 15 minutes late before Frank Carroll lost a good 40 minutes with a navigational error on leg 5. With those extra 55 minutes East Cork would have been gold medal contenders. As it stood they secured 9th by overtaking Mullaghmeen by a mere 10 seconds with Dunshaughlin Demons dropped out of the top 10 on the last leg. We hope to see East Cork back next year for an undisturbed title charge.
Behind them were Crusaders, a club with long WWR traditions and two medals to their name. Placed as high as sixth at Oldbridge they dropped to twelfth by Glendalough and could not recover ground.
We can only wonder what further action we missed by the late pull-outs of Sli Cualann and Kilcoole AC - the two local powerhouses. Despite their absence, Wicklow runners were scattered all over the teams that competed.
Back at the front, TT Racers Ronan Kearns was eating chunks out of Rathfarnham's 14 minutes lead every kilometre. The rerouted, and somewhat tougher, leg 8 increased his chances on paper of making up the deficit and he did his best with a fine time of 39:39 more than 3 minutes faster than anyone else on the leg. In the end it was only enough for silver as Rathfarnham won out with a six minute cushion.
For comparison he ran leg 8 in 36:23 over the normal course. Strangely the average finishing time was the better despite 'Heartbreak Hill' (49:28 in 2014 and 49:12 in 2015).
The 'Dying Cow' served as a great base for the emergency finish line and was, fittingly, manned by the man who more than anyone else has contributed to the success of the Wicklow Way Relay - Joe Lalor.
I'd like to thank all volunteers and competitors for what was a thoroughly enjoyable day and too see so many people in great spirits. organisation went smoothly with no runners badly injured or lost and generally smooth action around transition points.
A few final notable performances: Barry Minnock's time on leg 1 was the third or fourth fastest ever run (beaten only by Keith Daly and Des Kennedy) depending on whether you trust his watch or our timekeepers. Brian McMahon's 63:08 was the third fastest ever run for leg 2 (Brian has run the course record himself. Kenneth Keller set a new men's record for leg 4 of 36:38 taking almost two minutes of Paul Stephenson's existing mark. Jenny McAuley's 65 minute leg 5 was the third fastest run by a woman bettered only such notables as Beth McCluskey and Mags Greenan. Maureen Lowther of 'Bravehearts' come heartbreakingly close to beating Tish McCann's leg 7 record with her time of 1:54:31 only 25 seconds short.
Tim O'Donoghue has now set the three fastest times ever run for leg 7 in three consecutive years (76:13, 74:49 and 75:55) which deserves an award in itself as likely the most excellent athletic performance in the history of the relay (the fourth best time set by Barry Minnock in 76:57 is the only other time under 80 minutes).