World Masters Championships Austria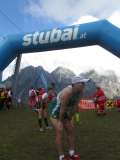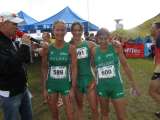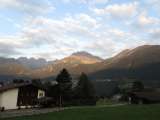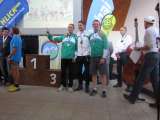 Authors
Gerry Brady
06 September, 2014
Results link: http://my3.raceresult.com/details/results.php?lang=en&page=6&eventid=24137&contest=2&name=Ergebnislisten%7CErgebnisliste+AK&format=view
The World Masters was held on an uphill course in Telfes Austria. A large group from Ireland and Northern Ireland travelled over to compete with the best masters runners in the World. Mark Ryan (Rathfarnham) had an excellent run in the M35 category to win a bronze medal. The race was very competitive with Ryan breaking away on the earlier flatter parts of the course. However USA World long-distance medallist Eric Blake eventually prevailed and recorded the fastest time across all races. The Irish team also won bronze thanks to support from Peter O'Farrell and Paul Fleming – all three scorers are from Rathfarnham. Martin McDonald (North Laois) won bronze in the M55 category. Martin has a long series of top performances in Masters races and winning a place on the podium makes him one of the most deserving Irish medal winners over the years. The Irish women's W40 team just missed out on the podium when finishing fourth team.
A notable feature of the event was the high number of finishers in the older age groups and this has filtered through into the team results with all places on the podium being filled in the M75 team event.
Men 35-50: 11,500 metres with 1100 metres climb
Men 55-75 / Women 35-75: 7,200 metres with 760 metres climb
Women 35 (18 finishers)
1. Petra Summer (AUT) 44:48; 2. Brandy Erholz (USA) 45:30; 3. Birgit Unterbirger (GER) 46:10.
Women 35 Team
1. Germany (3,4,15) 22
Men 35 (41 finishers)
1. Eric Blake (USA) 59:31; 2. Laurent Vicente (FRA) 01:02:35; 3. Mark Ryan (Rathfarnham) 01:03:00; 17. Peter O'Farrell (Rathfarnham) 01:13:19; 22. Paul Fleming (Rathfarnham) 01:18:04; 30. John Kelly (Cappawhite AC) 01:24:45
Men 35 Team
1. Austria (5,7,18) 30; 2. Italy (9,10,13) 32; 3. Ireland (3,17,22) 42
Women 40 (32 finishers)
1. Jutta Brod (GER) 45:48; 2. Ivana Sekyrova (CZE) 46:05; 3. Paula Canning (NZL) 46:34; 21. Zoe Melling (Rathfarnham) 57:36; 23. Joy Johnson (Sli Cualann) 01:00:03; 24. Vanessa Sallier (Rathfarnham) 01:00:25.
Women 40 Team
1. Italy (4,5,6) 15; 2. Germany (1,9,12) 22; 3. Czech Republic (2,5,18) 35; 5. Ireland (21,23,24) 68
Men 40 (80 finishers)
1. Daniele De Colo (ITA) 01:02:38; 2. Giuseppe Antonini (ITA) 01:05:05; 3. Gunther Angerer (ITA) 01:05:29; 25. Padraig MacCriostail (Rathfarnham) 01:15:17; 34. Bernard Fortune (Sliabh Buidhe Rovers) 01:17:45; 49. Paul Burns (East Down AC) 01:22:23; 63. Leo Murray (Tir Chonaill) 01:32:55
Men 40 Team
1. Italy (1,2,3) 6; 2. Germany (7,12,19) 38; 3. Austria (15,18,32) 65; 4. Ireland (25,34,49) 108
Women 45 (30 finishers)
1. Simonetta Menestrina (ITA) 47:38; 2. Corinne Zeller (SUI) 48:29; 3. Susan Ridley (GBR) 49:00
Women 45 Team
1. Italy (1,5,7) 13; 2. Germany (4,6,10) 24; 3. Great Britain (3,8,13) 24
Men 45 (81 finishers)
1. Robert Stark (AUT) 01:04:03; 2. Miran Cvet (SLO) 01:04:11; 3. Antonio Molinari (ITA) 01:05:34
Men 45 Team
1. Austria (1,6,7) 14; 2. Italy (3,4,13) 20; 3. Germany (5,11,12) 28
Women 50 (33 finishers)
1. Irmi Kubicka (AUT) 46:01; 2. Sally Gibbs (NZL) 46:37; 3. Britta Muller (GER) 48:42;
Women 50 Team
1. Germany (3,4,9) 16; 2. Austria (1,6,12) 19; 3. Czech Republic (8,15,20) 43
Men 50 (91 finishers)
1. Franco Torresani (ITA) 01:04:49; 2. Craig Roberts (GBR) 01:06:11; 3. ; Martin Obexer (ITA) 01:07:01; 17. Sean Foley 01:12:29; 72. Eugene McCann (Mourne Runners) 01:34:23
Men 50 Team
1. Italy (1,3,9) 13; 2. Switzerland (4,11,19) 34; 3. Austria (5,15,21) 41
Women 55 (29 finishers)
1. Karoline Dohr (AUT) 50:19; 2. Heike Kellner (GER) 51:41; 3. Christine Sachs (GER) 54:22
Women 55 Team
1. Germany (2,3,4) 9; 2. Austria (1,8,17) 26; 3. Italy (9,23,28) 60
Men 55 (81 finishers)
1. Wilhelm Dengler (GER) 42:46; 2. Leonid Tikhoniv (RUS) 43:50; 3. Martin McDonald (North Laois) 43:58; 19. Dominic McGreevy (Newcastle AC) 47:19
Men 55 Team
1. Germany (1,4,13) 18; 2. Austria (5,6,16) 27; 3. Italy (8,9,20) 37
Women 60 (21 finishers)
1. Ann-Marie Jones (SWE) 50:48; 2. Paulu Blanka (CZE) 52:30; 3. Marlene Zipperle (ITA) 57:01;
Women 60 Team
1. Italy (3,4,5) 12; 2. Germany (8,9,11) 28; 3. Great Britain (15,16,18) 49
Men 60 (69 finishers)
1. Milos Smrcka (CZE) 44:27; 2. Meinrad Beha (GER) 44:57; 3. Albert Rungger (ITA) 45:10; 46. Peter Bell (NIMRA) 59:18; 61. William John Brown (Mourne Runners) 01:06:52
Men 60 Team
1. Germany (2,4,5) 11; 2. Italy (3,8,9) 20; 3. Austria (6,16,21) 43
Women 65 (18 finishers)
1. Susan Archer (AUS) 01:00:49; 2. Irmgard Olma (GER) 01:02:11; 3. Karin Risch (GER) 01:04:08
Women 65 Team
1. Germany (2,3,7) 12; 2. Austria (6,13,14) 33
Men 65 (55 finishers)
1. Ivo Andrich (ITA) 45:34; 2. Albert Anderegg (SUI) 47:09; 3. Elio Rubis (ITA) 49:21
Men 65 Team
1. Italy (1,3,8) 12; 2. Germany (5,9,11) 25; 3. Czech Republic (6,7,13) 26
Women 70 (9 finishers)
1. Helga Pongratz (AUT) 01:05:20; 2. Barbara Prymakowska (POL) 01:09:08; 3. Ruth Schlager (GER) 01:09:37
Men 70 (43 finishers)
1. Helmut Reitmeir (GER) 50:21; 2. Michele Iori (ITA) 52:19; 3. Vincenzo Imbrosci (ITA) 53:33
Men 70 Team
1. Germany (1,7,16) 24; 2. Great Britain (4,12,25) 41; 3. Austria (11,14,19) 44
Women 75 (4 finishers)
1. Maria Marcibalova (SVK) 01:17:08; 2. Greta Korber (GER) 01:25:45; 3. Erika Kruger (GER) 01:28:03
Men 75 (20 finishers)
1. Georg Gross (GER) 56:24; 2. Hans-Rudolf Schwarz (GER) 57:13; 3. Johann Weber (AUT) 57:50
Men 75 Team
1. Germany (1,7,8) 16; 2. Austria (3,9,11) 23; 3. Italy (4,5,14) 23