Killiney Hill Relay Charity Race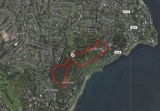 Forum Messages
Author
Date
Message
Andrew Hanney
Mar 13 2019, 7:35pm
Thanks to all the volunteers who have come forward for the Killiney hill relay so far in advance. It promises to be a great and fun event as usual. I do not need any more volunteers, so please look to some of the other events to help out. Andy.
Andrew Hanney
Apr 19 2019, 10:54pm
The Killiney hill charity relay is available to purchase. I am delighted and very grateful that the IMRA committee has approved my request to have the proceeds donated to The Alzheimer Society of Ireland (https://alzheimer.ie/). As this is a charity race, vouchers are not accepted, and the only option is to pre-register for 10 Euro. As posted on 13th March, I had reached my quota of 10 volunteers, anyone who volunteered after that date, should look to another event to volunteer.
The Killiney charity relay is a fun event. Runners will be randomly selected into teams of three. Each team member will run the 2.5km circuit of Killiney hill. Weather permitting the presentation will take place directly after at the race finish. People are encouraged to bring a few goodies to share!
It would be great to see lots of people turn out for this event to have fun and raise money for this great charity. Please arrange to car pool as much as possible. The public car park can be a busy place on a Wednesday evening.
Andrew Hanney
Apr 25 2019, 9:33pm
I want to keep this towards the top of the pile. Don't forget to pre-register for Killiney hill, all money will go to a great cause.
Lillian Deegan
Apr 25 2019, 9:35pm
Hey :) I'm gonna pop a dot in on my UTMB Points just for the heck of it
Andrew Hanney
Apr 30 2019, 2:34pm
Just a reminder, I have enough volunteers for Killiney. Please look to help out at Bray instead.
Andrew Hanney
May 6 2019, 12:28pm
Entry to the charity relay will close tomorrow at 6pm, make sure you don't miss out on this great event! Vouchers cannot be used.
Andrew Hanney
May 6 2019, 12:38pm
Note that juniors can also participate.
Andrew Hanney
May 7 2019, 3:09pm
Last few hours to sign up for the relay!!!
Laura Flynn
May 7 2019, 4:03pm
If you can't attend this event and would like to contribute you can do so by purchasing a ticket on the website and your donation will go to the charity
Andrew Hanney
May 8 2019, 11:23am
We are looking forward to seeing you at the Killiney relay this evening. Hopefully the rain will clear up. Registration is from 6:30pm in the car park. Race is at 7:30 sharp. The car parking is limited so please car pool as much as possible. We will have the presentation directly after the race on site and a draw for all participants. We encourage you to bring some treats to share during the post race chats. Thank you for your support for this great charity.
Pádraig Doyle
May 9 2019, 7:49am
Bitta craic last night Andrew. Thanks to yourself and all the volunteers. A fresh enough night to be standing around!
P.
Igor Gonzalez-Guridi
May 9 2019, 8:48am
Thanks to Andy and all the volunteers for organizing the event last night. It was a great cause.
Andrew Hanney
May 9 2019, 9:41am
Thanks everyone who came along to run in the rain last night at the charity relay, and thanks to those who contributed despite knowing they couldn't go! I'd a great team of volunteers on the night, and I'd like to thank them all again and for the kind words from Vivian about my first RD role. It was great to see a good number of children out and we need to see all of those and more come out for the Bray race as RD Caoimhin has put a lot of time into a fab junior route.
I'll post an update on the monies raised when I have it.
Joseph Boyle
May 9 2019, 12:31pm
Thanks to Andy on his first RD outing and thanks also to all off his team. It was a miserable evening but I think everyone enjoyed it and nearly everyone got a prize. It was also great to see so many juniors involved.