Nav Challenge 3 West Dublin Hills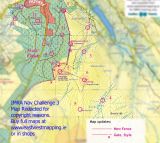 Forum Messages
Author
Date
Message
Lorcan Farrell
Aug 31 2016, 10:08am
So after two great Nav Challenges, the final race is here on Sunday 11th September. It's a tough course with lots of different terrain, plenty of distance and ascent for both long and short courses and some of the best views of Dublin and the West Dublin Hills available (once its not misty!). I promise it will be a challenging but fun course for all!



I have updated the event details on the race page so you can get a better idea of the courses, so please check them out and hopefully we'll see you there on the 11th of September!



This is also a shout out for volunteers, this is one of the last opportunities to volunteer for a race in 2016 (and it's close to Dublin!). I'm looking for a First Aider, a Laptop Operator, a Course Marker/Demarker who is familiar with the area and 2/3 other volunteers for registration and finish line duties. Let me know if you're interested and put your name down on the event page.



So come one, come all, and celebrate the end of the NAV races and a great season of hill running!
Joe Lalor
Aug 31 2016, 10:44am
Lorcan, Is GR 083220 on events page for the start correct?
Ger Power
Sep 4 2016, 1:01am
Lorcan I would appreciate it if you could reconsider the early start as I am very consious of keeping people waiting. I understand the difficulty of putting out controls,
Brian O Murchu
Sep 4 2016, 7:47am
Hi Ger, there is a short course option
Rachel Cinnsealach
Sep 4 2016, 10:20am
Isn't the short course aimed at people new to navigating? The idea of the short course is to encourage people to come out and learn.
Ger is one of the most experienced navigators in IMRA. While I am against early starts on short Leinster league races, I love the fact that they happen on longer races. I really enjoyed the two Connaught champ races I did. Early starts saves the race directors waiting around for a long time after the winner has come in.
I love "the spirit of IMRA". It is friendly open and inclusive. When I organised the nav challenge last year, I got a volunteer to put out the controls the evening before the event. I don't like leaving things until the morning of the event. It made no difference to me that people started early, I was there 90 minutes before the race started. In fact I preferred that they went early. A win/win situation for everyone.
Again, as part of the "spirit of IMRA" early starters should be the slower runners, and not people wanting to get home early. The 160 % rule should be applied.
Santina Doherty
Sep 4 2016, 2:32pm
Rachel, I couldn't agree more: the early start is both inclusive and a super idea to encourage more to step up to that next challenge. The are only 3 Nav challenges. It would be great to see more. It would be a great pity then to exclude anyone who might be outside of the 160%.
Lorcan Farrell
Sep 4 2016, 4:07pm
Sorry folks I have been away for the last few days with family and have not been keeping an eye the forum as I usually would.

@Ger: that should be no problem, I originally when writing the race description didn't know how I was going to mark the course whether it was going to be evening before or morning. But have settled on evening before so I can accommodate an early start for the long course if needed. Just come and see me at the start line and I'll sort you out.

@joe; I'll double check when I get home this evening, it should be the forestry gate approx 2km south of stone cross on the stone cross road. I possibly could have copied the wrong coordinates, thank you for the heads up.

I absolutely agree about inclusivity at IMRA races including the nav races and and am endeavoring to accomodate. I feel it important though to point out that volunteers are necessary to the running of all races and sometimes races need to be amended or restricted when needed due to a shortage of volunteers. I have one volunteer so far and need a few more. So if you're free and would like an enjoyable day in the hills with some tastey home baked treats, sign up and volunteer!
Ger Power
Sep 4 2016, 7:10pm
Thanks Lorcan
Torben Dahl
Sep 4 2016, 7:44pm
Thanks for organising this race Lorcan, should be a good day out, hopefully the weather will be better than the conditions the guys had yesterday.

I think it is great that people come up with their suggestions to the RD and express their views. However I think that if we want to encourage more people to step up as RD (and volunteers in general) for those races, we have to respect that the RD has some discretion on making decisions. The early start might encourage more people to take part in the race but it might not encourage more RDs/volunteers to step forward if an early start is expected at every race.

I fully take on board all the views expressed here but just feeling I want to give my input as seen from the other side.

Thanks.

Torben
Gavan Duffy
Sep 4 2016, 8:27pm
Hi just wondering is there a road number for The Stone Cross Road. I can see the Bohernabreena Reservoir water works on the R114 but I've followed the road on Google earth to Brittas, and couldn't see the junction with the mentioned "Stone Cross Road". Thanks
Torben Dahl
Sep 4 2016, 8:33pm
Hi Gavan,
I have a link from the start point at yesterday's race, which I think is also the start point for Nav Challenge 3?

https://goo.gl/maps/xyVoLBTEQKB2

Don't think the road has a number...
Andrew Hanney
Sep 4 2016, 8:36pm
the fact that Leinster league races of 6k are accepting 20+ volunteers comes back to bite once we get to the end of the season...
Gavan Duffy
Sep 4 2016, 8:38pm
That's great Torben. Thank you.
Lorcan Farrell
Sep 4 2016, 9:36pm
As Joe quite rightly pointed out I made a mistake with the grid reference for the start/finish line, the events page has been rectified with the correct grid reference (O 076 208). Torben has also kindly posted google map co-ordinates above so hopefully all is in order!

@Gavan, I've always known that road as the stone cross road but its not the official name. There's no road number on it or on any map I have access to it hence using the name I know! If any IMRA folk want a super local knowledge kudos point and know the name of said road please feel free to enlighten me!
Anne Hodge
Sep 5 2016, 11:49am
Hi Lorcan
Looking forward to attempting this nav challenge. If you have use for a running volunteer count me in. And I assume I can use a voucher for this event? Anne
James H Cahill
Sep 5 2016, 1:19pm
Hi Lorcan, in the spirit of outrageous pedantry.....the Stone Cross road is the L7462 and its name is the Shankill (no second h) road. To Art O Neill runners it is also known as the "invariably icy, slippery as hell, steep road on which there is a good chance to snot yourself in advance of ever reaching the mountains". To the drug dealing community, it is known as an ideal spot to dispose of market competitors!
Jeff Swords
Sep 5 2016, 3:29pm
The short courses are indeed great for those new to navigation, but they're also ideal for those short on time on a weekend, don't have the legs for being out in the hills for a couple of hours, or just don't want to do a long one, the lazy gits, tick where applicable. (sure we had an orienteer win the Nav 2 short course)
Stuart Scott
Sep 6 2016, 12:16pm
Jeff, orienteers winning short courses sounds very similar to Homer winning the children's art competition :-)

Great to see IMRA catering for all preferences anyway, as per usual. The volunteering ethos really is what makes IMRA the type of organisation it is.
Lorcan Farrell
Sep 6 2016, 1:55pm
OK Folks, The days are counting down to Nav 3 in the West Dublin Hills! Everything is falling into place except that I need a few more volunteers. I absolutely need a First Aider and would really like if I could get someone to help with laptop/results. If you don't have laptop experience, that is ok (although preferable!) we can do results the old fashioned way but either way I need someone! It would be great also if there was someone around who knows the area to help mark/demark the course to take a bit of the load off me! :)

For the craic, there is going to be the inaugural Great IMRA bake off. so I'm encouraging everyone who bakes, to get creative and bring some of you're favourite home-made treats. There might even be a spot prize for the best! ;)

If anyone wants to contact me regarding volunteering please e-mail me at lorcanf at gmail dot com.
Karen Devenney
Sep 7 2016, 10:31pm
Just a reminder to anyone planning on doing this event - if you haven't run with IMRA this year, you need to complete online annual registration by Saturday to get assigned a race number. Please bring confirmation of the number to the race on Sun. You can pay for the race itself either online or using a race voucher.

There will be no registration for new runners on Sunday at the race

Good luck to Lorcan and co, hope it's a great day!
Lorcan Farrell
Sep 9 2016, 10:50pm
Cheers for the shout out Karen! So all is set for The final Nav Race of the season. Thank you to everyone who has volunteered, we have a small but crack(ed) team that will be on hand to make sure everything goes smoothly on Sunday morning. Race prizes have been collected, maps printed, controls and punches collected so all ready to rock!

All the details for the race are on the event detail page so please check them out.

If you are a NEW MEMBER you MUST register online and bring along your printed email with your race number or you won't be able to race.

All IMRA races are now cashless and so make sure you pre-enter online before 18:30 tomorrow evening (Saturday) or have a race voucher. Again you won't be able to run if you don't have one of these and are registered for the 2016 season.

The weather looks to be getting better for Sunday each time I see it so fingers crossed we get a nice day out (or not for all you bad weather loving Nav deviants!)

This will also be the first Great IMRA bake off so to up the baked goods level from Nav 2,bring some home baked post race treats along to the race for afters, there may even be a spot prize for the best and some doggy bags if there's leftovers! ;)

Hope to see you all there,

Lorcan.
Warren Swords
Sep 10 2016, 6:28pm
Race entry appears to be closed?

Anyone racing tomorrow able to sell me one of their race voucher spots?
Rachel Cinnsealach
Sep 11 2016, 5:06pm
Brilliant event today, Well done Lorcan and team. I loved the format of the short course where runners could choose the controls they were going for.

fair play to Lorcan who went above and beyond the job of RD. He put out all the controls (marked the course) and helped with results as there was no laptop.
A fabulous day out in the hills.
James H Cahill
Sep 11 2016, 5:24pm
Thank you Lorcan, Brian, Becky, Anne and Lar for a great outing in the hills today. It was a great course and had everything. It was rumoured that there was only one jungle of death in Ireland (NW of Maulin - try it at your peril). However, I and others discovered there is it's Dublin equivalent from Glassavullan through to Slade Brook. Head high ferns with a cliff to the river behind you, a steep crag in front and tears and snot are interfering with what little vision you have left! - Personally I never ever want to see that area again in my life. Those who chose that countour route were easily identified at the finish line as the group staring vacantly into space and shaking their heads. I think I may have PTSD subsequent to that "adventure". Thank you Paul for demarking!
Warren Swords
Sep 11 2016, 5:54pm
Great race Lorcan. Ridiculous amount of options. And I took one of the ridiculous options. I'll be happy if I never set foot again in the land between cp4 and cp3 for the reasons James describes. I was contouring in opposite direction and lost all hope of ever emerging from the jungle/crags.

Thanks to all volunteers. Great day out
Inigo Alana
Sep 11 2016, 6:02pm
I concur. Great day out. Thanks to all the volunteers and more important to all the bakers!!
Peter Bell
Sep 11 2016, 7:48pm
Well done Lorcan and all the volunteers, great race. U could see a lot of effort went into it. Cakes at the end should be mandatory for future races. Thanks to all the bakers.
Torben Dahl
Sep 11 2016, 8:53pm
I echo all that, thanks Lorcan, all volunteers and bakers! I am not a great navigator, so the only selling point that took me to this race was the cakes! Great race though, brilliant with having a choice of checkpoints on the short course and a good twist having to visit one of the three on the other side of the road. Well done Lorcan & Co.
Philip Brennan
Sep 12 2016, 8:13am
Yes, highly enjoyable day guys, thanks for organising. I too succumbed to the dreaded "Fern City". I thought I had a good route - countouring around Corrig but alas little did I realize what awaited me!I am still in recovery.....
Brian Fennessy
Sep 12 2016, 9:35am
Lorcan what a fantastic finish to the nav challenges......tough day out on the hills but really good type 2 fun. Well done to all the volunteers for a superb race. Thanks again feno
Ger Power
Sep 12 2016, 4:14pm
Thanks for a great race Lorcan really well planned.
I would like to also thank the people who helped me when I lost my stuff on route
Becky Quinn who lent me her new shoes
Ann Hodge who lent me her sun glasses
Vivian O'Gorman who gave me his water bottle and bananas I assumed he had a second water bottle until I met him at control 3 waterless, this is the type of generosity of spirit that makes Vivian so special.
Maike Jürgens
Sep 12 2016, 11:50pm
thanks for a great race, the variety of route options was great (new options still pop up in my head). i particularly liked the plentiful opportunity for taking routes through trees, my favourite occupation in nav races which usually doesnt pay off (apart from nav 1) cake would have been great, it must have been amazing, i didnt get to taste any :( so we need more bakers next time.
only downside was the dirt bikes that kept "chasing" me down the track, i jumped into the ditch about 5 times ... oh well.
pity there is only 3 of these races.
Lorcan Farrell
Sep 13 2016, 12:58am
Hi Folks, finally getting the time to sit down and write a proper post after a busy few days!

First off, thank you for all the kind words. The feedback has been overwhelmingly positive about the course and race yesterday and I'm delighted that people enjoyed it (you did enjoy it James and all the rocky fern brigade?!).

A huge thank you to the volunteers who turned up early on the morning and ensured the race ran super smoothly! It's a testament to them that they all turned up as yours truly wrote them an email with time/place etc. on Friday night and forgot to hit send. So apologies to all volunteers for my slip up and a massive thank you to the team: Lar Griffin, Becky Quinn, Brian McGuckin, Ann Hodge, Karen D'Abres and Paul Mahon. A special thanks to Karen who turned up to say hello and ended up jumping in as a volunteer and then helping demark the course and a special thanks to Paul who after running the long course, stayed on for several hours and then ran back out to the furthest controls to demark almost half the course! Thank you to all!

The baked goods all went down a treat with the winner of the inaugural Great IMRA Bakeoff being Clare Keely with a tub of ridiculously delicious chocolate biscuit balls. The volunteers and myself had to try a lot of them to ah......em...... pick you as the winner, so congratulations! And thank you to everyone who brought something, people were delighted to have a bite to eat after the race.

An admission of guilt. I made a mistake with the ladies results which slightly alters the 1st, 2nd, 3rd order and I will be in contact with the lady who missed out on her prize as a result so my apologies! It was a bit manic calculating the order and my mental arithmetic failed me!

The Results were as follows:

Long Course:

Female:
1st Roisin McDonnell
2nd Clare Keeley
3rd Ruth Lynam

Male:
1st Shane Lynch
2nd Laurence Quinn
3rd Brian Corbett

Short Course:
Female Winner: Aoife McCavana
Male Winner: Mike Long

A big congratulations to the winners, runners up and a big thank you to all who took part in the final Nav Challenge of the 2016 season. I really enjoyed doing RD for this one and glad everyone returned safely and enjoyed the day out!
Lorcan Farrell
Sep 13 2016, 1:04am
***Preliminary Results***

Short Course:

Aoife McCavana 01:07:19
Mike Long 01:07:46
Roisin Long 01:10:30
Keith Fitzsimmons 01:30:21
Eoin Riordan 01:30:37
Torben Dahl 01:31:05
James Curran 01:32:05
Stephen Walsh 01:33:14
John Riordan 01:34:14
Inigo Alana 01:37:15
Syl Ivers. 01:43:58
Mick Byrne1972 01:46:55
Deirdre Fortune 01:47:03
Adrian Hennessy 01:57:20
Andrew Hanney 02:01:18
Gavan Duffy 02:01:43
Hilary Jenkinson 02:07:10
Vivian O'Gorman 02:10:33
Thomas Galvin 02:10:34
Rachel Cinnsealach 02:23:53
Fiona Sheerin 02:23:54
Theresa Doyle 02:29:15
Connie McCann 02:47:01
Anne Hodge 03:40:00

Long Course:

Shane Lynch 01:47:56
Laurence Quinn 01:50:55
Brian Corbett 02:06:03
Ben Mangan 02:07:15
Peter Bell 02:11:15
Mike Jordan 02:12:38
Cillin Corbett 02:13:08
Paul Mahon 02:16:30
Paul Smyth 02:26:30
Liam Vines 02:27:17
Conor O'Meara 02:28:10
Roisin McDonnell 02:29:33
Philip Brennan 02:33:19
Dermot McNamara 02:43:00
Warren Swords 02:55:40
Stuart Scott 02:58:13
Clare Keeley 02:59:07
Dermot Maguire 02:59:10
James Cahill66 02:59:44
Ruth Lynam 03:00:57
Brendan Delaney 03:02:29
Paul Morrissey1 03:04:33
Niamh O'Ceallaigh 03:06:50
Colin Walsh 03:17:55
Maike Jurgens 03:26:20
Brian Farren 03:27:10
Joe Lalor 03:30:14
Con Halpin 03:37:08
David Halpin 03:37:18
Don Short 03:41:00
Ger Power 03:41:44
Heather Wood 03:42:16
Brian Fennessy 03:53:00
Tallis Dixon 04:15:00


If there are any issues with the results, please email me at lorcanf at gmail dot com. Hopefully we'll get the results up officially over the coming days.
Paul Smyth
Sep 13 2016, 2:04am
Maike, and anyone else rueing the fact that there aren't more Nav. races, might like to consider the the Leinster League orienteering event this coming Sunday in the Pine Forest in Co. Dublin. You can start any time between 11:00 and 13:00. Details are on the Orienteering.ie webpage.
James Curran
Sep 13 2016, 8:49am
Congratulations to Lorcan and the volunteers. Brilliant event.
John B Riordan
Sep 14 2016, 8:15am
Super race and well thought out - thank you Lorcan and wider Team ... while we all headed home you had that very tiring job of collecting the controls afterwards, additional thanks there! Control sites made for head wrecking route choices and potential for unthinkable "wobbles". Brilliantly captured by Andrew in his race report and many others below. Objective achieved - a good run on the hills with heightened appreciation of nav which can only help us all from a safety perspective too. As Paul mentioned below we have an Orienteering race in Pine Forest (Cruagh Wood entrance) ... plenty of course options to choose from, just turn up for a start anytime between 1100 and 1300 with (straight line) distances up to 8.4km. Thanks again and well done. John R.
Gavan Doherty
Sep 14 2016, 2:49pm
Hi all,

Well done to Lorcan (and John, Aisling, numerous volunteers and the IMRA committee) on another successful Nav Challenge series.

I'm awaiting final/confirmed results to establish the series winners. In the meanwhile I've put up a view of last Sunday's map so that those of you who weren't there can see what you missed:
https://www.imra.ie/photos/view/id/127829/

Details for this Sunday's orienteering that John mentions are on http://www.3roc.net/index.php/3roc-news-14th-september-2016/ . It includes a 'Red' course aimed at IMRA runners (mostly trails, easy navigation) - you don't need any nav experience to give that one a go.
Stuart Scott
Sep 14 2016, 4:56pm
Sorry it's taken so long (much like my race) but many thanks to Lorcan and volunteers for a really enjoyable event on Sunday. The controls were easy to find but route choices were endless - exactly how a nav challenge should be! It even included the obligatory masochistic route choice that sucks you in, gives you a few moments of gloating over your fellow competitors due to your cleverness and then quickly turns into an hour of pain and misery. It's not often you hear James Cahill describe something as 'pretty much the same as the Jungle of Death*' - high praise indeed.

So well done Lorcan, a considerable amount of planning went into the event and it paid off spectacularly. It even introduced me to some new areas around there, some of which were a pleasure to run in. Unless there's private land, there would definitely be scope for a revised and reincarnated Corrig race next year.


* PS for those unaware, the Jungle of Death was made famous by Phillip Brennan in a previous Nav Challenge and is a true sign your event has made it!