News Item
British & Irish Junior Mountain Running Championships 2023, Peebles, Scotland.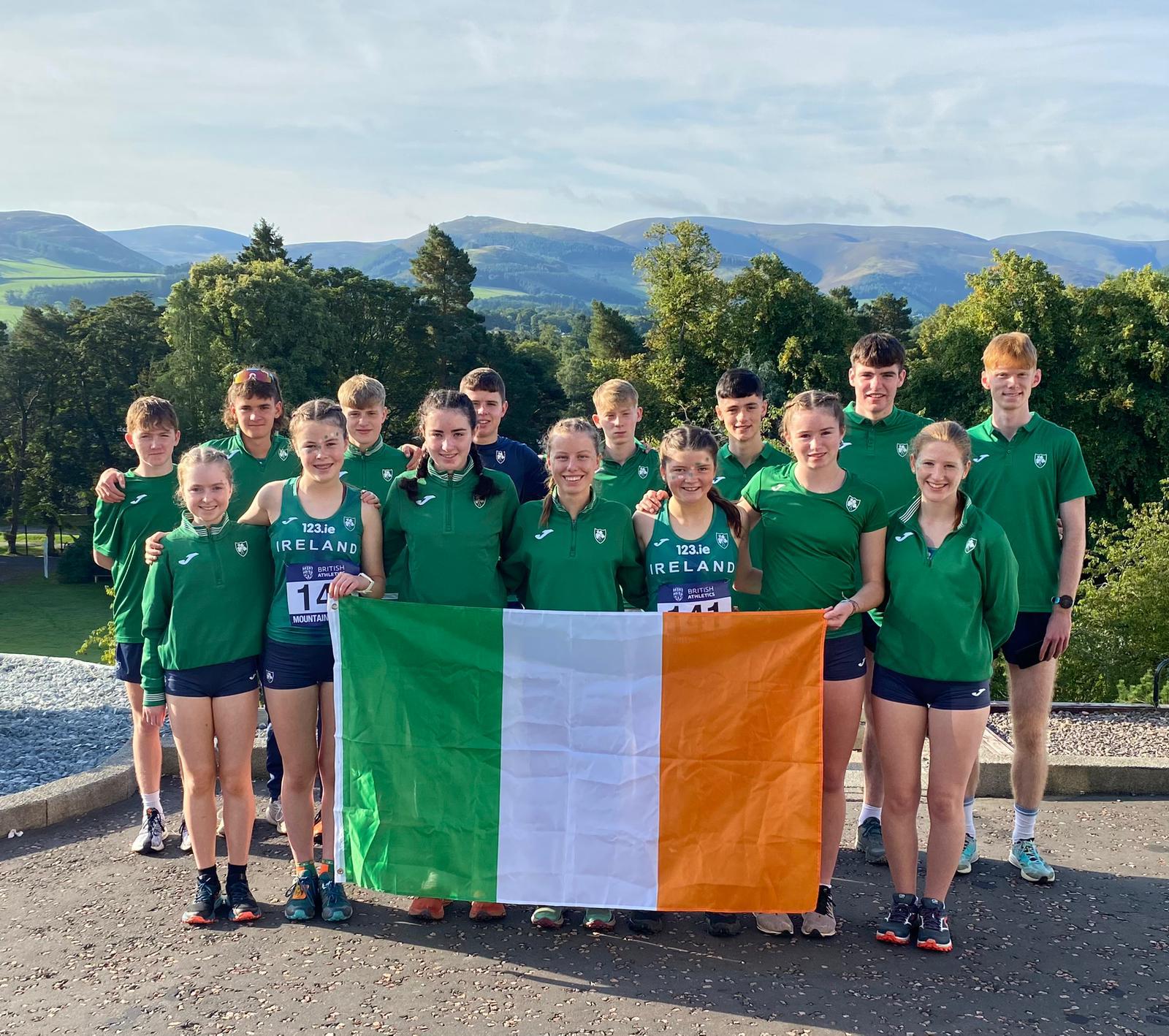 Saturday September 16 - Elizabeth Wheeler
Notably the Romans never really managed to make it to Scotland due to the unforgiving
landscape and native resistance. However, as it turned out on Sunday, the unforgiving
landscape of Cademuir Hill just south of Edinburgh was not an issue for our Irish juniors and our
native resistance proved to be pretty strong as we held off both the u20 Welsh men and the u17
Scots men to take podium positions at the 2023 British & Irish Junior Mountain Running
Championships.
Well done to the U17 and U20 girls and boys who proudly represented Ireland in Peebles,
Scotland on 10th September. It was an enormously successful day for the Irish squad and
every one of the 15 athletes went out on Sunday morning and put in the effort in an impressive
display of sheer hard work, skill and determination.
At the team trials on 6th August we had a record 34 runners turning up for what was to be a
very competitive race with that elusive 4th spot hotly contested in both the U17 and U20's mens
race. With stellar teams chosen, preparations were afoot for getting the 15 athletes and 4
managers all the way to Peebles. Following last year's successful trip to Ambleside with the
Northern Ireland team, Phil Hodge had kindly organised a coach with plenty of room for us all.
An early start to Newry on Saturday morning to meet the coach and then a thankfully calm ferry
sailing from Belfast and on by coach to Peebles. Spirits were high, maybe with a touch of
nerves for good measure, but the ladies kept us all 'entertained' with their singing.
We arrived in beautiful Peebles on a sunny Saturday evening and headed to race HQ at
Peebles High school for some food. We were warmly welcomed and given words of
encouragement from Borders Council Euan Jardine who gave us a flavour of some of the
outstanding Scottish athletes who had come through Peebles High School, namely Olympian
Chris O'Hare and mountain running champion siblings Scout and Jacob Adkin.
Time for a quick course inspection before the light faded and then back to the hotel to make
preparations for race day.
A technical meeting at 8pm alerted us to the possibility of thunder and lightning but when we
awoke on Sunday morning, the lightning risk had passed off. Instead the sun came out and
continued to shine and shine and it heated up quite a bit on that beautiful, grassy hillside of
Cademuir.
At 10.30 the U17 girls toed the start line and on the blow of the traditional Peebles railway
whistle, off up the hill they charged to complete a 4.7km testing route on short grass. A steep
downhill towards the end tested the quads and a very fast final descent to the finish line lead to
several collapses with the sheer effort and heat. First aid was on hand to douse them with
water and get them back on their feet. The girls put in very impressive performances with Katie
McLoughlin (Oughaval AC) first Irish girl over the line in 15th place (20:02), Siobhan
O'Loughlin (St. Michael's AC) in 17th, (20:09), followed by Katie's big sister Della
McLoughlin (Oughaval AC) in 22nd (21:42) and Eve Buckley (Bishopstown Orienteering),
23rd in 21:42.
At 11am the eagerly anticipated U17 men's race started with a really competitive line up. Finn
Criag (St Abbans AC) breezed home in a brilliant 6th place (15:35), Cillian Gleeson
(Cellbridge AC) in 8th (15:53), Noah Harris (Parnell AC) who maintained a very impressive
3rd place until the top of the climb but suffered a bit in the heat, arrived in 9th (15:55) and Rory
Quill (Clonliffe Harriers) in 30th (18:39). These results yielded an impressive Team Bronze for
Ireland pushing Wales and Northern Ireland down the ranks.
The U20 women had a strong race over the longer, more difficult 6.7km route with its many
false summits and testing climbs. Caitlin Hughes (Swinford AC) powered home in 13th
position (33:00), Kate Connolly (St Michael's AC) in 15th (34.38) and Laura Nunan (Donore
Harriers) in 22nd (37:11).
At 12.15am the U20's boys team started the eagerly anticipated race. And what a race it was -
Luke Duffy (Tullamore Harriers) took 7th place, in 26:20, Ryan McCarthy (Riverstick
Kinsale AC) in 12th (27:27), with Colm O'Neill (Greystones AC) in 14th (27:58) and Jack
McMahon (Ballyroan Abbeyleix & District) just behind in 16th (28.10). Again these
impressive results were good enough to secure Ireland a second team bronze of the day.
Our medal haul this year is cumulatively the best it has been since 2014 with our last individual
bronze medal going to the outstanding athlete, Killian Mooney (Dundrum South Dublin) in the
u20 race and elevating the men's team to silver. 2017 and 2022 saw the u20 men and u20
women respectively take home a team bronze, so getting two team medals in one year is
exceptional.
The 2014 result was on home turf so it will be great to see today's squad work on their home
advantage over the next 12 months. Preparations are already underway for the 2024 event
which will be hosted by Ireland and will be held in Glendalough on Saturday 14th September.
When everyone had picked themselves up and out of the nettles and dusted themselves off,
medals swinging, we headed off on the coach again towards the ferry and home. Exhausted
but happy with lots of plans afoot for next year.
On behalf of all the team managers, Tim Grummell, Owen Connolly, Miriam Maher and myself, a
big thank you to Gregor Nicholson and his team for their hard work in organising the event, to all
our amazing athletes who really are a fantastic and fun bunch to spend a weekend with, to all
the parents for their support, and to all the IMRA members, without whom these trips wouldn't
be possible. AAI provides the kit for these trips and an annual contribution towards IMRA for
internationals. However, the trips are funded in the main, by the income from the general
membership. This support is really appreciated.