British & Irish Junior Championships Ireland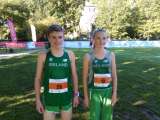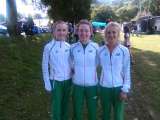 County:

Abroad

Date:

Saturday 19 September, 2015

Time:

09:00

Climb (m):

338

Distance (km):

6.70

Event Difficulty:

5 (2,2,1) - Moderate Terrain, 200M - 500M ascent, <6Km

Race Marking:

- Route fully marked

GPS Allowed:

Yes

Leagues:

Vouchers Allowed:

No. Online entry only for this race.

Getting There:

Betws-y-Coed Wales
Friday 18th: 08:45 Dublin North Wall to Holyhead with Irish Ferries (arriving 10:45)
Saturday 19th: 17:15 Holyhead to Dublin North Wall with Irish Ferries (arriving 19:15)

Organisers Instructions:

Under 17 (1999-2000) and 20 (1996-1998) races

Selection basis: First two in trial races with other positions based on trial race and mountain running and cross-country/road performances in 2014/2015. All selection is subject to the athlete being at least capable of finishing within 5% of the trial winners time and 10% of the international race winners times. Only athletes who meet the criteria will be selected this means that full teams may not be sent. Selected athletes should be registered with Athletics Ireland.