Corrin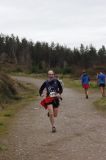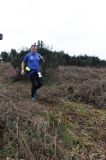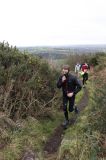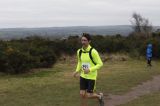 Authors
Corrin Hill... with a Sting!
26 January, 2022 - Martin Cooney
Corrin Hill… with a "sting in the tail"!
23/01/2022
I got a nice early start on the road for my drive to Fermoy. I was hoping to get down early to get a look at the race route or rather new race route. I had only spotted that it was a longer route during the week so I was intrigued as it is a small enough forest & not too many trails that I had seen previously. The drive to Fermoy was leisurely & I got to Corrin around 9.30am. I checked in at registration & put on some running gear to head for a warm-up.
I trotted down the hill, which is the normal start of this race. I passed a young female runner on the course & she seemed familiar. I said hello & I enquired had I met her before. Then I remembered that I met her out running near the Cliffs of Moher last year. Roisin is her name & a fellow Clare person. She asked what the course was like & I explained to my best knowledge that how it had changed. We trotted along together & I showed Roisin where the last steep section went back up to the cross. I met Matthew Branch up at the cross & I got some more info. regarding the downhills & trotted back to the start via the new finishing route.
I decided that I need a bit more grip so switched runners back at my car & then made my way to the start. There was a strong field of runners for the race as Pat Murphy (RD) gave his briefing. The Cork RDs must have a route description template because it sounded very similar to Brian Buckley's race description of Garryduff Woods in 2021 except instead of mud, up, down, Dunkettle roundabout; Pat's description was down, up, woods, pass the cross, down, up, pass the cross, woods, etc. (anyone who was there knows what I mean). He also mentioned something about a scorpion or something to do with a tail- I didn't get what he meant at the time.
3, 2, 1, Go… & off we went. A fast start down the hill & oh my, it was fast! Paul Minogue took off & was leading the charge followed by the usual suspects; Tom Blackburn, Sean Quirke & in the past year Nick Hogan (a fellow County Clare man). I was probably back just outside the top twenty exchanging places with Willie O'Donoghue, Liam Sheehy & Donal Collins. The route flattened thankfully & the pace slowed… or at least my pace slowed. I eased back a little, as I knew there would be a long, slow ascent up to the cross. I lost a few places for a while but as the incline got greater, I passed some of these runners again. Kick back to the left & then into a single track up through the woods, I was tucked in behind Donal Collins. Donal has become a bit of a nemesis of mine over the past year (not that he is aware of any of this- it's all in my head) - I just can't seem to get the better of him. I can always see him in front of me but can never catch him.
Up near the top, I hear "hello" from behind me- tis Roisin as she skips up the hill & passes me as if I wasn't even moving. I reach the cross for the first time & am just behind Donal. He has a strong pace going as we head downhill into the single track. I am struggling to hang onto him & am already blowing hard. The route turns right, still in the trees. Next thing we pop out into a fire road. Donal & I are right behind a female runner. All three of us are now in full stride & somehow we both pass her over the next couple of hundred metres. The road veered to the right, which was suiting Donal, but immediately after that turn, it kicked back left into the forest again. I managed to get in there first & find the sort of terrain that suits me. I am moving well now & catching the "evergreen" Willie O'Donoghue. Willie; being a gent, lets me through at a break in the trees & I am now in hot pursuit of Roisin. I can see her but she is moving really well for someone new to the trail-running scene.
We cross a fire road & start back up a straight ascent. I can see about 10 runners ahead of me but also can hear Donal behind me too. I try to keep the legs ticking over but know he is gaining on me all the time. I am inches ahead of him as we pass the cross for the second time. However, I had seen the new downhill section here & Pat Murphy had warned that it got a little steep. I go into what I call "My out-of-control mode" which basically means that I will either look great accelerating downhill or am about to get absolutely hopped off something stationary. I pass two runners just off the top & just about manage not to hit the IMRA Munster Official Photographer; Jane Griffin (sorry about that Jane). I am motoring well in my uncontrollable way & can see a few runners. They make way for me (thanks all) & next thing I see the steep turn down to the right. I am going too fast to stop or even slow down so "Que Sera Sera" & hope to make it to the bottom without becoming intimately acquainted with the Cork woodlands. I pass out four people I think including Roisin on this steep section & roar a big hello to Màire O'Sullivan (first-aider for the day), thankful that I didn't require her assistance after my descent.
Finally, we are down on the lower section & I can see Kevin Lenihan & the leading lady in front of me. I am starting to slow & there isn't much left in my legs. Next thing; I get a gentle tip on the arm as Roisin passes me. "I am just going to try to pass the girl up there" & off she goes. I am about to cough up a lung & she seems like she is just getting into 3rd gear. She is gone now & I am now starting to look over my shoulder. Here comes Liam Sheehy.
"Come on Uphill" or I remember now what Pat Murphy called it "the sting in the tail" I tell myself cos slow as I will be, it will slow the people behind me too. I seem to be inching in on Kevin as we make our way up through the wild vegetation for the final time up to the cross. With every stride that passes, I seem to be gaining on Kevin & this is distracting me from looking back at my chasers. Finally making it to the top, I pass the cross & try one last effort to catch up with Kevin. Down into the single track & I am gaining on him. Suddenly Kevin pulls to one side & lets me through. He seems to be okay but being a vet probably saw a wild animal in distress & could not pass up the chance to help it out (again all in my head). He tells me to go on. Dave Yelverton directs me left & I am moving well on the final descent now. I come out from the tree line & see the former first positioned female runner in front of me. "Come on legs, keep going". A sharp left & pop out onto the fire road. About 300m to go & I am fast catching her. The fire road turns 180° & as we take the corner, I inch past her. A five-year-old spectator tries to take me out (possibly a jealous son of one of my pursuers) but I manage to hurdle past him… Better luck next time sonny! I make one last sprint to try to to hold my position & power my way over the line exhausted.
I had a good chat with some of the other runners afterwards. Congrats to Nick Hogan & Roisin Howley on their wins. It turns out that they are not only both from County Clare but are also 1st cousins- that was kept quiet until after the race!
Massive thanks to Pat (RD) on creating a gem of a race route- please keep that one for next year. Also; a big thank you to all the volunteers who gave up their time for the rest of us to enjoy the beautiful area of Cork.
P.S. - Note to Self: Don't go showing anyone any race route in future, it will bite you in the bum & they will beat by at least one position!