Nav Challenge 3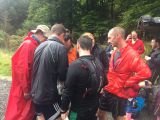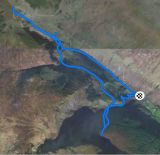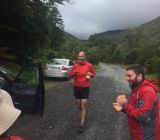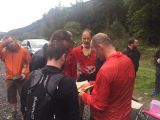 Authors
Nav Challenge 3
18 September, 2017 - John Condon
It's hard to articulate the clusterf*ck that occurred on Sunday a few weeks back, but I'll give it a go. Before doing so, though, I'd like to offer a heartfelt apology to Messr's Cahill and Vines other, better, halves, for ruining their respective Sundays. James, I hope your steak wasn't given to the dog, and Liam, I hope you still have a job.
And it all started so well. After brief instructions from Niamh, a small group us set off to test our mettle and nav skills over one of the toughest areas of the Wicklow mountains.
First stop, Art's Lake. I wanted to get this climb out of the way as early as possible. First control done, then over to control 5, just a short distance away. I figured I'd grab Control 4, the 'Zapper' then up over Cannow to Control 3 and on to Control 1, effectively, taking course in an anti-clockwise direction. No bother I thought to my self. From the the ramp past Art's, I summited Cloghernagh and dropped to find Control 4. A bit difficult due to the fact that the kite had detached itself from the top of the control. Map stamped, I followed the stream to climb back up Lough Glen.
And then it went to shite. I'm unfamiliar with this area and my lack of familiarity was compounded by the dense fog that had descended on between Lug and Cannow. It didn't take long before I was second guessing my self. After back tracking and re-backtracking. and maybe a zig zag thrown there I was lost, It was like running around a big foggy field. I reckon I was about 200 metres from where I thought I was but who knew. The wind and rain, by this stage had started to really pick up, I took out my map out to get some sense of where I was. I should add here that Niamh had kindly inserted all maps into clear plastic pockets to ensure they stayed dry throughout the race, nice thought. Unfortunately in these conditions, this acted as a kite and whipped the bastard thing out of my hand. A massive 'Ah bollix' was bellowed, which I'm sure could have been heard in Barravore. Ok. Race over. I was cool with that. Just get off the mountain I says to myself. In the distance and through the fog, I saw a group of about four walkers. I gingerly made my way over to them. My heart sank 'We're lost too,' one of them uttered. Ah shite.
Leaving them, I trudged on and on down I went, through a number of boulder fields. The visibility was improving by this stage but then to my horror I saw empty artillery shells. The Glen of Imaal firing range. I was f*cked. There was no way I was going back up, I had to get down. Thankfully the lads weren't out today. And I followed a trail of sorts down to the main road, praying that I didn't accidentally step on any intact ordinance, or worse, that one of the many grazing sheep didn't come a cropper on any unexploded shell while I was anywhere near them.
After hitting the road, I managed to stop the first car. 'Where am I?' I asked a stunned elderly couple. 'Fentons' replies the driver, 'Do ye need a lift?' A pint would have been delicious but I opted for the lift. It was 2.50. I knew at this stage that there would be some concern back at Baravore.
I hauled my sorry ass into the back of the car, and after many thanks, we were off. My saviours introduced themselves as Todd and Mary of Tullow, out for their weekly Sunday drive. Todd a retired farmer, bless him, didn't seem to realise his car could do over 40km per hour was happy to give me a history of cattle trading, post WW2, oh, and I can now class myself as an expert on the mechanics of Allis Chalmers Model B tractors, it took us a good hour to get back to Glenmalure.
At Barravore I, said my 'goodbyes' and dashed to the finish line. I was greeted by James, Eoin Syron, Niamh and Liam with a mixture of relief and incredulity.
The lads, as you would expect took the holy piss out of me on the journey home. Well deserved I reckon.
Thanks to Niamh, family an all volunteers.
Navigation challenge 3
13 September, 2017 - Gavan Duffy
Alarm clock set for 6am was the start of my Sunday morning. The drive from Navan to Baravore car park is 1hr.48mins. I decided to be early. Driving down the M50, the rain was lashing, visibility was poor, perfect conditions for relying on the map and compass today.
Arrived in the car park at 9am, one car there, then I was thinking, Am I in the right place? A few mins later Niamh arrived!
Ok so I was one of four of the early starters, I said to Niamh, I wanted to try the long course, and of course my mind was not focused, all I heard was 6-10 for the short and 1-7 for the long. (Even though there was an 8 in there too!).
Now I my goal with any of these runs is to finish the course, enjoy the scenery and have some fun.
I headed off up the fire road, towards the Youth Hostel, thinking 10 looked easy and I would pick that up on the way back. After 500m, I was walking. It takes me 5k on the flat before, I get warmed up and I can run, not to mention running up hills.
I got to Trig 9 and was feeling good. In Nav 1, I couldn't find one Trig on my own! so this was boosting my confidence. Trig 7 and 2 were also easy to find, this was a great day out. Now I was thinking, lets try the long course, I wanted to stay out in the wilderness as long as possible. There wasn't a soul about! I was really enjoying this run.
From Trig 2 to 1 was up into the clouds, so I took a bearing with my compass. I decided to head for that track that was somewhere above my location. There was a Well indicated on the map too, which I imagined would be an obvious landmark. Up I went across the heather, not knowing what to expect. Luck was really with me, I came across a boardwalk sleeper, it was the only one and no sign of a path. This must be the path, I thought as I was never in this area before and decided to turn right and give it a shot. Another 20 yards, there was a few more sleepers and yes there was a sort of path. I pressed on, the wind was gale force, lashing rain, I was glad I had my Gore Tex jacket.
(I bought this jacket on wiggle last year after doing the Dublin peaks run, a special offer, and the bloody jacket is annoyingly short on the waste, but the sleeves and hood fit good.)
I came to Trig 1, fantastic! Now swing right and up the mountain. I figured that if I follow this path for 2.5km and then circle round to the left, I should hook up with the stream for number 3. That worked well.
Up to this point, it was going good, no trips, stumbles or falls. I was about 100m down from Trig 3, when I found the first hole, bloody hell, the left leg disappeared into a hole and it didn't reach the bottom. I take a 40inch leg in jeans so it was a deep one! Yes, the stats are 6'10" 18& 1/2 Stone.
I escaped without injury and I wasn't squealing like a pig, the adrenaline was pumping.
I met someone further down who said they came up from Trig 8 and came through the felled forest.
I decided, I'll go that way! Well there must have been about 25 further holes I fell into going this way. The grass was covering the trees and there was no way they would support an elephant charging through. Head over heals, slipping, stumbling....., I even went to jump over a rock, slipped before it and managed to whack my shin off it. (I didn't say "silly me") it was more like F***. In the process I managed to miss the track down to number 8 and when I was too far over I decided I would head straight down the mountain to the fire road. The slope became very steep and I couldn't see the ground with all the ferns, then the trees were so dense I couldn't go through them. I tracked back, took a break for a few mins, found the track and went straight to No. 8.
I decided now I'll just go for 5 & 6 and not complete the long course. I remember climbing that hill up to Arts Lough for the Glacier Lakes Run! It was torture back then but not as bad this time as I didn't start in Glendalough!
I met James Cahill coming up behind me and just about managed to stay ahead until the top. We got 5 and 6 and I headed back down across the river, it wasn't that deep, it was below the knee (about 3 feet, haha!)
I'd done about 17k now! If I had gone for trig 4, it would have been, I think another 10k at least by my measurements!
I ran down the fire road heading in the direction of number 10. I could see a small trail on the map at a sharp left bend in the road. I remember Niamh had mentioned that the this trail does not link up with where 10 was. It seemed the shortest route. Down I went, and I came to a fence. No mention of a fence on the map.! I Followed along the fence and down the left side and I came to a wide open grass area. Without thinking I started running across this area and quickly went to my knees in muck and was sinking. A slight panic crossed my mind that this was a swamp and would I be stuck here. I managed to retrace my foot steps and get back out. (Later I saw on the map that this was an Old Reservoir), I circled round and I could hear people talking at the finish line, but I couldn't figure out how to get through the dense gorse and trees.
Eventually after about 20mins I finally got down onto the new miners path and ran up to the Crusher House. I couldn't find Trig 10 anywhere. I was wrecked at this stage. I had done 20k, with 1,170m of climbing
I decided to head to the finish. As I didn't pick up Trig 10, I hadn't finished the short course and I thought that as I didn't have Trig 4, I hadn't finished the long course.
I told Niamh that all I got was 1,2,3,5,6,7,8,9. It was great that I hadn't earned my first DNF.
What a great day in the Hills....
Thank you.
Nav challenge 3 Lost on the moors
13 September, 2017 - James Curran
I should carpool with Joe Lalor to these events but I don't think he would trust me to find his house even though it is around the corner from mine. Nav challenge 1 was not too bad as it was mostly on trails and there were a lot of competitors around the course (to follow). I was on holiday for Nav Challenge 2. Nav challenge 3 was open-mountain so my chances of finishing were 40-60 at best for the short course. I decided to do the long course and fail to finish that instead.
I listened intently to Niamh's briefing after the Wicklow Way disaster at Ironbridge and made sure I checked the "extra" track on my map with her as she waved us off. One needed 7 out of eight controls numbered 1 to 8. Control 4 looked like a complete outlier as you had to visit 1 or 2 at the other end of the course anyway. I knew where 5 and 6 were from the glacier lakes and set off with what I thought was most of the field up the miners road and onto the main track. There was a safe place to cross the river and as I approached the fence on the other side I could see a lot of the faster competitors already well on their way up the ramp to Art's lough. A few of us helped each other over the barbed wire fence so as not to be castrated. I started up the middle but halfway up I crossed left to the fence as I knew I could follow this to number 5, I met Jarlath near the control and he commented that there would not be much running done as the going was difficult. How right he was. Found 5 and then back to 6 and it was then that things started to get tougher. Rather than go back down the ramp and follow the trail up Fraughen Glen I decided to contour around west from the Art's Lough to reach the valley above the waterfall and on to 3. Serious mistake.
Control 3 looked a long way away. As I left Art's lough and began to move around the contour I could see someone in red a few hundred meters ahead. This gave me confidence that it was the right way to go but it took forever at about 1KM an hour. There was a cascading stream to cross and a fence and I had to lose height to cross both safely. When I got to Falls Brook I had to climb back up to level ground to make a safe crossing.
I saw two figures in the distance about 300 meters north of me and assuming they were competitors going to control 3 I gave chase. To my surprise I was catching them moving along the track across the valley floor that would intersect with the track that leads up towards Camenabologue and control number 1 at the stoney top. This looked about 200 kilometers away on the map. Who could these competitors be? I looked around in my mind's eye at the group gathered at the start and did not remember anyone I could catch this easily.
When I caught the "competitors" it was a couple of hikers on an afternoon stroll and I had not even caught them that quickly. I passed them exchanging pleasantries while debating whether to ask them if they knew where the hell we were. Of course I did not cos that would be cheating. I was going west along a track that I hoped would intersect with the one heading north toward Stoney Top but it was taking a long time to reach the junction. Had I gone too far? It was pissing rain and cold and I wanted to go home. Had I known there was tea at the finish I would definitely have turned back. Then I had a bit of luck. Out of the gloom from my left came Liam Vines. I was only 10 meters from the track junction! What were the chances of that as I think he was the only one to visit control 4 and so was the only one who would have come that way.
I packed all my doubts away and fell in behind him. We met Jarlath as we left the track going east a kilometre north of the junction to intersect Nine Hole Brook and control 3. I knew as we ran that we were going a bit too far north. Liam continued further north when we met the river and myself and Jarlath converged on river junction that I recognised on the map. We were too far north and would have to follow the river back up to control 3 further south. Liam had the same idea and we met Paul Smyth on the way up. It took longer then expected but after what seemed like 15 hours I had 3 of the 7 controls. Liam had 4 but he had visited Wexford en route.
"Back to the track and up to 1." Liam declared. Paul and I followed and as we ran up toward control 1 in the mist and gloom I gave all to keep Liam in sight as long as possible and did a good job for I last saw him less than a kilometre from the control. Unfortunately I lost the track and headed north east at Camenabologue and when I reached the Stoney road there was no control to greet me. I looked left and there was a group of walkers – shadows in the mist 200 meters west up the track near a post and I knew the control would be there.
I stopped for a banana and some water a little further down the track east from the junction of stoney road and the military road where there was some cover from the wind. I still had to get 2, 7 and 8. Paul passed me here. I followed him but left the track very soon heading due east down to the "Lough Brook" as I wanted to meet the river north of the control 2 at all costs. This worked a treat. I followed the river down to control 7 at the junction with the track along part of leg 2 of the Glacier lakes.
My map was a soggy rag that had turned white at every fold and I thought 8 lay on the main track and not on a spur. I ran all the way to the junction at the far end where I was facing up the ramp to Arts lough. I was at least a kilometre too far. I walked back up the track passing loads of people on the way going in the opposite direction. I must have lost about 200 hundred places due to this mistake. I met Paul and Jarlath almost at the control and they kindly advised me as where it was.
I finally got in after 4 hours having finished a tough long course. I think I was second last. Congratulations to Alan and thanks to Niamh and her Dad for a great day out.
I was delighted to be the first person to finish who was born in August 1963. Might even have won the M54 category but I will have to wait for official results to confirm. I learned a lot on Sunday but it was basic stuff about contours etc that everyone else knows so I won't bore you with it here.
Baltic in Barravore
11 September, 2017 - James H Cahill
Navigation challenge three was to take place in the Glenmalure Valley and with that location, an indicative climb of 975m and a distance of 17km it would not be easy!
Myself, John Condon, Liam Vines and Eoin Syron car pooled to the start line and as we drove down the conditions progressively worsened with wind and rain waiting on our arrival.
Niamh O'Ceallaigh, race director, gave race instructions and advised us to bring plenty of gear as it was tad chilly higher up! This turned out to be an understatement as it was truly Baltic on Stoney Top.
The long course consisted 8 controls with any 7 to be visited. A quick look at the map showed control 4 to be particularly unappealing. Located high up on the Carrawaystick River it would require a climb to Arts lough, on over the top of Cloghernagh, down to the river and back again. Not what the Doctor ordered.
Three controls were located relatively closely together towards the top of table track and I headed in that direction with Alistair Hodgett and Chris Willoughby.
3.8km of uphill running later I arrived at control 7 which was located on the bend of a fireroad. Then on to control 2 located 700m up Lough Brook on a river bend. Alan Ayling and Mike Jordan caught and passed me here as they had opted to pick up control 8 first. Myself and Mike stayed high on the "Art O'Neill" track whilst Alan stayed low by the river encountering much more tricky conditions. The upper route was faster but Alan's "staying low" technique would serve him well throughout the day and ultimately result in a win for him.
Control 2 located then a very sloppy peat hag traverse across to pick up Table Track and then up Table track for 800m to the large junction at Stoney Top and control number 1.
Control 3 was located at a river bend on Nine Hole Brook and I opted to run the track from Stoney Top towards Cannow and then bear East after 1.8km to pick up nine hole brook. Such a simple plan but so poorly executed. I clearly was having a dodgy moment in the howling gale of Stoney Top when I estimated my turn off point at 1.8km. The turn should have been at 2.5km. I'll put that bit of distance estimation down to a fear of losing my map to the Gods of Gale Force Winds.
Anyway off I set on my 1.8km run and I met John Bell proceeding at speed in the opposite direction. The wind was howling, it was raining, I was cold, the track was muddy, I took a few falls……...it was great!
After 1.8km I went East as per my brilliant plan and sure enough after 600m met a small stream. The problem was it was running South East instead of North East. However, deciding not to put any importance on such trivial matters I decided to track along it for a bit and see what happened. And after a a couple of hundred meters something did happen! - Shane Lynch appeared behind me and I asked had be found the bend in the stream, and he told me I was a long long way from that and he pointed East.
This was a very confusing turn of events……...had I somehow turned around and was I now back close to the path from Stoney Top to Cannow? Was I in a parallel universe where East was West………..
Deferring to his superior navigation skills I trudged East in search of salvation. Instead of salvation I found the Onichbawn gap between Camenabologue and Coraniller and a view of table track. This was definitely not where I wanted to be, but at least I now knew where I was and could rectify the situation. It also clarified where I had been and confirmed that I had come up very short on my first attempt. I was strongly tempted to DNF at this point as I had now wasted at least 30 minutes and needed to turn around and effectively retrace my steps back to the river I had been on continue on and pick up Control 3. It never feels good to be walking back the way you came but this I did meeting the Nine Hole Brook smaller tributary at exactly the same point I had on my first try and then continuing on to Nine Hole Brook proper. 100m up the river and there was my nemesis - the errant Control number 3, which I reached exactly 1 hour after leaving my previous control.
I was very conscious that I didn't want to keep everyone waiting, but Niamh had given a time indication of 5 hours as the time to be back before and barring some other navigation catastrophes surely I could do that!
I had initially planned to follow nine hole brook back to the fireroad and run down to control 8 located on a small track just off the fireroad but I was tempted to contour round to some forestry and pick up the track and run it down to the fireroad picking up the control as I went. Never being one to resist temptation off I went contouring and in due course a small stream appeared and then the forestry, which was felled and sure enough there was the top of the track. 100m later the track disappeared into thick 3 ft high reeds and rushes. Not a problem for our fearless adventurer - I pushed on regardless. Every so often I convinced myself that the track had reappeared, but it wasn't to be. That was in between extricating myself from the numerous falls into the deep holes between the rotten tree branches that you couldn't see under the reeds and rushes. Eventually after about 500m I did find the track again and despite its best efforts to lose me I held onto it gamely until the control 8 and the fireroad appeared.
I was now at 2 hours 50 minutes with two more controls to go. Number 5 on a fence bend beyond Arts Lough and Number 6 at the Lake Outlet on Arts Lough.
I knew this area relatively well from the Glacier Lakes and 1.5km of fireroad brought me to the river crossing prior to the wall of tears which is the excruciating 800m climb to Arts Lough. Once the climb had been conquered and tears shed it was on along the fence for 600m, meeting Joe Lalor and Gavan Duffy as I went to the fence bend and Control 5. Then back down to Arts Lough and picked up Control 6 then back down the steep climb, across the river, and fire road and the new Miners' track back to the finish line.
I arrived apologising to Niamh about my tardy arrival and for keeping everyone waiting. I assumed I was a long way last given my 1 hour adventures at Control 3. In fact others had also suffered a similar fate not only at Control 3, but Control 4 and some had even deviated to the secret "off map control" at Fenton's Pub (but that's a story for another day and is best recounted by that weary navigator and not I!).
18.9km 973m elevation gain.
I could have saved very significant time on Control 3 by ensuring that I came off the track at 2.5km rather than 2km, or by putting more consideration into the direction of the river I hit…….shoulda, woulda, coulda! The ground through the felled forestry between Control 3 and Control 8 was dreadful and I would have been better to descend by Nine Hole Brook to the fireroad. Otherwise my route choices were reasonable.
As for my car poolers, Eoin won the short course - congratulations, Liam went on a "Grand Tour" and visited control 4 and picked up a short course control as well for good measure. John had the best adventure of all……..more details to follow (spoiler alert - there may be a hint somewhere in this report!).
It was a great day out. A very challenging route in challenging conditions. Thank you Niamh and all your volunteers for a wonderful day in the hills.
Wet, cold and miserable?
11 September, 2017 - Andrew Hanney
NAV Challenge 3 short course –
Having gone a bit mad on Nav 1, and a bit too safe on Nav 2, I was keen to make amends and do better this time. The best thing I did for this race was a last minute check of the weather app YR the night before, it showed cool temperatures and rain…. With that the Winter leggings where dragged out of hibernation in the wardrobe and I was reminded that I really should get a decent running raincoat as the summer league version is just not going to do much for you in a wintry Glenmalure.
Carpooling down with clubmate Sandra we arrive down at Barravore, the first question is when to get out of the car as its bucketing down…. Hopefully it'll be like Djouce woods when the skies cleared two minutes into the race…. Before we know it, its race time and a relatively small group of people are gathered around listening to race instructions from Niamh. I'm determined not to make the mistake of the previous two Navs… this time I'm actually going to listen to the instructions! Something about a track on the map not being there when none of us have the map…..got it!!!! I hope the track that is not there isn't in my plans.
Then it's time to turn the map, most people see the ease of number 10 and start moving almost immediately, I take a few maybe costly moments, however, I'm aligning the controls in my head. Once I see controls 10 and 6 (at the top of what looks to be a stinking climb) I decide I don't need the map for a while. Sure enough, up the new nasty miner's path, to the fire road and keep running to the crossroads. On the miner's path, I'm mostly running and gaining a few places back from the people who left before me. I know I've to run here to the cross roads and veer left and start climbing. At the barbed wire fence, I find a use for the map to make crossing a bit safer ;) For the next ten minutes or so it's just climb climb climb in knee high heather. I know I'm getting to the top near the lake, I see Eoin returning, and I'm heartened to know I'm not that far off. I get to 10 and turn, I find a runnable track, I pick up the pace and then whack……. Down I go into a chest high heathery hole…. Somebody was passing at the time and I know is laughing on the inside at my stunt. Lesson learnt, pace cut down, and I march down the hill. I get down to the barbed wire, second place lad is just in front, he makes it over the fence, I decide I'll use the gate about 10 metres from where he crossed ;).
I run through the river trying not to fall on my face and look awesome in front of the family of hikers and their kids who are gawking at me, then I run down the hill for about 200 metres, I promptly look at the map, turn 180 degrees and run back up the hill 200 metres, looking a bit less awesome as I pass the same bemused family, and I actually go the right way which is a fire road towards control 8. I check the watch for distance, it looks about 1.2k to the control, after losing time, I'm happy to run up this hill and make an effort…. I get to 1k in and I'm looking along the fire road for the knowing sight of the control, I don't see it…. 1.3k… I still don't see it yet. I start thinking I'm too close to the waterfall, then I see a runner coming back towards me,…. I missed it he says, which means I missed it too…… mistake number 2. We run back about 200 metres and others are taking advantage of seeing us return… and are hitting the control before us which is off to the side of the fire road. I don't worry, I know I will get the pace up again. The next control, 9, isn't too far away, it's on the other side of the river, I debate whilst running whether to hit it first or on the way back, first I decide…. I get close to the control, I'm sure where it is, but two other lads are buzzing around trying to make sense of the location and map… No hiding here I thought, just hit the control and run. I decide now to get back on the fire road though it involves a little climb, I see it as a more runnable track to control 7, the last one for the short course. I get some water on board, running up the hills, then I see guys beside me on the river path, so I wasn't gaining on the fire road, enough of this, down on the river path I go and keep running, passing two lads here and on up to control 7. I know looking at the map on my way up here, that again, I don't need the map all the way home, I just need to take the obvious paths along the river and you end up at Barravore. I would like to say that I took advantage of the descent here, but this track is horrible, stony, even worse… wet stony!!! I experiment a few times with my trusty inov8s, yes no grip whatsoever on the wet rocks. I hug the grassy verge when there was one and keep it going for about 10 minutes, I then see the hostel buildings and then I'm done and in third place for the short course. Happy to get home in one piece, wet and cold yes..but miserable? No way, this is awesome….
Thanks to Niamh and volunteers for the amount of work put in to make our day, as others have said race directing a Nav challenge is level two race directing…. Thank you so much. 12k distance... time 1h:41
THE VAGARIES OF NAVIGATION RACES
10 September, 2017 - Alan Ayling
It is highly doubtful I will ever win a regular IMRA race. Something the majorty of runners can probably say. There are always faster lads and often enough faster lassies. The Nav Challenge series offers at least a glimmer of hope of an unusual result – you get things bang on and the faster runners mess up or pick poor routes, anything can happen.
Lower numbers than usual presented at Baravore for the 10:30 start. Perhaps it was the remote location or it may have been the inclement weather. Winner of rounds 1 and 2 Shane Lynch was there alright, as were John Bell and Mike Jordan, but no Adrian Hennessy this time, nor Paul Mahon. RD Niamh explained it all – safety first, careful crossing rivers, short course controls 6 – 10 in any order, long course any 7 of controls 1 – 8. 10:30 and we were off.
Getting to omit a control always makes for additional interest – which one to drop? I stood looking at the map for a time before setting off, realising that left all the competition out ahead of me but that isn't necessarily a problem. Better not to rush off and miss something important. Number 4 looked distinctly unappealing – what one of my old orienteering buddies would have called a Zapper (i.e. a remote control). A steenking climb from Arts Lough to get to it, then over the shoulder of Cloghernagh. Too many hurty memories of Wicklow Glacier Lakes Race. No thanks. But there was still the question of which way to get the other 7. Some options were obvious, others were obviously going to be tricky.
I opted for number 8 first, then up the Glenmalure valley in the direction of 7, 2 and 1. 3 was on its own but would at least sort of link up with a route to 6 and 5 in the Arts Lough area leaving a descent I know as a climb in WGL. So, number 8. Up the newly bulldozed path, which someone had thoughtfully signposted as "Miners' Track". They even got the apostrophe right, only to spoil it with another sign a little further up, declaring "Resevoir" (sic). Anyway, the trail is brand new, fully runnable and cuts off a good chunk of going around the fire road. I could see Mike Jordan a couple of hundred metres ahead, as well as a few others progressing more slowly, heads buried in their maps trying to decide route choice.
Number 8 should have been straightforward but the path with the control on it didn't form as clear a junction with the fire road as the map would have you think. Mike had disappeared up it somewhere, but before I saw where he'd gone I was greeted by the sight of John Bell coming back along the fire road, having overshot. Mike emerged from the trees, John and I nipped in to the control to punch. I made my way back to the fire road but JB didn't follow, instead opting for an unconventional (and ultimately costly) route to #3.
I went after Mike, the only choice from there to #7 was fire road or Table Track. I took the former, Mike the latter. I cut in just behind him about halfway to the control having gained a little. We hit #7 together and set off up along a stream which would lead directly to #2. Mike stayed high and left, I dropped and crossed the river - it would be the first of about 6 crossings and cost me time. Advantage Mike to the tune of maybe 100 m.
#1 was an easy control site – a significant path junction at a col – but the way to it was messy. After several minutes of filthy peat hags Mike hit Table Track ahead of me, I closed the gap slowly and we hit the control together again. We both opted for over the top of Camenabologue on the way to #3, diverging briefly at the summit before joining once more. I've run plenty of races against Mike over the years, he's one dogged competitor who covers ground really well when the terrain gets crap. He had kicked my ass in the previous Nav Challenge at Glendasan. Try as I might, I couldn't shake him off along that wet mucky stretch between Camenabologue and Cannow. We chatted about the best way to attack the control – Mike then cut off left, I stayed on the trail a bit longer to identify the crag on the right, which should be a good attack point. A couple of minutes later, we were together again wondering where the bloody control was. Agreed we hadn't gone quite far enough, we pushed on, then picked up the stream. Both compasses confirmed from the direction of the stream we were too low, so up we went and there was the control. Not perfect nav, but good enough.
Leaving the control I pushed on a bit, Mike took his time reading the map. Shane appeared in the other direction, admitting his route choice hadn't been ideal. I made a beeline for the upper reaches of Fraughan Rock Glen. The mist thinned out and allowed assessment of the options on the ground as well as on the map. My plan to stay high and contour in across rough ground to Arts Lough was abandoned when I decided the main stream and another cascading down the far side of the valley were not going to be safely crossable. Instead I followed the path that runs steeply down parallel to the FRG waterfall – treacherously slippy. The flat ground at the bottom presented a much quieter river, crossed without difficulty. And a pig of a climb up to Arts Lough, but navigationally straightforward. In fact Mike went on to prove that the streams were crossable, but the rough ground to be traversed to Arts was slow going.
Having picked 6 and 5 easily enough I turned for home. About 300 m back along what was trying its best to be the mankiest path of the day I met JB and Mike coming the other direction. A memory of the same two chasing me hell for leather off Nephin a few weeks ago came at me like a flashback, but I realised I had a fair gap today. Just don't mess it up Alan. The steep descent was safer in the grass than on the rudimentary and very slippy path. A fierce squally shower added an extra element. Safely across the fence then the river and it was fire road and Miners' Track downhill all the way to the finish.
No one else back on the long course yet meant I finally had that win. JB and Mike arrived within a short time. Shane a little later, having had an off-day, but still won the series.
A big thanks to Niamh for organising and the great course. From what I gather Liam was the only one to visit the Zapper, but at least someone did.
Looking forward to next year's Nav Challenge already!