Colleges Champs Camaderry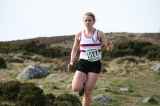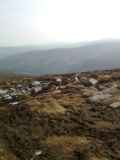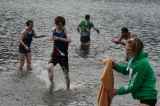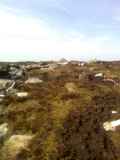 Authors
Gerry Brady
24 March, 2012
Camaderry, 24th March 2012 (8.5 km / 522m climb)
Flickr: http://www.flickr.com/photos/24280411@N06/sets/72157629294642804/
Ciara Largey (Queens) made a triumphant return to take her third title in a new course record. Laura Shaughnessy (UCD) making her debut on the mountains led for most of the climb but as the going deteriorated near the summit, Largey moved to the front and stayed there on the descent. Shaughnessy (who was 6th in the IUAA Colleges cross-country championships) was joined on the descent by her teammate Grainne Neary and she responded well to hold on for the silver medal.
A clash with the British Universities orienteering championships took away some of the top men finishers from 2011 but they would have been hard pushed to stay with the winner Sam Mealy (TCD). Mealy, who was 11th in the IUAA Colleges cross-country championships, hit the front early on and had around a 40 seconds gap at the summit. Diarmuid Collins (NUIG) took another silver to add to his 2010 medal. Collins closed the gap on the descent to within 15 seconds but Mealy accelerated away again on the forest roads. Andrew Annett (UU) was running third on the climb with the late-starting Stephen Cleary (DCU) working his way into fourth near the top. Jonathan McCloy (Queens) recovered fourth on the early rough descent before Cleary worked his way through into the bronze medal on the long grass and road descent.
NUIG came in force and claimed men's gold and bronze team medals. Collins was well supported by Oisin O'Carroll and Rory Mannion. They stayed in Glendalough the night before and are staying tonight and may well wash away the post-race dip in the lake with more liquid (see photographs)! UCD dethroned TCD as women's champions with Maura Mahoney the third scorer with CIT taking the bronze medals.
The couse was resplendent in the bright sunshine but the underfoot conditions at the top were wetter and more broken up than in previous years. Thanks to the volunteers (Jimmy Synnott, John Greene, Brian Flannelly, Sam Mealy, Laura Shaughnessy, and Maura Mahoney) who made the event possible.
A link to the colleges results for 1999-2012 is on the event home page.
IMRA race number is in parentheses after each persons result.
Men individual 2012
1. Sam Mealy (TCD) 41:41 (1522)
2. Diarmuid Collins (NUIG) 42:12 (1501)
3. Stephen Cleary (DCU) 43:30 (1523)
4. Andrew Annett (UU) 44:04 (1524)
5. Jonathan McCloy (Queens) 44:31 (1526)
6. Oisin O'Carroll (NUIG) 50:45 (1502)
7. Roy Evans (CIT) 51:54 (1516)
8. Craig Harrington (CIT) 55:05 (1515)
9. Conor Keena (CIT) 56:05 (1517)
10. Rory Mannion (NUIG) 56:40 (1505)
11. Neil Feeney (CIT) 56:58 (1514)
12. Cormac McDonnell (NUIG) 57:02 (1504)
13. Pishoy Gouda (NUIG) 61:31 (1508)
14. Mark Walsh (NUIG) 77:20 (1506)
15. Osman Ahmed (NUIG) 95:46 (1507)
Dnf Philip O'Leary (NUIG) (1503)
Women individual 2012
1. Ciara Largey (Queens) 48:58 (1525)
2. Laura Shaughnessy (UCD) 51:42 (1518)
3. Grainne Neary (UCD) 52:30 (1520)
4. Irene Gorman (TCD) 53:52 (1521)
5. Mirjam Allik (TCD) 55:40 (532)
6. Stephanie Hulse (NUIG) 61:35 (1510)
7. Martina Fialova (CIT) 62:27 (1511)
8. Maura Mahoney (UCD) 62:37 (1519)
9. Angela Stevenson (TCD) 62:58 (149)
10. Laura Schwirz (TCD) 64:00 (283)
11. Noreen Mackey (CIT) 66:18 (1512)
12. Katarina Stefkova (Queens) 66:48 (1527)
13. Dympna O'Dwyer (NUIG) 67:18 (1509)
14. Bernadette McSweeney (CIT) 84:25 (1513)
Men's team 2012
1. NUIG A 18 (2. Diarmuid Collins, 6. Oisin O'Carroll, 10. Rory Mannion)
2. CIT 24 (7. Roy Evans, 8. Craig Harrington, 9. Conor Keena)
3. NUIG B 39 (12. Cormac McDonnell, 13. Pishoy Gouda, 14. Mark Walsh)
Women's team 2012
1. UCD 13 (2. Laura Shaughnessy, 3. Grainne Neary, 8. Maura Mahoney)
2. TCD 18 (4. Irene Gorman, 5. Mirjam Allik, 9. Angela Stevenson)
3. CIT 32 (7. Martina Fialova, 11. Noreen Mackey, 14. Bernadette McSweeney)