British & Irish Junior Championships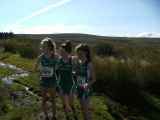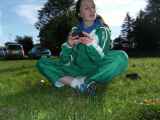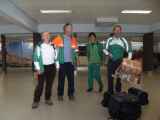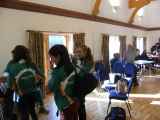 Authors
Gerry Brady
23 September, 2012
IMRA photos by Derek Armstrong
Results: http://www.ukresults.net/2012/uphill.html
Photos: http://www.flickr.com/photos/stustod/sets/72157631597552839/
All four Irish teams made the podium for the third year in a row at the British and Irish championships which were held in Cumbria in England. Killian Mooney added to his reputation as one of Ireland's leading mountain runners when he won an individual silver medal in the boy's under 18 race only eight seconds behind the winner Nathan Jones (WAL). Mooney won silver in the under 16 in 2010; gold in the under 16 in 2011; and is the only Irish athlete to win three individual medals. The Irish team won bronze medals finishing on equal points with England and one point ahead of Scotland. Wales recorded their first ever victory in this category.
Internationals and national championships are occasions which offer runners an opportunity to deliver a big race. Liam Fitzpatrick (DSD) stepped forward in the under 16 boys when he won an individual bronze medal and in the process put himself in front position for selection for the 2013 International Youths Cup (athletes born 1996-1997). Fitzpatrick was 26 seconds behind winner James Hall (ENG) and only six seconds behind the silver medallist Iolo Hughes (WAL). In a close points finish, Ireland won bronze medals: one point behind Scotland and one point ahead of Wales. However England won the team event for the fourth year in a row.
Aoife Mulroy (Swinford) made a solid debut by finishing eight in the under 16 girl's race leading the team to silver medals. European junior champion Annabel Mason (ENG) won by over a minute in a time that would have placed her seventh in the under 16 boy's race and would easily have won the under 18 girl's race. England with three in the top four were easy winners of the team event.
Ffion Price (WAL) became the first athlete to win four individual titles (two under 16 and two under 18). Her twin sister finished third giving Wales the team victory under 18 girl's race ahead of England. Clare McCarthy finished fifth with the Irish team winning bronze medals.
Girls under 16
1. Annabel Mason (ENG) 21:25
7. Aoife Mulroy (Swinford) 27:12
9. Orlaith Moynihan (Clonmel) 27:52
10. Rosie Hynes (Swinford) 27:55
12. Alison Armstrong (Celtic DCH) 28:13
Girls under 16 team
1. England (1,2,4) 7
2. Ireland (7,9,10) 26
3. Scotland (3,11,13) 27
4. Wales (6,8,16) 30
5. Northern Ireland (14,15,17) 46
Boys under 16
1. James Hall (ENG) 20:21
3. Liam Fitzpatrick (DSD) 20:47
11. Padraig Moran (Mullingar) 21:58
13. Julian Martin (DSD) 22:26
14. Cillian O'Donovan (Iveragh) 23:08
Boys under 16 team
1. England (1,4,5) 10
2. Scotland (6,7,11) 24
3. Ireland (3,10,12) 25
4. Wales (2,9,15) 26
5. Northern Ireland (14,17,19) 50
Girls under 18
1. Ffion Price (WAL) 23:24
5. Clare McCarthy (DSD) 25:19
8. Sarah Miles (DSD) 25:58
9. Brigid Dennehy (Iveragh) 25:59
17. Bronagh Kearns (St. Senan's) 30:15
Girls under 18 team
1. Wales (1,3,11) 15
2. England (4,6,7) 17
3. Ireland (5,8,9) 22
4. Scotland (2,10,15) 27
Boys under 18
1. Nathan Jones (WAL) 33:49
2. Killian Mooney (DSD) 33:57
9. Hugh Armstrong (Ballina) 35:50
14. Andrew Cullen (DSD) 37:03
18. Michael Carey (Clonmel) 39:12
Boys under 18 team
1. Wales (1,5,8) 14
2. England (4,6,11) 21
3. Ireland (2,7,12) 21
4. Scotland (3,9,10) 22