Howth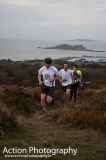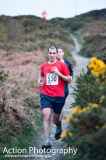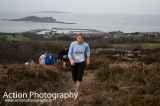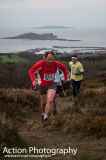 Authors
Eamonn Hodge
04 May, 2010
Got to Howth in good time for a warm up. Met Suzanne Kenny to explore the route a little. Figured out that there would be a severe bottle neck at the start so the aim was to get ahead of the masses and avoid queuing up while going over the ditches. I thought it seemed a little short but I thought maybe we just missed out one little section. Turns out we only ran one of the two laps. On a fast but fairly innocuous downhill that finishes off the lap I was jogging down ahead of Suzanne. I heard her stumble but didn't hear any roar of pain. I looked around and there she was having come down flat on the rock. Grazed hands and elbow, bruised and grazed quads, and a grazed stomach. Pretty comprehensive. Not to mention a Nexus One fancy Google phone separated into its constituent parts (I checked out the phone before I went over to Suzanne). We walked the last bit back to the registration area where Caroline Reid (race director) was arriving. Had a chat with some of the early birds including John Ahern who had gone over on his ankle during a warm up for Bray Head which prevented him from running Bray. While not back to full fitness he was glad to be back running the hills. John Langenbach also made a comeback having been cursed ahem, blessed with a new arrival to his family. Finbar McGurren was volunteering and his frustration at not being able to run (due to injury) was palpable. Fiona Sexton - new member - was back for her third hill run in as many weeks. Dedication to the cause! John Shiels rocked up with his camera to document this crazy activity that we do. Richard Nunan was dipping his toe back into the race scene while still carrying a groin injury.
Eoin Keith, Brian Furey and Barry Minnock showed up for this one. Brian ran a 75:31 half marathon last year (good for 18th), Barry ran a 2:24 marathon and sure Eoin has buckets of speed to go with his endurance. My money was on Barry even though this was his first mountain race in a good while. It would be a good contest and it turned out to be very well matched. More on that later. Karen Duggan, Mags Greenan, Jenny McCauley, Kate Cronin and Suzanne Kenny all lined up as well. Rosalind Hussey was volunteering which removed one of the stronger ladies from the field.
There were 272 people running Howth this year which put a strain on the laptop operators both before and after the race dealing with the registrations and results. With a few words from Dermot Murphy (el Presidente) we were off. Mick Hanney was expecting the race to start from the same side as last year and found himself at the back as the crowd surged forward in a clockwise direction around the two GAA pitches. Those first 10 seconds always feel so easy. I was up with the first 15 or so guys and feeling great. Like I said, for all of 10 seconds before my body realises what's going on and I start breathing heavily and my heart is knocking at my rib cage and people start to pass me.
Got to the narrow muddy ditchy area and Mick Hanney passed me at this point. Next we had a steep ascent on pretty lose terrain. It's always a challenge to start running when you get back on the flat. Most of the Howth path is quite narrow so you really have to choose wisely when you're going to overtake somebody because otherwise you'll be stuck in one of the gorse corridoors behind somebody.
It wasn't until the second lap that Suzanne managed to catch me. I always knew it would happen I was just surprised it took this long. She had hurt her ankle already and was still overtaking me. A little bit demoralising for me to be passed by a female with a banjaxed ankle. No other ladies in sight. I was pretty happy to be ahead of Mags Greenan and Jenny McCauley. I overtook her again at one of the wider areas which allowed me to increase my stride a bit.
I decided to wear my La Sportivas because I didn't want to get my brand spanking new Salomon Speed Cross 2s dirty in the muck. Is that a bit girly? Yeah, I suppose it is. Runners are supposed to get mucky! Well this turned out be a bad decision for me as my laces came undone and I had to stop to tie them. Suzanne and Kevin O'Riordan passed at this point but I wasn't unduly worried. I thought well, I've just had a 15 second rest so I can easily catch up. I caught Suzanne on the last downhill section but Kevin had disappeared. I didn't see a hint of him. Said hello to Rachel Cinnsealach who opted for the one lap option as a more gentle return to hill running. It's hard to muster up a sprint if there's nobody breathing down your neck so I finished reasonably comfortably. I took 5 minutes off my time from last year so was very happy with that. Rich Nunan (although injured) is always a threat. In one of the trail races last year three days after finishing a 36 hour adventure race with his feet bruised and in tatters he still managed to beat me. I was very happy to stay ahead of him in this race even if he is injured!
At the top end of the field apparently there was an almighty battle between Brian, Eoin and Barry with positions changing many times. As the story goes Barry was leading the three of them coming down the final descent but Brian managed to get ahead at the second last corner. Brian then veered left as if to start a third lap and was shouted at but he had lost his momentum and had to turn to follow Barry and Eoin to the finish line. Fair play to Barry to come straight back to his winning ways and to Eoin who is coming back from injury and training for a 24 hour race to still maintain the raw speed to finish ahead of some super fast guys like Niall McAlinden, Tristan Drute and Aaron O'Donohue.
Suzanne Kenny made it her second win in a row in the Leinster League and managed to win with a comfortable margin despite her many varied injuries (and having come 4th in the Wicklow Adventure Race the previous Saturday). Two weeks on her ankle is still preventing her from running. She would have been good competition for Derval Devanney and Rosalind Hussey at the Connaught Championships.
After two races of the Leinster League the leaders were Eoin Keith with 3 points and Suzanne Kenny with 2 points.
Eamonn
Rene Borg
22 April, 2010
TEAM RESULTS
MEN
1. Rathfarnham WSAF 10 (1 Barry Minnock, 3 Brian Furey, 6 Aaron O'Donohue)
2. Sli Cualann 25 (7 Ryan Montgomery, 8 Tomas Kelly, 10 Cormac Conroy)
3. Boards AC 43 (2 Eoin Keith, 13 Mick Hanney, 28 Eamonn Hodge)
4. GEN 102 (9 Jonathan Daly, 35 Alan Ayling, 58 Ted McCormack)
5. UCD 121 (11 Tim Grummell, 19 Niall Fox, 83 Philip de Chazal)
6. Crusaders AC 129 (12 Shane O'Rourke, 51 Oran Murphy, 66 Brian Linton)
7. The Kyrgyz Freedom Alliance 197 (36 Viv Lavan, 67 Eoin Hardiman, 94 Brian Conroy)
LADIES
1. Sli Cualann 45 (7 Jenny McAuley, 14 Aisling Renshaw, 24 Maria O'Rourke)
2. Clonliffe Harriers 50 (3 Mags Greenan, 4 Karen Duggan, 43 Jean O'Neill)
3. Crusaders AC 53 (13 Bronagh Cheetham, 19 Eva Fairmaner, 21 Sarah Heal)