Killiney Hill - GOAL Charity Race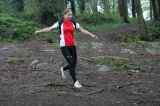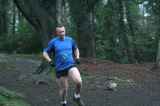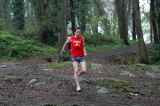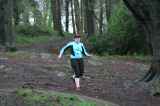 Authors
Dermot Murphy
16 April, 2009
On a dull, wet day, it was a credit to the runners that so many came to support the annual Goal relay race. The rain actually stopped for the race itself and indeed it was probably ideal conditions for running, if a little slippy underfoot. The amount raised on the night was €630 which was a great nights work - well done to all.
For this race, everyone signs up and their name is put in the hat. The teams are then drawn before the race, so its a good opportunity to get to know new people. We had an exciting race as Mick Hanney was first to show at the end of leg 1 - a great time considering he ran the WW Trail race on Saturday. His time was only beaten on the night by Martin Francis, who actually ran the Ultra on Saturday! Where do these guys get their energy from?
The team event had really tight finish as team 8 (Jonathan Watchorn, Patrick Devaney and Paul Cullen) closed in on team 11(Ed McEntee, Ben Moore & Niamh O Ceallaigh). It looked like Paul might take Niamh on the line, but spurred on by the crowd, Niamh put in a great finishing sprint to hold on for the win by just a couple of seconds. All team and individual times are produced below.
Finally, a thanks to all volunteers on the night - Mary Collins, Gavan Doherty, Paul Cullen, Hazel Thompson, Paul Joyce & Brendan Doherty.
Teams:
Team A - Red B - Yellow C - Green
1 John Fitzgerald Gordan Douglas David Kenny
2 Neil Brown Cormac O Ceallaigh Kieran Wynne
3 Bronagh Cheetham Sinead Roche Mary Healy
4 Vivian O'Gorman Charlie O Connell Tommy Galvin
5 Mick Hanney Mary Gurrie Paul O Grady
6 Torry Shelhorne Brendan Arthurs Joan Stapleton
7 Mark Young Sarah Steere Clare Deasley
8 Jonathon Watchorn Patrick Devaney Paul Cullen
9 Fiona Duggan Martin Sweeney Martin Francis
10 Stuart Murphy John Barry Breda O'Higgins
11 Ed McEntee Ben Moore Niamh O Ceallaigh
12 Diarmuid O Colmain Peter Walsh Scott Graham
13 Mark Gomm William Devas Derek Livingstone
14 Wally Young Kelly Brown Gavan Doherty
Scoresheet:
Team A time Leg 1 A+B B Time Leg 2 A+B+C C Time Finish Position
1 14:26 9 31:37 17:11 11 39:33 17:56 13
2 14:56 12 27:00 12:04 3 40:08 13:08 3
3 15:01 14 40:28 25:27 14 58:00 17:32 14
4 14:15 8 32:04 17:49 12 45:55 13:51 11
5 11:12 1 27:30 16:18 5 42:56 15:26 7
6 14:27 10 28:46 12:19 7 45:18 16:32 10
7 13:52 6 29:12 15:20 8 46:05 16:53 12
8 13:08 5 26:14 13:06 2 38:28 12:14 2
9 14:56 13 30:23 15:27 10 41:31 11:08 5
10 14:05 7 28:38 14:33 6 44:30 15:52 9
11 11:30 2 24:40 13:10 1 38:25 13:45 1
12 12:55 4 29:47 16:52 9 41:29 11:42 4
13 12:07 3 27:10 15:03 4 41:55 14:45 6
14 14:52 11 32:26 17:34 13 44:16 11:40 8
Individual Times:
Name Time
1 Martin Francis 11:08
2 Mick Hanney 11:12
3 Ed McEntee 11:30
4 Gavan Doherty 11:40
5 Scott Graham 11:42
6 Cormac O Ceallaigh 12:04
7 Mark Gomm 12:07
8 Paul Cullen 12:14
9 Brendan Arthurs 12:19
10 Diarmuid O Colmain 12:55
11 Patrick Devaney 13:06
12 Jonathon Watchorn 13:08
13 Kieran Wynne 13:08
14 Ben Moore 13:10
15 Niamh O Ceallaigh 13:45
16 Tommy Galvin 13:51
17 Mark Young 13:52
18 Stuart Murphy 14:05
19 Vivian O'Gorman 14:15
20 John Fitzgerald 14:26
21 Torry Shelhorne 14:27
22 John Barry 14:33
23 Derek Livingstone 14:45
24 Wally Young 14:52
25 Neil Brown 14:56
26 Fiona Duggan 14:56
27 Bronagh Cheetham 15:01
28 William Devas 15:03
29 Sarah Steere 15:20
30 Paul O Grady 15:26
31 Martin Sweeney 15:27
32 Breda O'Higgins 15:52
33 Mary Gurrie 16:18
34 Joan Stapleton 16:32
35 Peter Walsh 16:52
36 Clare Deasley 16:53
37 Gordan Douglas 17:11
38 Mary Healy 17:32
39 Kelly Brown 17:34
40 Charlie O Connell 17:49
41 David Kenny 17:56
42 Sinead Roche 25:27