Sorrell Hill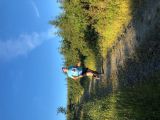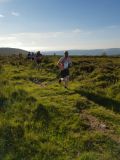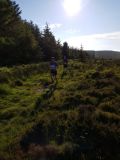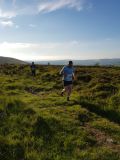 Authors
Sorrell Hill- A Game of Cat and Mouse
27 June, 2019 - Ruairí Long
I have to begin this report with the sad news that it may be one of my last for a while. It's been a great IMRA year so far, thanks to all the RDs and volunteers who have worked hard every week.
Regardless, I came into this race feeling better than I had felt for a while. A stint of poor races, which unfortunately had included my senior debut at the Interceltic Trail Race, still somewhat lingered but a good race at Powerscourt Uphill with great competition had helped to restart my motivation. This season has been notably competitive, with the top spots in every race being hotly contested by old and new runners alike.
Myself and Mike arrived with plenty of time, allowing for a stress free pre race session of chat and slyly checking the competition. I got a good warm up done early enough up the fireroad with Conor Short, talking about the upcoming international orienteering events we will soon be attending. He is in great shape after a winter in the summer of New Zealand.
Lining up at the start line provided the usual entertainment, with an ever confident Warren Swords declaring he had the race "in the bag". Des was looking focused as we headed off up the fireroad after Vivian's brief. I pushed on a little up the first section, with Des and the gang hot on my heels. By the time we turned left onto the ride Des had taken the front, and I happily sat in for the ride up to the mountain. By the stile, I had already felt that we had put ourselves a little ahead of the pack. It was a glorious evening by that stage as the wind had died down. The summit sat clearly in front of us as we headed down the treeline.
After the brisk start I decided to relax off just a little,leaving Des to pull out a small gap by the time we passed the junior turnaround. It was perfect scenic trail running on lovely soft but very runnable tracks to the foot of Sorrell itself. The early starters snaked their way up and down the narrow trail as I sat in to get the work done. Des continued to power up just ahead. I enjoy steep, technical climbs, settling nicely into a rhythm. Des went around the Cairn around 20 seconds ahead of me. Circling the rocks, I was glad to see the gap back to Conor and the ever reliable Barry was decent enough. As such, I gave myself the opportunity to recover on the first part of the descent.
If I'm honest, the descent was slow enough on my part (only good enough for a joint 10th on the segment, sorry Warren!) but I did enough to close the gap to Des. I enjoyed the support from the rest of the crowd powerhiking up. IMRA really can be a fantastic spectator sport. Back at the foot of the hill, Des pushed on again, ignoring the blinding sun and various other runners around him. I was breathing fairly heavily by this stage so again settled in to get some recovery in before the final climb. Although somewhat of a drag, I found the climb very helpful to get oxygen back into the lungs and settle down. The gap stayed steady at about 20 seconds as Des crossed the fence.
Around about the stile, I perked up a little, realising I didn't need to resign myself to second and could have one more tussle with Des. Down the narrow ride I brought the gap to practically nothing and as we turned onto the fireroad I felt I had another gear. Passing Des, I opened the taps down the road as hard as I could. Although Strava says I reached a 2:33 /km split, it felt a little more like the last rep during a tough interval session. Just sit and hurt as best as you can.
I was very glad to see the finish line and get the win that had been eluding me since Howth Winter. A nice way to end the Spring/ Early Summer season and a great boost heading in to the Junior World Orienteering Champs in Denmark next week.
Thanks to Des for the great race and to everyone else that made it a classic beautiful Wicklow evening!
What goes up MUST come down
27 June, 2019 - Ross Fitzgerald
After the horrors (the horrors) of the previous Wednesday's apocalyptic uphill-only (one for the purists, I'm guessing) it was a relief to enjoy the 'fun bit' of hill running again last night.
First time running this route and what a cracker. Not too much fireroad, plenty of trail and open mountain with a couple of rollicking descents. What's not to love?
Following an unusually long warm-up (for me) with Rob Costello we were off. Heart rate up, the warm-up seemed to do the trick as could still see the leaders as we approached the uphill turn off the fireroad. Maybe there's something in this warm-up malarkey after all?
Nice steady climb up to the stile and I'm already looking forward to the descent on the way back. On we go, hop the fence and lovely bit of running here across the grassy/stony trails. Settled into a steady pace, swapping places and beginning a right ding-doing with Mike Jordan as well as one or two others, before hitting the base of Sorrell.
Panic a bit halfway up when realising I'm still within spitting distance of runners I wouldn't normally get within an ass's roar of: this is going to hurt on the way back. Still, manage to hold my pace, if not my place, as a couple of proper power-hikers make short work of my tippy-tappy hiking skills.
Turn at the summit where marshal Henry fails to provide any encouragement or water ("it's over there," he says pointing to the lake). Too busy taking in the sights it seems!
Fabio, Mike and one other come zooming by and all I can do is admire their fearless descents, while sneaking a look out over the lake. Really was a perfect night for it.
Back on to the initially marshy, then grassy, trail and feeling good. Begin to reel in one or two and surprisingly catch Caoimhin here. He really is a generous soul, first letting young lad Rian take the glory last week and now politely allowing me to pass.
Steady climb back up still to come so not pushing too hard but enough to be on the heels of those who shot past me coming off Sorrell.
Up over the stile (feign a springy step to make it look like I've more left in the tank than I do, naturally) and ready to crack on as we begin to traverse the fireroad again.
Ah beloved downhills, how you were missed last week!
Great bit of running here again, although it gets tricky as the ride narrows. Sure enough Mike takes a more sensible route and passes me again.
Up ahead Fabio and Cathal(?) overshoot the turn onto the fireroad but we call then back. Scrape past Mike again and young Rian, whose dad Caoimhin surely can't be far behind (turns out senior let junior take another one this week). A tough slog along the fireroad finish but manage to hold off Mike at the line and squeeze into top 30.
Thanks to Dave Docherty (yes it was me who snapped you out of your stupor last week!) for the drop of uisce at the finish. He was equally bemused that we'd both finished in and around some decent runners. Hard weekend perhaps? Let's hope for a few more sore bodies (/heads) next week after the Connacht champs.
Super evening, not too hot with a gently wind as breezy as Vivian's relaxed stewardship.
Well done to winners Ruairi and Niamh. Thanks again to all who made it possible and Con for getting the results up as quickly as ever.
Roll on next week and another proper up- and downhill challenge!
Warren Swords
27 June, 2019
Round 7 of the Leinster League brought us to West Wicklow and the guaranteed sunny slopes of Sorrell Hill.
It's a 4.8km blast to the summit with an average grade of 6%, climbing 392 metres. After last week's Powercourt, it was a welcome return to speedy descents.
King of the mountain this week was Des Kennedy, who was first to the top in a record time of 23 mins 46 seconds.
Ruairi Long followed 16 seconds later in 24: 05 with Barry Minnock third in 24:57
In the women's, Niamh Corbett continues to set records. She was the fastest up in 29:25, followed by Shauna Griffin in 33:55, Stefanie Wynn in 36:17.
The fast flowing descent shook up the field with Ruari Long the fastest down in a time of 17 minutes 28, chasing Des all the way down to take the win on the fireroad and in the process breaking the hardest, most difficult downhill strava record in existence in Ireland (previously held by....Warren Swords ;) )
Second place was Des Kennedy in a time of 18:10 followed by Conor Short in third place in 18:12, his quick descending earning him a podium finish.
Coming down, Niamh was once again the fastest, in a time of 21:22, followed by Shauna Griffin in 24:16 and Martina NÍ Dhuinn in 25:37.
*Figures all based on Strava. Unusually, I think all the top 10 men were recorded on Strava perhaps 3 or 4 women.
Surreal Hill
27 June, 2019 - Brian Kitson
I'm an awful man for the phone. My smartphone and I are inseparable and have been for years. I took the red pill from Morpheus back in the 90s and have been chomping them down ever since. I reply to Whatsapp messages before they've been sent. I'm hardly off Twitter and am a demon for LinkedIn. I'm not too bad with my other vices; gave the fags up years ago, manage to keep a lid on the booze but the phone's got me hook, line and sinker. Until Monday this week.
The day started out like any other. My phone and I spent the morning together doing all the usual stuff, tapping, swiping, watching, just hanging out. By the afternoon it was low on battery and it was charging quietly beside me on my desk when it spontaneously restarted itself. Except it never did start. It went half way through the reboot process and then cut out only to begin the cycle all over again, and again. Like the flooded engine of an old Ford, it was turning over but it just wouldn't, or couldn't, kick into life and it's been caught in this infinite loop ever since. Poor thing. Myself and some of the finest phone shop repair 'engineers' around are baffled. I went to repair shop after repair shop and they say the same thing every time, 'I'm sorry, Mr Kitson, I'm afraid your phone is dead…. exhaustion probably, or just a glitch in the matrix'.
So, I've been on a dumb phone all week and it's like being back in the 90s. I bought it as a stop gap measure while I decide what the best smartphone replacement might be. It only cost me the price of a pack of fags, a pint and a fiver wager on the nags but I figured it would be a handy for the kids or if I embark on a new career in the drug trade. My new phone does two things; calls and texts, and as I've lost all of my contacts it doesn't do very much of these either. It doesn't even have snake. My incessant phone grazing has ground to a halt. I keep picking it up to check stuff but there's simply nothing to check. There are key fobs that do more than this phone.
My new digitally monastic lifestyle has yielded some unexpected wins. Some people, including my amazing missus, make parenting seem almost effortless. I, on the other hand, make it seem effortful and any time I get a relatively easy win is a cause for celebration. After dinner on Tuesday evening, when I should have been on Twitter (well, it isn't going to check itself, you know), I found myself chatting with Charlie, my ten-year-old son, when completely out of the blue, he told me he'd like to do the IMRA race this week. Charlie is a fine runner and although he's done a couple of races already this year the IMRA flame is yet but a flicker and it needs careful tending. Too little, or too much encouragement and it's likely to go out. This was a good sign, a very good sign.
I spent the following day waiting for somebody to ring me with the offer of a lift. Thankfully, Caoimhin McMaolain did and on Wednesday evening himself and Rian (the faster of the MacMaolain men) collected myself and Charlie before picking up Graham Bushe and his two sons, Kevin and Adam to bring us to the race.
Shortly after our arrival, our avuncular Race Director, Vivian, gathered Charlie and his friends around, who ranged in age from six to 10 years old, and told them of the rides, ridges, turns at trees and fences which they should look out for along the route. They listened intently and took precisely nothing in. Fearful of the prospect of letting Charlie run on his own, I began rehearsing the conversation I would have with my wife to justify that the poor parenting decisions that led me to lose our kid on a mountain should be offset against the fact that my good parenting skills led him to want to be there in the first place. Life's balance sheet surely all in order? Sucking up my feeling of guilt, I decided to skip the warm-up to hang back with another parent and the little ones for as long as possible before I jogged up to arrive just in time for the start.
My non-existent pre-race loosen up came back to bite me almost immediately. 100 metres into the speedy fire road opening climb and I was wheezing. Caoimhin caught me early on and ran alongside me. Our pal, Rob Costello, caught both of us and showed no mercy as he ploughed ahead. My head wasn't in the game at all. I was worried about Charlie and was beginning to think I should return and jog around with him instead. I continued along the fireroad on then onto the open mountain. Caoimhin dropped back a little and I caught and tucked in behind Rob on the descent from Lugnagun where we passed Gordon Place. I continued to fret until I saw my mate Chris Willoughby at the junior turnaround. I knew Chris would keep an eye out for the kids and was beginning to feel a bit more comfortable kicking on.
I managed to get ahead of Rob and, eventually, also Rian who tried playing mind games with me as I passed. His cunning strategy was to politely say, 'Hi Brian' as I wheezed by. Nice try kid. You know full well there was no possible way I could generate actual words during this climb and if I tried the flimsy house of cards my race was currently based on would come tumbling down.
Sorrell Hill looked like it would give me a good kicking on the way up and it didn't disappoint. I never settled into any kind of rhythm until fairly late on the climb. My focus was to keep moving by any means necessary and get to a point where the ground leveled out enough to jog. It finally did and I enjoyed looking at the leaders fly on past me on their way back from the summit. Des Kennedy looked like Neo, a picture of poise and control as he glided so quickly down the tricky descent it looked as though he was moving in slow-motion. Ruairi Long was looking at Des in much the same way the dog from Tom and Jerry looks at a big juicy T-bone steak: drooling. It's a race I'd liked to have watched.
There was a stiff headwind on the final approach to the summit cairn and I was happy to get the benefit of it once I turned for home. I caught a couple of lads on the way down off the summit cone and despite putting the foot down on the way back to Lugnagun I couldn't shake one of them off. The sound of his race number flapping in the wind provided me with a constant reminder that he was probably looking at me in much the same way Ruairi was looking at Des.
I finally passed a few juniors and was relieved, delighted and very proud to see Charlie dashing down towards the fire road. No time to ponder though, my pursuer and I were still going at it but we held the same batting order all the way back to the fire road and as soon as it arrived, I gave it another push in the hope of preventing a tussle. It worked and I secured 12th place, my best result in a Leinster League.
As we move through life, we collect images that we store in our mind. These pictures form a select album of the memories that matter most from our experiences in life. They are few, but distinct. They can come from momentous days or seemingly inconsequential moments but they are the treasures that remain from a life well lived. They're the distilled essence of our passions and who we are. The mind is a camera and it cannot be forced, all we can hope is that we are tuned into life enough to acknowledge and capture the beauty of the moment before it passes us by. I lost over thousand pictures on my phone this week but it matters not. I'd sacrifice them all for the single image I captured in my mind of my boy dancing down that trail with the evening sun catching in flowing hair as he flew towards home, happy. His delight only triumphed by my own.
Life is so rich.