Snowdon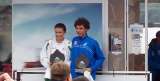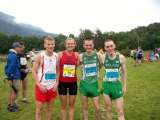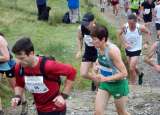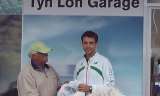 Authors
Gerry Brady
19 July, 2014
Win for McCormack and Bronze for O'Donoghue
Sarah McCormack (Clonliffe Harriers) became the second Irish woman to win on Snowdon with an impressive winning margin of 2 minutes and 44 seconds over Elisa Compagnoni (ITA) and Charlotte Morgan (SCO). McCormack led by 67 seconds at the turnaround point in a time of 35:16 and she had the third fastest descent in 20:05 which was 18 seconds slower than Charlotte Morgan who had the fastest descent. Laura Shaughnessy (UCD AC) and Emma Hand finished closely together to complete the Irish team. Shaughnessy turned in 41:27 compared with Hand's 43:14.
Tim O'Donoghue (East Cork) finished third in the men's race. He started hard, lost some ground to be seventh at the turn-around, and descended well to gain the podium. Ahead of him was the Italian winner Cesare Maestri who finished 5th in the 2011 World Junior championships and his teammate Erik Rosaire. Rosaire had the fastest climb in 29:44 just ahead of Andi Jones (ENG) in 29:46 and Maestri in 29:48. O'Donoghue was sixth at the turn in 30:58 but he had the fastest descent of the day in 16:53. Ian Conroy (Raheny Shamrock) and James Kevan (Clonliffe Harriers) were seventh and eight at the top with times of 31:08 and 31:17 respectively. Kevan had the sixth fastest descent in 17:36 to finish an excellent eight. Brian Furey after a slow ascent in 35:29 gained some ground on the descent. The Irish team had a solid performance to finish third behind Italy and England.
The race was shortened due to teeming rain and thunder. This was the first time in the 39 years history of the event that the race was shortened.
Photos courtesy of Gwynfor James: http://www.sportpicturescymru.co.uk/pages/gallery/2014-gallery.php
Men (international runners only)
1. Cesare Maestri (ITA) 47:20
2. Erik Rosaire (ITA) 47:43
3. Tim O'Donoghue (IRL) 47:51
4. Paolo Gallo (ITA) 47:57
5. Morgan Donnelly (ENG) 47:59
6. Andi Jones (ENG) 48:34
7. Chris Farrell (ENG) 48:36
8. James Kevan (IRL) 48:53
9. Kyle Greig (SCO) 49:25
10. Ian Holmes (ENG) 49:41
11. Alan Bogle (NIR) 50:10
12. Martín Álvarez Espinar (ESP) 50:42
13. Lloyd Taggart (IMN) 51:02
14. Felippe Jones (WAL) 51:08
15. Peter Ryer (WAL) 51:09
16. Alan Vaughan (WAL) 51:30
17. Ian Bailey (NIR) 51:32
18. Ian Conroy (IRL) 51:45
19. Gavin Mulholland (NIR) 51:48
20. Diego Manuel Camacho de la Ossa (ESP) 52:06
21. Andy Fallas (SCO) 52:44
22. Seamus Lynch (NIR) 52:50
23. Kenny Richmond (SCO) 53:01
24. Ben Nephew (USA) 53:23
25. Brian Furey (IRL) 54:23
26. Ben Corkhill (IMN) 54:58
27. James Waldie (SCO) 55:03
28. Andrei Attard (MLT) 01:08:26
29. Hugh Aggleton (WAL) 01:09:28
30. Isidiro Rodriguez (ESP) 01:22:25
Thomas Galvin 01:13:38
Cormac O'Ceallaigh 01:15:56
Women (international runners only)
1. Sarah McCormack (IRL) 55:21
2. Elisa Compagnoni (ITA) 58:05
3. Charlotte Morgan (SCO) 58:10
4. Andrea Rowlands (WAL) 59:45
5. Holly Page (ENG) 59:50
6. Pippa Maddams (ENG) 59:57
7. Diane Baum (SCO) 01:01:37
8. Jackie Lee (WAL) 01:02:10
9. Christina Rankin (SCO) 01:02:27
10. Helen Fines (ENG) 01:02:56
11. Diane Wilson (NIR) 01:03:01
12. Catherine O'Connor (NIR) 01:03:16
13. Hannah Jarvis (WAL) 01:03:42
14. Laura Shaughnessy (IRL) 01:04:54
15. Emma Hand (IRL) 01:05:03
16. Carmen Hili (MLT) 01:08:35
17. Hazel McLaughlin (NIR) 01:14:50
18. Belen Perales ESP) 01:2435
Niamh O'Ceallaigh 01:08:42
MEN
1. Italy (1,3,4) 8
2. England (5,6,7) 18
3. Ireland (3,8,18) 29
4. Wales (14,15,16) 45
5. Northern Ireland (11,17,19) 47
6. Scotland (9,21,23) 53
7. Spain (12,20,30) 62
WOMEN
1. Scotland (3,7,9) 19
2. England (5,6,10) 21
3. Wales (4,8,13) 25
4. Ireland (1,14,15) 30
5. Northern Ireland (11,12,17) 40
***********************************************
RACE REPORT FROM SARAH MCCORMACK
This year the Snowdon race fell a week after the European Mountain Running Champs race. The Europeans hadn't gone as well as I would have liked as I wasn't long after sorting out some niggles I'd been having. I arrived in Wales not knowing what to expect, having never run the course but imagining it to be very different from the undulating wooded trails from the week before. In the hotel in Llanberis it was nice to meet up with the friendly faces of the Irish team, and reassuring to hear that I wasn't the only one experiencing some pre-race nerves. On race day, we were gathered after breakfast in the hotel when we heard that there had been an official decision to shorten the race route, due to an earlier observation of thunderstorms on the summit. I was disappointed to hear this, but hoped that I could use a shorter race to my advantage, having spent the winter training for 8k cross-country races. We set out from the hotel considering what this news would mean for our individual race plans, and each began our warm-up routines. There was an atmosphere of nervous anticipation at the race start, and as I took my place on the line I felt ready to get on with it. The gun soon went, and after a short, frenetic burst through town we began working our way up the hill. The gradient was unrelenting, and I tried to keep my head up, looking for female competitors among the thick field. Tessa Hill appeared next to me and we settled into a steady rhythm as we made our way out of the town and onto the open mountainside. The race course was lined with spectators who were cheering for anyone and everyone, and I started to enjoy the communal atmosphere of the race, and to relax. After a short while Tessa dropped the pace slightly, and I decided to gamble on maintaining the speed, although worrying about what lay ahead. However, my legs felt fresh and I thought I may have benefited from the fast 8 km blast the preceding week. The ascent was a long slog, with little in the way of flat sections or downhill to provide some respite. I noted as I went along that the terrain looked like something I'd be able to descend, and thought that if I could get to the top without being overtaken then I might be in with a chance. Finally the turn-around point at the second railway bridge came into view through the thickening mist. I felt a sense of relief as I doubled back on myself and headed for home. The return was rocky and slippery to begin with, but soon the path became smoother, and I was able to get into a stride. Hundreds of spectators had been undeterred by the gloomy weather, and their cheers from the side gave very welcome encouragement. Finally, from far away, I could hear the sounds of music and loudspeaker that I knew were emanating from the village, and that I had only about a mile of runnable ground between myself and the finish. Coming into the finishing tunnel as first lady was a brilliant feeling and which was made even better by seeing the other Irish finishers and hearing of others' impressive performances. Particularly exciting was Tim O'Donoghue's storming descent to finish 3rd overall, with James Kevan close behind in 8th. The highlight of the trip was being able to have a drink with the Irish team in the hotel that evening, and conducting a thorough post-race analysis!