Knockmealdown Half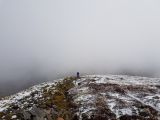 Forum Messages
Author
Date
Message
David Power
Mar 28 2018, 7:43am
Hi - I haven't picked up my 2018 race number (1481) or chip yet. Is that an issue or do you assign numbers on the day?
David
John J Barry
Mar 28 2018, 11:30am
ideally it would have been nice to have picked up your number but since you haven't a temporary one will be assigned on the day. The CHIP will not be needed.
Darren Crowe
Mar 28 2018, 1:54pm
Hi, I'm entered for Saturday but this comment 'Experience with OPEN MOUNTAIN running is strongly advised for this race' has thrown me a little bit. I've a bit of experience, but not a massive amount. I did the Sli Gaeltacht half recently and that went fine, but I'm conscious that that route was fully marked and this one isn't. I don't have a great deal of experience navigating my own way so I'm just trying to gather more information on what to expect in advance. Is the comment linked more to the navigation or the difficulty, or both? Thanks
Gordon Place
Mar 28 2018, 9:33pm
Sorry, late notice with reg closing tonight but just added a car space to the pool if anyone wants to go from Dublin
Robbie Williams
Mar 29 2018, 6:35am
Darren you will be fine
It's more the terrain
If you have 'common sense' and you have done Sli you will be ok.

Others: if you have not yet collected your number, we will give it to you on the morning , the original .

In Munster we don't do chips though so you will have to email National or wait until next Dublin race for that
Gordon Place
Mar 31 2018, 6:45pm
A great race and route, that climb! Thanks to the RD and all the volunteers, especially the marshalls, was a different story up there
Deirdre Galvin
Mar 31 2018, 7:25pm
Such an epic race and route. Definitely one to affix to the calendar. Thank you to the organisers and marshals for an unforgettable Easter Saturday.
David Power
Mar 31 2018, 8:49pm
Thanks Matthew and everyone who helped make this such a memorable morning. Excellent organization, beautiful course, a mix of weather conditions and good call on the mandatory kit. GAA centre afterwards was a welcoming place.
Brian Flannelly
Mar 31 2018, 11:48pm
Results are now up for the Knockmealdown Half, the second installment of the Munster Half Marathon League.
Any questions/queries on results, please email:
brian.flannelly at imra dot ie
Many thanks to Matthew, and his team of volunteers, and everyone who made this brand new event such a success.