Gougane Barra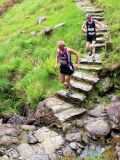 Description:

Gougane Barra

County:

Cork

Date:

Saturday 15 June, 2019

Time:

13:00

Climb (m):

475

Distance (km):

9.70

Event Difficulty:

9 (3,3,3) - Difficult Terrain, >500M ascent, >10Km

Race Marking:

- Only major junctions marked

GPS Allowed:

Yes

Leagues:

Entry opens:

2019-06-06 00:00:00

Entry closes:

2019-06-15 00:00:00

Entry limit:

None set

Entry cost:

€12 for seniors, €10 for over 65s and under 18s

Vouchers Allowed:

No. Online entry only for this race.

Route Description:

The Route – the first 2km are through forestry. Runners pass a car park, we will have a steward there to give directions. The next 1km is on stone steps – they will be slippy, if wet they will be slippier. Thereafter, runners will head across open mountain for about 2km, to the fence that stretches from Bealick to Conigar. FOLLOW THE FENCE – crossing it on the descent and crossing back on the ascent might be best. This takes runners back to the trail that leads over Foilastookeen and the final few km, the Sli Ghaeltacht Mhuscrai route. This trail is newly laid, it has not bedded in, stones are loose and the descent will be a flyer. We fully expect the Medical Officer will be called on, just try to ensure it is not for you! There are two stiles to cross on the descent, we will ask the landowner if we can open the gate at the second one as it will be near the finish line.


Route Map

Route map for MMRA - Gougane Barra by MMRA Munster on plotaroute.com
Getting There:
https://www.coillte.ie/site/gougane-barra-forest-park/ Gougane Barra itself is located approximately 7km west south west of Ballingeary. Take the R584 for Ballingeary, turn off it where signposted after about 5.5km. Drive past the hotel/cafe/pub and continue on to the Forest Park about 2km further along the road. 2. Car Pooling and Parking – THERE IS NO PARKING AT THE HOTEL/CAFE/PUB. Anyone who does so will have a minute added to their finishing time and the air let out of 2 tyres. All participants must park in the forestry car park through the barrier, and pay €5.00. For that reason, and because Gougane Barra is a single lane cul de sac which can get very busy at the weekend, we would encourage car pooling from Ballingeary or Kealkill.
Organisers Instructions:
NO CASH ENTRIES ON THE DAY ONLINE REGISTRATION/VOUCHER CARDS ONLY. This race is open to all IMRA members. There will be online pre-registration available at €12 on www.imra.ie a week before the event until midnight the night before, or alternatively two IMRA race voucher card stamps (a 10 stamp IMRA race voucher card can be purchased for €50 as per instruction below) This race is open to all IMRA members and cost TBD. There will online pre-registration available closer to the event. Under IMRA rules for competitor's safety, it is mandatory to bring and carry a jacket that is shower and wind proof for the entire race. Any competitor seen not carrying or wearing their jacket at any stage in the race will be disqualified. There are no exceptions to this rule! Given the great possibility that runners will wander off in the wrong direction on open mountain, a mobile phone and a whistle will also be mandatory. IMRA MEMBERSHIP PROCEDURE FOR 2019! All competitors must be IMRA members. IMRA membership costs €10 for a calendar year. It is unrelated to membership of other athletic clubs. IMRA membership cannot be purchased at the race, you must follow these steps beforehand. Login to your "myimra" account on www.imra.ie. If you don't have an account, create one using the REGISTER FOR MYIMRA link, and follow the instructions carefully.
Go to the PURCHASE IMRA PRODUCTS page and purchase 2019 membership using a credit/debit card.
Bring the membership confirmation email containing your race number for the year with you to your first race
Get a bib number at your first race, and hold on to it, as it's valid for the full year.

Note: If you are not a 2019 IMRA member or don't know your race number, it will not be possible to enter the race
Prizegiving Location:
Post Race – tea and sandwiches will be available at the Gougane Barra Hotel, or Cronin's next door...
Volunteers (Non-Running)
You need to have done 2 non-running volunteer roles in a calendar year to qualify for end of year prize
Volunteers (Running)
Check with race director if they have a need for people volunteering and running. Race directors need a minimum number of people available throughout the race to make the race work so non-running volunteers are preferable. While it can be helpful, volunteering in a volunteer and race capacity does not count towards qualifying for end of year prize