Carrigbyrne Hill (Wexford)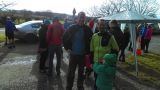 Description:

Carrigbyrne Hill Southeast League race

County:

Wexford

Date:

Sunday 4 February, 2018

Time:

11:00

Climb (m):

251

Distance (km):

8.00

Event Difficulty:

6 (2,2,2) - Moderate Terrain, 200M - 500M ascent, 6Km - 10Km

Race Marking:

- Route fully marked

GPS Allowed:

Yes

Leagues:

Entry opens:

2018-01-22 09:00:01

Entry closes:

2018-02-03 18:00:01

Entry limit:

None set

Entry cost:

€7 for seniors, €5 for over 65s and under 18s

Vouchers Allowed:

No. Online entry only for this race.

Route Description:

Long Route Profile
Route will be marked with red and white tape on bamboo sticks. A handful of marshals will be out on the course at key points so keep an eye out and listen for their guidance.

Both courses start and finish at the registration point at the bottom carpark.

Both travel 1km uphill to the upper carpark.
The longer route swings left to complete a 4km clockwise route back to the upper carpark.
Both routes now head downhill towards the lower carpark and complete a 1km anti-clockwise loop back to the upper carpark.
Both routes finally head back down the initial 1km section to finish at the bottom carpark.

The longer course is roughly half fire and half single track.

Getting There:

From Wexford: it's about 18km. Take the N25 towards New Ross/Waterford from the Barntown roundabout. You will see the hill in front and to your right.
Streetview: https://goo.gl/maps/7imwzYRY3k92).

From New Ross: it's about 14km. Take the N25 towards Wexford. You will see the hill in front, to your left after passing through Ballinaboola.
Streetview: https://goo.gl/maps/LaGj14z3R3N2).

Organisers Instructions:

Required completion prior to race day:

IMRA membership of €10
Race entry of €7 or a book of 10 race vouchers

There will be no cash taken on the day for membership or race entries.
Details: https://www.imra.ie/events/view/id/1568

Membership and Race entry: https://www.imra.ie/users/myimraselecttype

Race registration: will take place on the day from 9.30 to 10.45 at the forest entrance (https://goo.gl/maps/uQTLcHHCD4z)

Note, a rain jacket is mandatory and anyone without one will not receive a placing and may not be allowed entry

Juniors must be accompanied on the run by a parent.

Parking: There will be limited parking at the event so carpool from the Horse and Hound (https://goo.gl/maps/WLeK8NAn3RN2) in Ballinaboola 4km from route.

Conditions: There will be a mixture of wet, grassy, muddy and rocky ground, so fell running or Grippy shoes is highly recommended. Most of the run will be sheltered with only the rear 1km being exposed.

Prizegiving Location:

Will be held at the race finish location.
Volunteers (Non-Running)
You need to have done 2 non-running volunteer roles in a calendar year to qualify for end of year prize
Volunteers (Running)
Check with race director if they have a need for people volunteering and running. Race directors need a minimum number of people available throughout the race to make the race work so non-running volunteers are preferable. While it can be helpful, volunteering in a volunteer and race capacity does not count towards qualifying for end of year prize